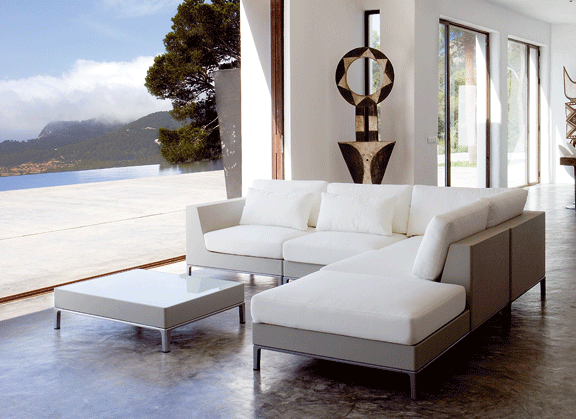 I am sorry to say the list of things to consider when shopping for outdoor designs just got longer! The explosion of options available for outdoors had already made buying pieces quite tricky. As anyone who goes for a first buy suddenly realizes, looks are not the only thing to consider. A huge amount of questions need answering.
How will the design age? What precisely does the term 'suitable for outdoors' actually cover? What about if it snows? How do the cushions stay out? Can they stay out ... out as in whatever the weather?
And now, we need to add a new consideration: interchangeability. New designs are so stylish people are buying outdoor furniture for indoors! But again, looks are not the whole story and as many questions need to be considered. I would love to offer a magical tip providing a silver bullet solution. But the fact is, homework and research are necessary. Here are a few pointers to help you draw up a wish list when looking for pieces with 'interchangeability' potential.
Textures, finishes and colors:
I started really realizing the potential new designs have to look and 'feel' great indoors when I visited a new Kettal store. I discovered the Manhattan range (pictured) covered in a lovely, amazingly soft fabric. The base of the seat is in a soft polyurethane material. This means that even the parts not covered by cushions (like the armrest) are easy on your arms and pleasant to rest on. If you think you will perhaps bring pieces indoors at some point, then perhaps all teak designs or hard plastics are not for you. Choosing textures also directs choice of colors if the intention is to maximize interchangeability. Let me illustrate the point:

Polypropylene furniture: Take the new design by

Callegaris

, the Area 51 available in white or color. Experience has shown me white polypropylene tends not to age well. It becomes rather grayish. So if you go for a polypropylene piece, opt for the colored version.
Table tops: Some table top materials are perhaps too 'hard' and you would not want to use them indoors. The lovely new wafer thin ceramic tops fall in that camp. On the contrary, a table like the new

Serralunga

Banquété

seen at the Milan Furniture fair, made from composite wood, offers a very soft and gentle touch ensuring its 'interchangeability'.
Floor lamps: New designs totally replicate indoor designs. Looking at advertising images you may not see the difference of textures and imagine how they would look if you had them indoors. I love online shopping but if you're shopping with interchangeability in mind be sure you have seen the model or similar designs in real life. I was shopping around for an outdoor light when I realized this. I saw the

Viteo's

dual energy

ZOE light

in opal acrylic glass which looks very crisp and glossy (but not too glossy!). The finish makes it look very suitable for a chic indoor set up. Right next to it was an outdoor lamp in regular plastic looking really sad in an indoor context because one could see the 'welded' junctions, and those parts very slightly frayed. That often is the case with pieces in polypropylene or plastic and really looks strange indoors.
Equally important is the choice of finish. A large amount of the most modern designs in polypropylene for example, roto moulded or not, are now offered in lacquered versions. Far more expensive than the base product in ranges, they do tend to age really well. Depending on your style, they might work well indoors thus justifying the initial extra cost.
Shape and size:
Again, many outdoor furniture designs have come to resemble indoor designs shapes and proportions completely. As a rule of thumb choosing the right size and proportions means imagining if your newly acquired ottoman would happily live indoors alongside your current furniture or how a possible outdoor dining set could easily become the feature of your dining room. Modules are obviously widely available now allowing sofa to be huge or tiny by adding or withdrawing some parts. They are clearly the way to go as they can adapt to changing spaces.
Upholstering options:
Fellow Garden Design blogger Gina Wicker wrote a great piece on outdoor fabrics and how they have come so incredibly close to those traditionally used indoors.Check it out here. Beyond choosing the fabric, you need to consider how they work. Separable or removable covers obviously make it easier to make a quick change and use textiles you want to more specifically fit your indoor decor. Also consider things like sofa covers. The Manhattan design shown in the picture for example uses a material and has a shape that allows you to have it bare. Some designs may benefit from a cover to really make them fit indoors.
These are just a few pointers, love to hear your thoughts and experiences.
Happy shopping!