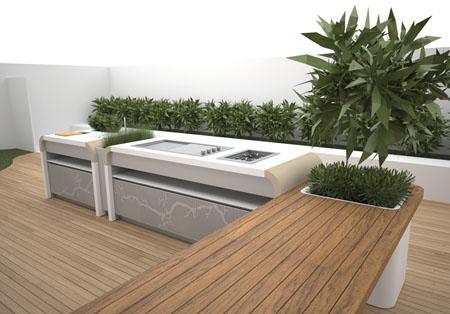 Electrolux's latest design (pictured), a collaboration with landscape designer Jamie Durie, is a poster child for the amazing revolution outdoor cooking and entertaining is experiencing. It is a complete countertop, mimicking the ones we know indoors, with a space to cook and a space for guests.
It inspired me to have a closer look at major trends in the field and explore new design options. I wanted to share my findings.
Today:
TREND 1: Designers aim for invisibility
Outdoor cooking amazing developments, because of the technical challenges posed by leaving them outdoors, have veered on the sturdy / bulky looking side.... often not really integrating well with the architecture of newer homes themselves. This is no longer true. New sleek cooking units have an ultra chic 'barely there' quality. This is probably great news specially for those with small spaces who cannot visually afford to have huge BBQs dominating the space.
Just a few examples:
Invisibility through integration
The award winning design Electrolux Integrated EQBH100AS Barbecue is a perfect illustration of the new trend to actually integrate the cooking function into tables themselves... as discreetly as possible. The module can be integrated as you wish to match your set up. When not in use a cover makes it even less noticeable.
If you like cooking but not on a grill, then go for designs like the Menes, a cooking table designed by Metalco Home. Made in brushed stainless steel with laminated exotic wood surface, it is for outdoor use and comes with electric 1.7 kW non-stick aluminium heating plate.
Invisibility through concealing
Well yes, whatever decor magazine say about using outdoor spaces like new rooms, reality is you will not be cooking out all the time, all year round, so it is fantastic to see designers imagining solutions to artfully conceal a grill without hiding it under a protective cover ... which generally actually draw your attention to it !
In this direction one finds this clever wall mounted design by Focus Creation ( image here) . Open it looks great and works brilliantly as a space saver. Closed it draws no attention for the wrong reasons.
Invisibility through architectural integration
I have a particular fondness for the Electrolux Jeppe Utzon barbeque created by Jeppe Utzon, the grandson of the legendary Jorn Utzon. It was most certainly the first truly architectural grill to appear on the market. It is still one of the most remarkable ones around. Sadly, from what I know, it is still only available in Australia, so here is another architectural hich perfomance grill worth noting : the X series by Porsche and Grand Hall (image here).
I hope these designs inspire you!
Back soon with 3 more trends.
Anne