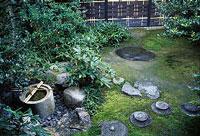 The other day I was told about a Japanese garden in the hills near my home and had the chance to visit it. It was magnificent, complete with swimming pool, raised beds for vegetables, a spa, and much more. But what was Japanese about it? It was serene and finely crafted. There were highlights, like plants and sculpture, that stopped you in your tracks and made you want to study them. In other words it had incorporated traditional Japanese elements into today's style of outdoor living. So how do you design a garden that is Japanese in spirit and also serves our contemporary tastes and needs?
We asked landscape architect Marc Peter Keane, who recently moved back to Ithaca, New York, after living in Kyoto, Japan, since 1985. Designing with the careful attention to detail inherent in traditional Japanese gardens, Keane creates residential gardens with significant allegorical content that respects and builds on Japan's rich landscape legacy. He shares some of his key lessons:
Keep the palette simple. Less is more. Simplicity induces repose. Offering a calm state of mind is the goal of a garden.
Use "honest" materials. Natural, unprocessed things gain a lustrous patina over time through weathering. Hand-carved granite, high-quality, untreated wood, clay, wrought iron and copper are a few favorites.
Balance wildness with control. The broad stroke of the garden should be drawn from wild nature, showing irregular lines and organic complexity. To juxtapose the wildness and create a beguiling sort of tension, certain elements-plantings, paths or other central features-should be clearly controlled.
Adding color does not mean you need to spill the paint box. Consider using a wealth of greens, from the luminescent pale green of new leaves to the deepest evergreen hue. And then there are the tans, browns and grays of weathered wooden fencing; the leather-brown of weathered copper and, occasionally, an ochre, umber or pale blue from mineral-powder stains.
Pay attention to the path — not only its route and which sight-lines are revealed, but how the path itself is designed. Rough stepping stones, for instance, slow the walker and keep your attention focused down at your feet. A path's design can shape a person's visual experience as you walk through a garden.
For more information, see mpkeane.com.