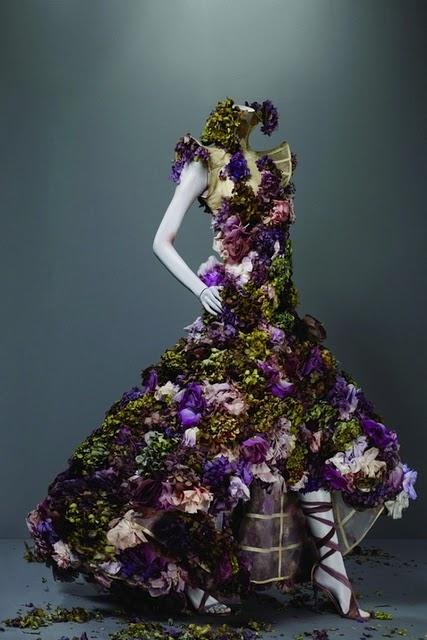 Photo by:
Metropolitan Museum of Art
Lines are insane—and we mean insane—at New York's Metropolitan Museum of Art, for the last days of the Alexander McQueen show, "Savage Beauty." The show ends this Sunday, August 7, and tomorrow and Friday, August 4 and 5, the museum will stay open until 9:00 p.m., and on Saturday and Sunday, August 6 and 7, until midnight. (The line is so long that the museum has even come up with a scavenger-hunt style game for people to play while waiting in line). If you manage to make it to the show and inside, it's worth noticing the role that nature played in inspiring the late fashion designer.
"I have always loved the mechanics of nature and to a greater or lesser extent my work is always informed by that."—Alexander McQueen
Nature was often an inspiration for McQueen, whether it was literal, like the dress made of silk and real flowers (top), or metaphorical like Kate Middleton's wedding dress, which had a skirt that unfurled like a flower, and which was designed by Sarah Burton, McQueen's former assistant, who is now the head of Alexander McQueen, since the designer's death in 2010. Sarah Burton told Vogue that the flower dress "had fresh flowers on it. We put them on just before she went out, and they started to fall off one by one as she walked. I remember people saying Lee timed it. We had a laugh about that. It was an accident!" Nevertheless, the play between fantasy and real, life and death, all themes in McQueen's work, are shown in the dress, with roses, hydrangeas, and peonies, stitched on, and the dress, on display at the Met show, shedding some dried petals in the case. In a world where fashion is temporary, cut flowers have an even shorter life, and their drying petals, sewn among their silk reproduction cousins, are a reminder of the fleeting illusion of beauty.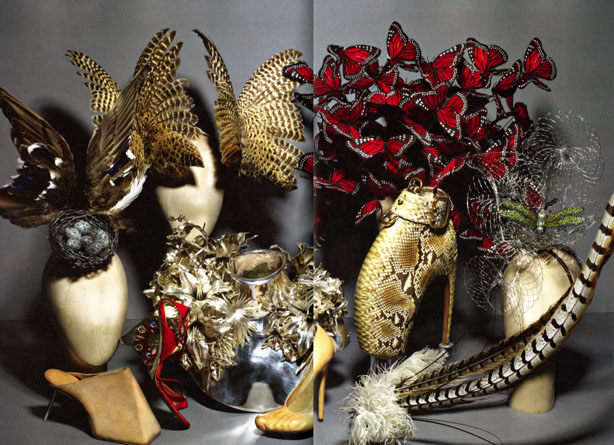 Hats by Philip Treacy for Alexander McQueen, from the Metropolitan Museum of Art's catalog for the show.

McQueen cited Charles Darwin's On the Origin of Species as an inspiration, but it's clear that he was also influenced by the actual natural world as well. The butterfly hat (above), was made from feathers, cut and painted to look like butterflies, while duck feathers were dyed black, like raven feathers, and sculpted into an exaggerated costume of bird feminity (below), serving as a visual allusion to almost every fairy tale where humans turn into birds and vice versa, including "Swan Lake," "The Firebird," and "The Six Swans." ("The Six Swans" is a particularly apt story for McQueen, as it tells of six brothers who were turned into swans by their evil stepmother and whose curse could only be broken if their sister sewed them shirts made from asters that could be thrown over them to free them from the curse.)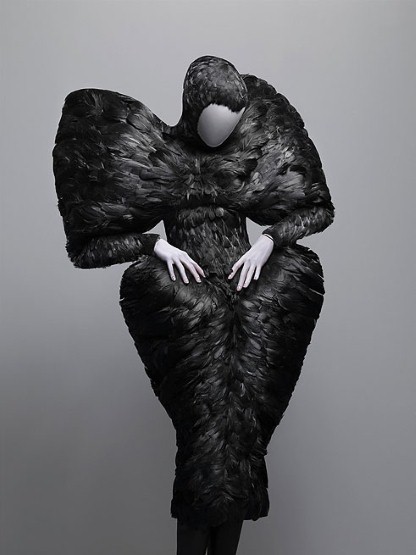 Photo from the Metropolitan Museum of Art
The Japanese kimono-inspired embroidery on the dress below was another dress that referenced flora, but this time, picked out in silk threads in a detailed and complex embroidery that covered the entire outfit.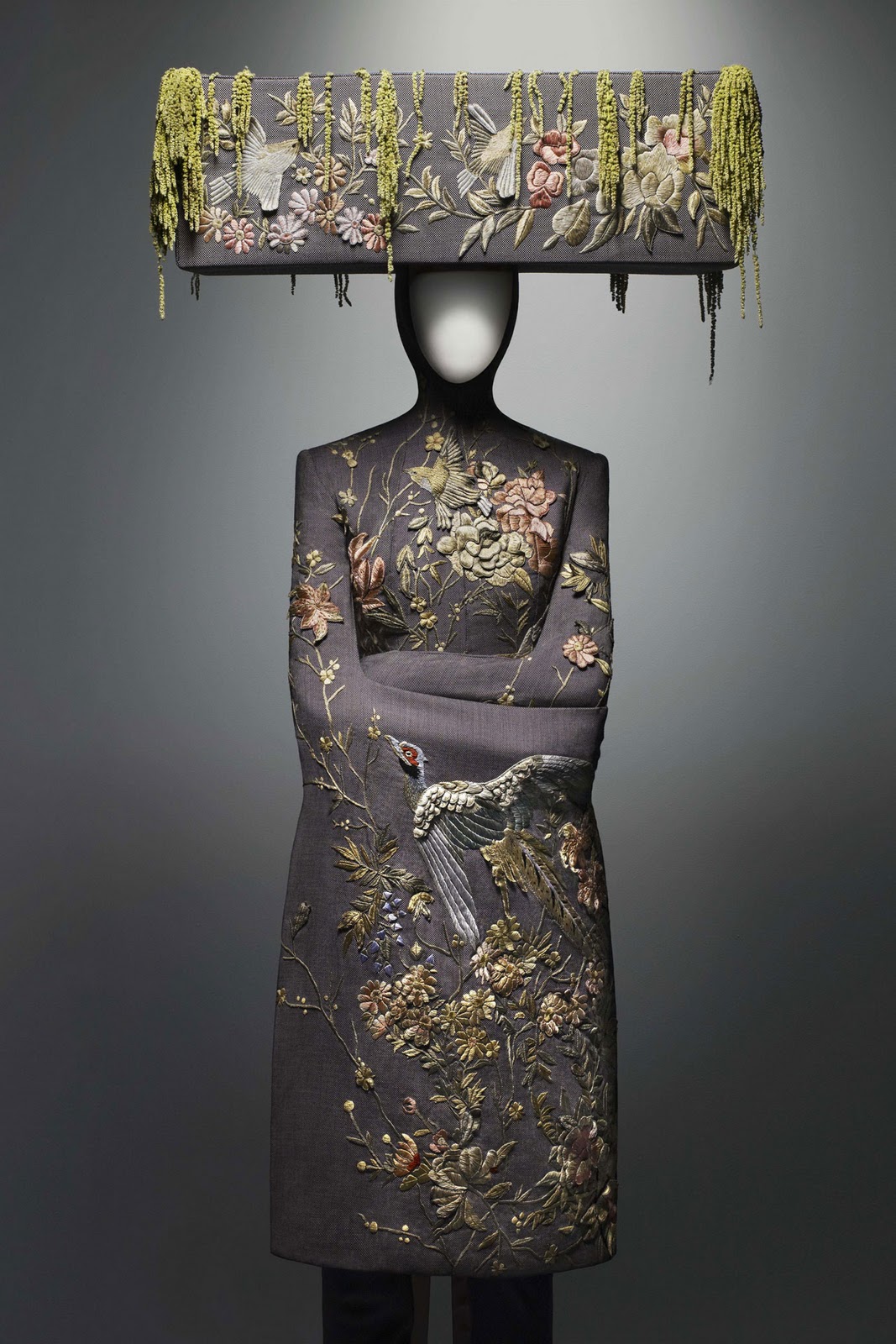 If you have a chance and are willing to brave the madness, it's worth seeing the show before it closes.
Claire Lui is the online editor of GARDEN DESIGN.