We're kicking off a special series of posts today: What Makes a House a Home. Over the next few weeks, every Wednesday, we'll have a blogger writing about what they think makes a house a home. Our bloggers come from across the country and they all have very different homes and families and we hope you'll enjoy reading their different posts.

Our first week starts off with the wonderful Grace Bonney, of Design*Sponge, whose new book, Design*Sponge at Home, was just published last week. In her acknowlegments, she wrote, "Although my house is now in Brooklyn, my heart will always be in Virginia, where I learned what it means to have a home and parents who are always there with support, no matter what. There are no words to thank my mom and dad enough. They will always be my biggest inspirations."
We've included some photos (and decorating tips) from the book in this post, as well as Bonney's own words—just for GARDEN DESIGN—about how she incorporates nature in her own home: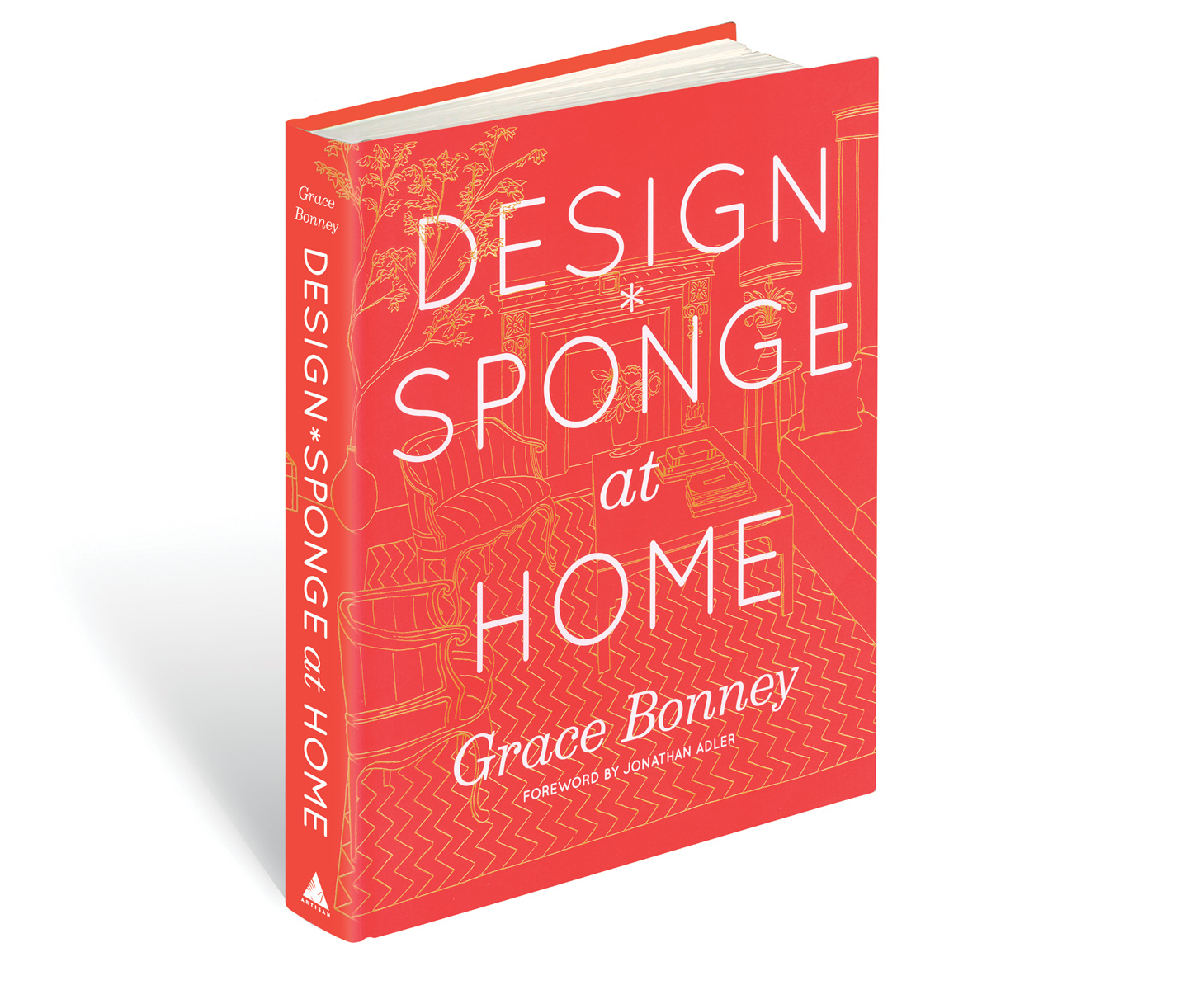 I'm often asked to describe the most cost-effective way to decorate, and I always say the easiest thing to do is look around and think about what you would save if there was a fire. Group those pieces together and make them the focal points of your home. For me, this means finding ways to bring the outside in. My fondest memories are those spent outdoors — at summer camp, tubing down lazy rivers in Virginia, or spending time in my family's backyard. Bringing pieces that evoke these moments into my apartment is a way for me to feel relaxed. No matter what forms those memories, investing in decor that tells a story about who you are is the quickest path to turning any blank space into a welcoming home.—Grace Bonney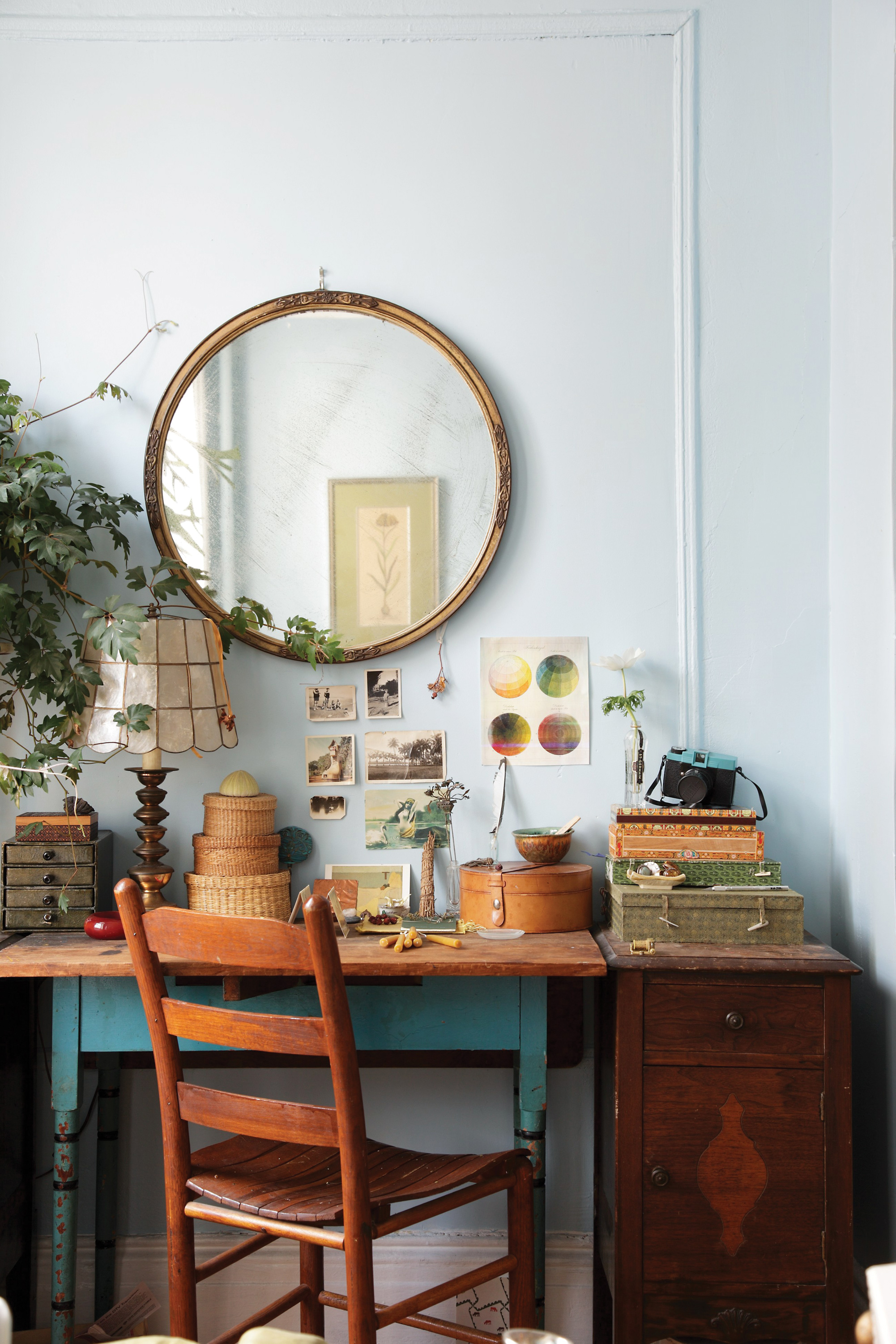 This photo is from the Brooklyn, New York, home of Nicolette Camille Owen, one of the forces behind Little Flower School.
Here, soft blue walls in Benjamin Moore's Hydrangea create a sense of calm in Nicolette Camille Owen's urban bedroom. In the book, Owen shares a number of tips for indoor greenery including a recipe for natural fertilizer:" Eggshell water is a great solution. Save your used eggshells until you have 20 of them. Boil the shells in a gallon of water for 5 minutes. Let steep for at least 8 hours and store in a jar under your sink (or in your garage). Work this liquid into your feeding schedule just like you would a premade fertilizer."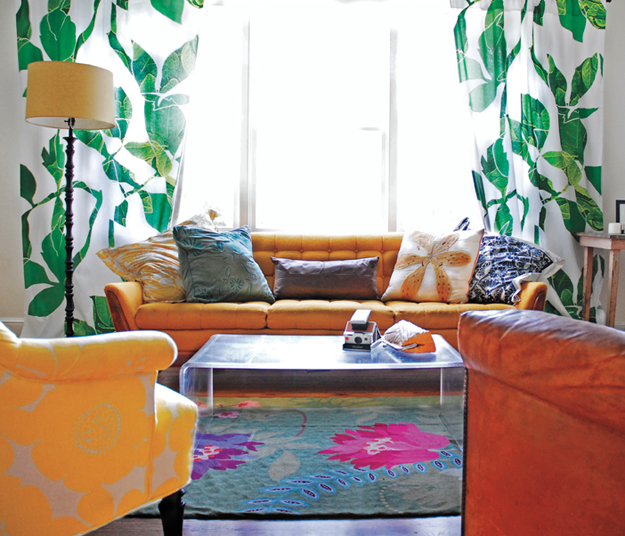 A snapshot of the living room of Joy and Tyler Thigpen (she's the creative director of OnceWed.com and he's the Head of Upper School at Mount Vernon Presbyterian School), in Winder, Georgia.
The living room is a celebration of color and pattern, kept in check by simple white walls. Her bold floral drapes were sale finds from Marimekko, while both the rug and chair were purchased at Anthropologie. Because the rooms primary furnishings are so bold, a Lucite table gives the other pieces room to breathe.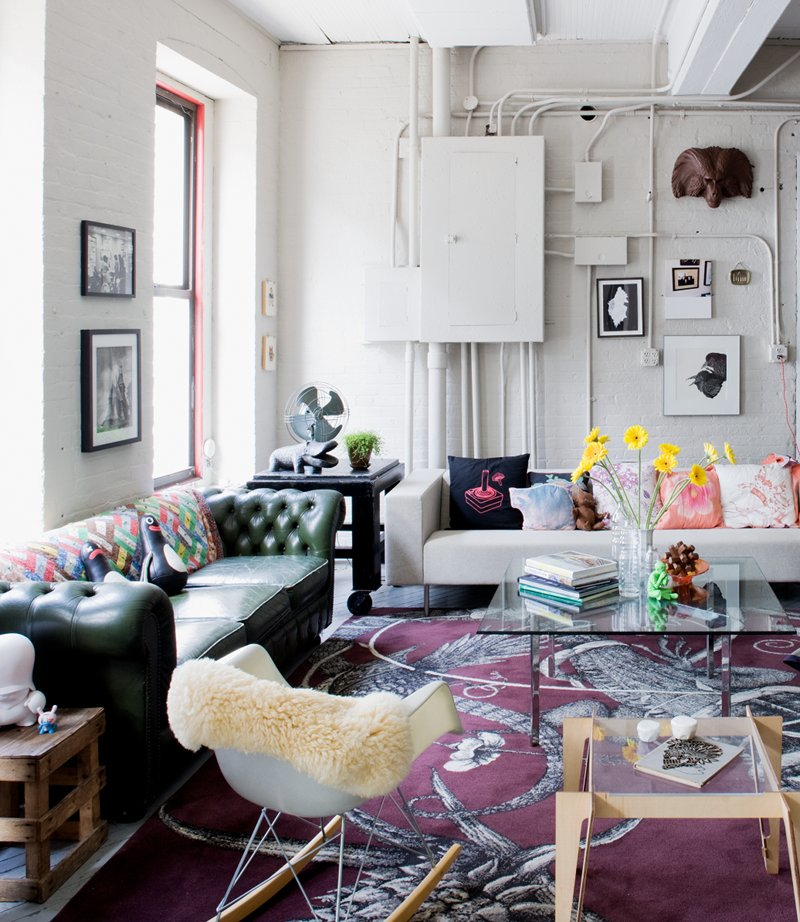 Dave Alhadeff, founder of the design store The Future Perfect, lives in Brooklyn, New York.
Dave's living room is furnished with a vintage Chesterfield sofa and an Eames rocking chair. The sofa "has a distinctly masculine feel to it, but is super warm and cozy as well. And when complemented with other more modern furniture, the piece blends seamlessly while providing an interest contrast element."