You might know Katy Elliott from her popular blog, which is named, quite simply katyelliott.com. Elliott started her blog in 2005—ancient history in web years!—and later became a web editor for House & Garden and Domino magazine. In 2008, she and her boyfriend Greg bought a 260-year-old house in Marblehead, Massachusetts and today, her blog documents the extensive renovations that the pair have worked on together. Her blog has been named one of the best interiors blogs by The Telegraph, as well as landing on numerous other publications' best of lists. We're thrilled to have her write about what makes a house a home!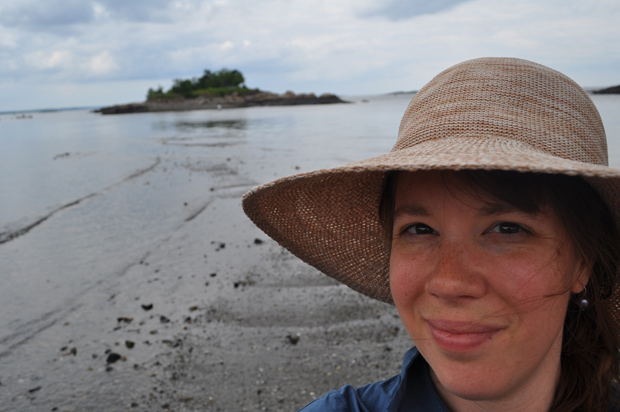 We're renovating the kind of house that would give most heart palpitations. Built in 1750, it oozes charm but the foundation is crumbling, the house is uninsulated, and the four fireplaces are open to the sky. When it rains it literally pours.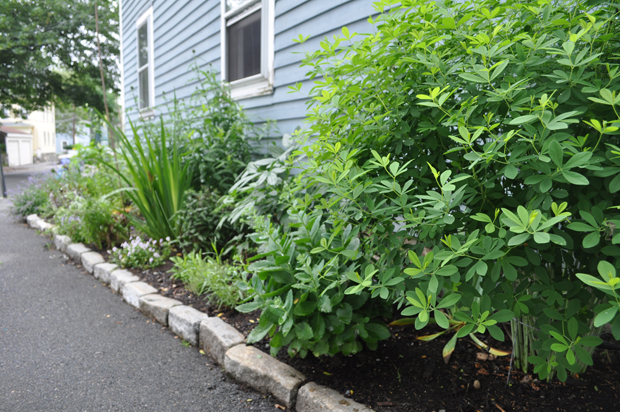 My border garden with baptisia, peonies, and iris growing in the summer.
The first project we tackled was the neglected garden beds. Rotten old railroad ties were replaced with cobblestones found at a local salvage yard. Dirt that reached up past the clapboards was dug out to reveal miles of roots tangled below. My neighbors must have thought I was crazy tending to a project that is usually the last piece in a renovation to complete. We persevered, laid beautiful new earth, and planted perennials.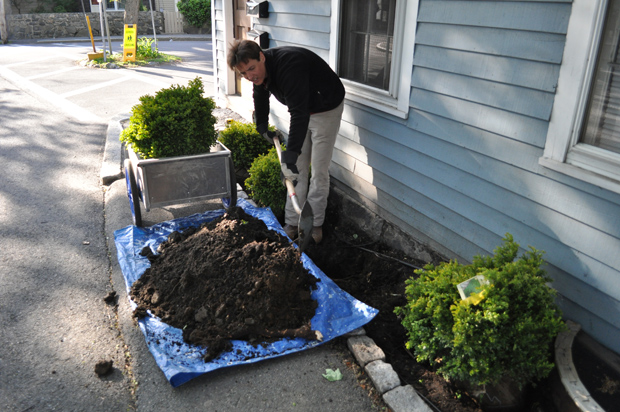 We put boxwoods in the front bed this past spring after trying out Endless Summer hydrangeas.
Each summer, passersby comment how much the garden has changed the neighborhood. The garden has connected me to the community—neighbors stop and share with me local knowledge and garden tricks that only experienced can teach.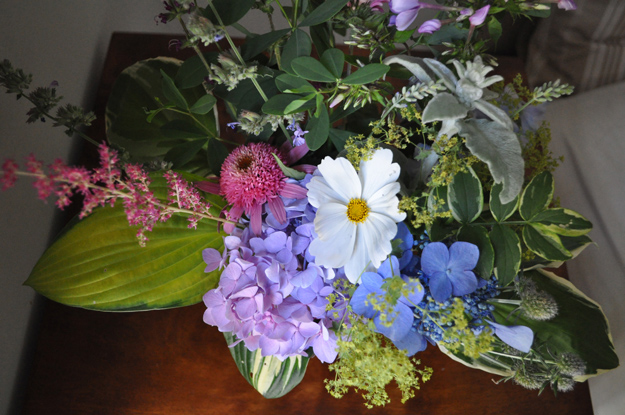 On my nightstand sits a bouquet of flowers from my garden.
We live in the house while we renovate. At first we tried to isolate ourselves away from the projects and live on the top two floors. Every room has now fallen victim to the renovation with paint cans, tools, and wood cluttering pathways.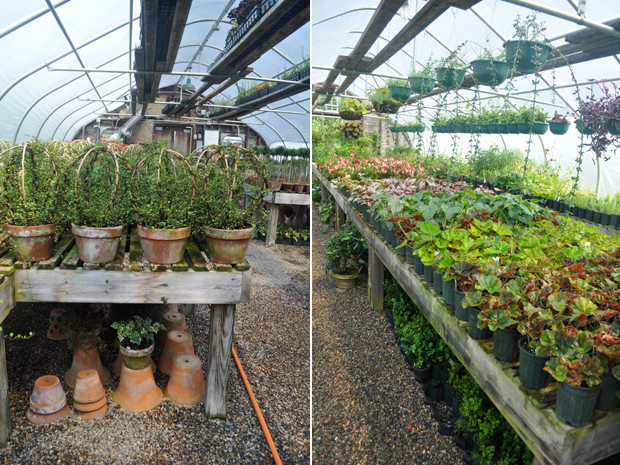 Snug Harbor Farm in Kennebunk, Maine has offered me endless inspiration and wisdom for indoor and outdoor plants. Here are two snapshots from inside their beautiful greenhouses.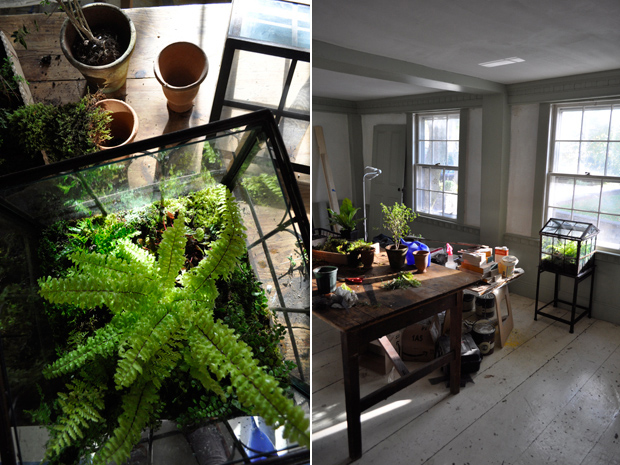 An antique terrarium I found at a consignment shop filled with beautiful ferns and mosses. The terrarium sits in my den among my doors being fixed and the fireplace being rebuilt.
Scattered amongst this chaos are plants on windowsills and tables. Tending to my gardens helps me to see the bigger picture; little by little we all grow. All I need is patience.
All photos by Katy Elliott.