We've come to our final week of our What Makes a House a Home posts. We hope you've enjoyed the past ten weeks of posts from some of our favorite bloggers, sharing how they incorporate plants and nature into their lives, whether they garden at home, on the balcony, at their in-laws, or in an apartment. We've also enjoyed having a peek into the lives of these bloggers around the country. (If you want to catch up on all of our previous posts, be sure to check out our archive here.)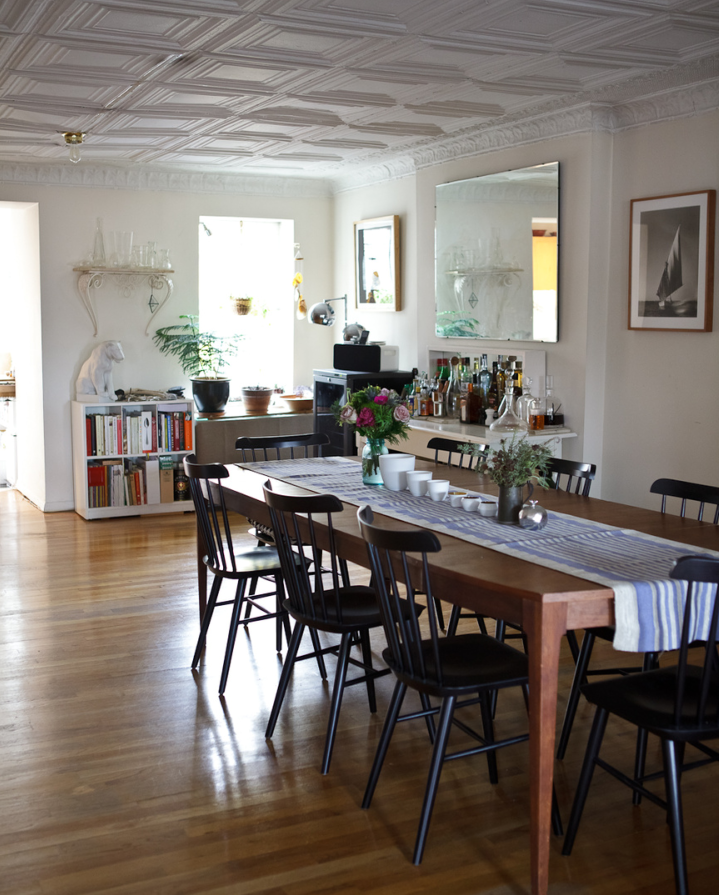 This Danish modern table and the Design Within Reach Salt Chairs seat 10 people, which is the number of people in our monthly supper club. Linen runner from Grayline Linens in Manhattan's fabric district, and the flowers are from Sprout Home in Williamsburg, Brooklyn. Boat photograph by Gentl & Hyers.
Our final post is from photographers Gemma and Andrew Ingalls, the husband-and-wife team behind Ingalls Photography. We love their photography (they shot the November/December cover of GARDEN DESIGN) and we were so thrilled that they are the final post (at least for now!) of our series. The two of them blog at The Epicures, an absolutely ravishing blog of photos and words.
We're extra grateful to the Ingalls for their post, because just days before they wrote this post they had a new baby! Congratulations to the Ingalls on their new son and we hope you enjoy their post about their lovely home in Brooklyn, New York.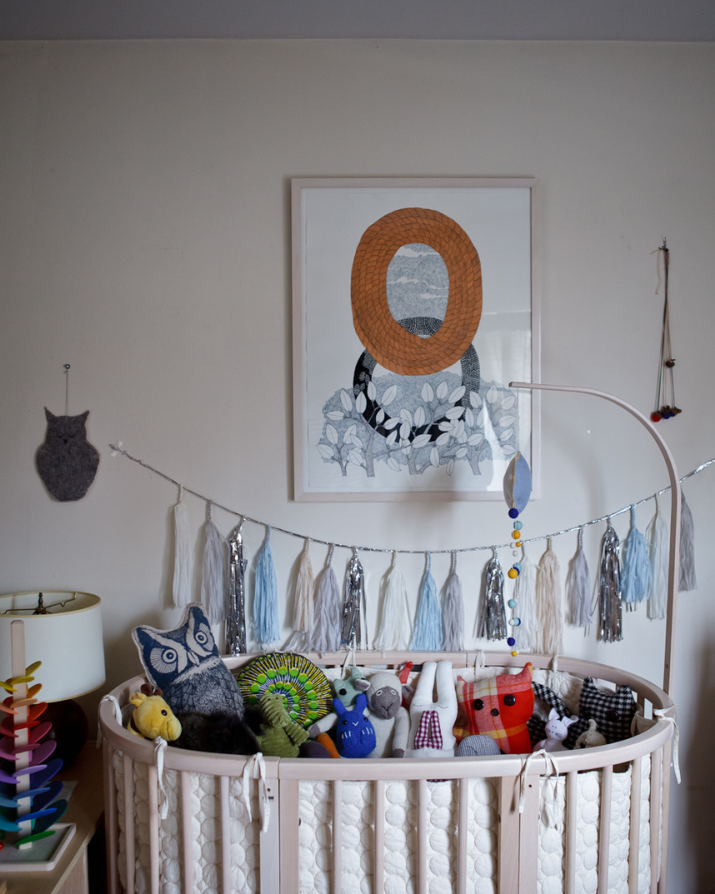 Oliver's Stokke crib is full of fuzzy friends for the time being until he grows into it. The tassel banner is from Confetti System and the drawing is by Jenessa Goodman.
We have been nesting at home for the past month, clearing clutter, and sprucing up our house in preparation for our first child.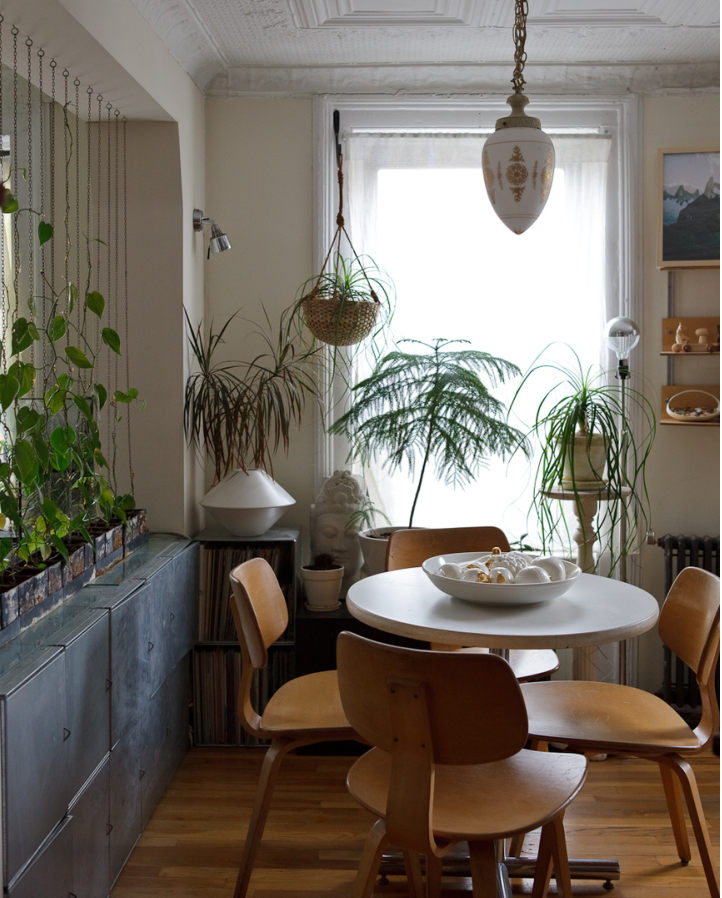 We like to have breakfast in this sunny plant-filled corner. The potato chip chairs were a vintage find in Vermont. The area is framed by a "plant wall," which we created by running philodendron vines up silver chains to divide this nook from the living room. A norfolk pine and ponytail palms are in the background.
One of the things that makes our house our home is the artwork and objects collected over the years of knowing photographers and artists, and traveling together. Each piece of artwork reminds us of the friendships we have made over the years. Special objects brought back from trips recall out time together exploring the world. We love to look at a beautiful textile from Bali and think of the small village we bought it in.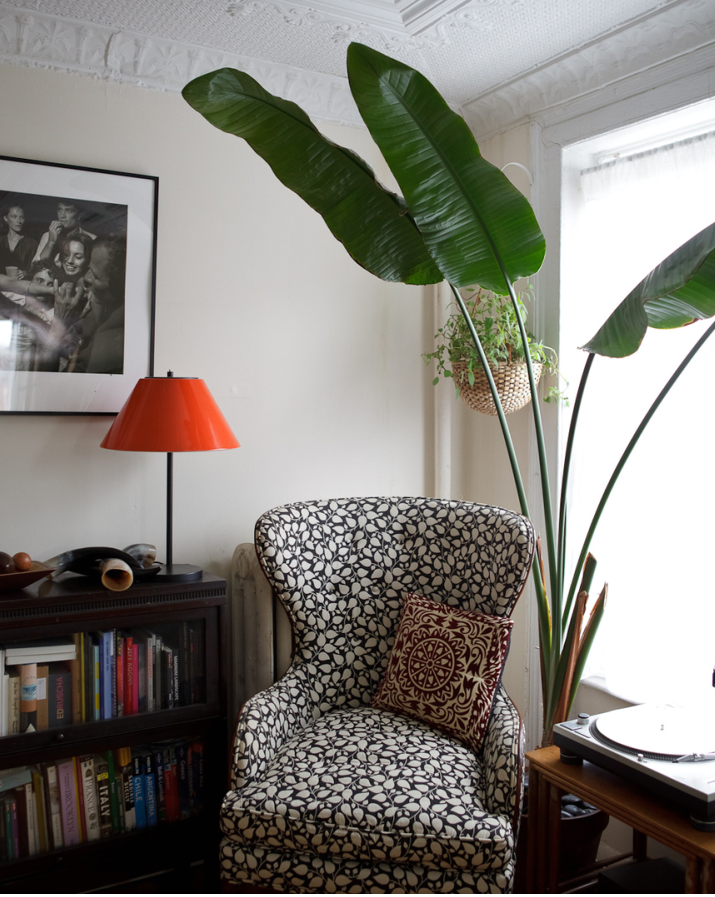 This vintage wingback chair was a gift from my bridesmaids, now it is the perfect nursing corner. The banana tree gives the room a sense of scale. Photograph by Larry Fink.
Our houseplants also bring life and personality into our home. We have spent years nurturing our plants (with the help of friends during our frequent time away) and now we have a beautiful little boy to take care of as well.
All photographs by Gemma and Andrew Ingalls.