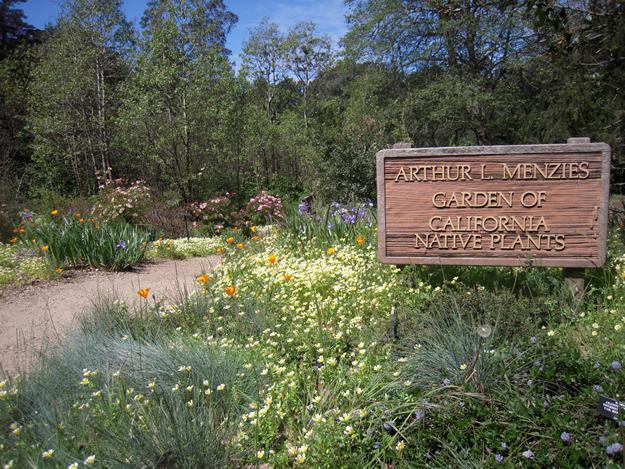 Entry to the garden. Photo by David Kruse-Pickler
Hundreds of native wildflowers bloom with life as the meadows awaken at the San Francisco Botanical Garden. A colorful show for any botanic enthusiast, we have 5 reasons to further persuade a trip this spring, just be careful not forget your heart in San Francisco when you leave.
1. Right in the Heart of the City!
California boasts close to 6000 native plants—more than all other states combined—and in the spring, its mountains and valleys come alive with color as these plants burst into flower. But you don't have to head to the hills to see them. This vibrant seasonal show takes place without fail right in the heart of San Francisco as the award-winning four-acre Arthur L. Menzies Garden of California Native Plants blazes into bloom from April through mid-May at San Francisco Botanical Garden in Golden Gate Park.

Erysimum franciscanum and Clarkia in bloom. Photo by James Gaither
2. All in One Place!
SFBG's Garden of California Native Plants brings together a diverse variety of plant communities found throughout California into one stunning display. With hundreds of species on view, the Garden's central native wildflower meadow comes to life with bright blue wild lilac, gleaming golden poppies, delicate white and yellow meadowfoam, purple irises, and more.

Peak of April Bloom. Photo by Don Mahoney
3. Award-winning Design!
The native plant garden dates back to 1960, but it was San Francisco landscape architect Ron Lutsko, Jr.'s redesign in 1988 that truly transformed the Garden of California Native Plants into a showstopper. After it won a National Award of Merit from the American Society of Landscape Architects, author Ken Druse enthused in his book The Natural Habitat Garden, "Beyond a collection, it is perhaps the most beautifully planned and maintained public garden in the country dedicated to habitat-style planting."

Couple enjoying the Redwood Grove. Photo by Kathryn Rummel
4. A century-old Redwood Grove to Boot!
Visitors should not miss the opportunity to stroll into SFBG's famed, century-old Redwood Grove to appreciate another remarkable and unique California plant community. Full of towering coast redwoods, the Grove is an otherworldly sanctuary filled with lush shade-loving ferns, flowering currant, western azalea, huckleberry, and more than 100 species of plants that make their home in the redwood forest.
5. Many Ways to Enjoy the Collection!
In order to ensure that visitors get the most from their visit, SFBG offers an array of ways to appreciate and learn about California's one-of-a-kind plant life with free native plant maps, docent-led tours, special signage, and more, as well as unique classes and activities for families and adults.
Please visit the San Francisco Botanical Garden website for more info.

The later part of the native wildflower bloom, when the buckwheat bloom turns pink. Photo by Joanne Taylor