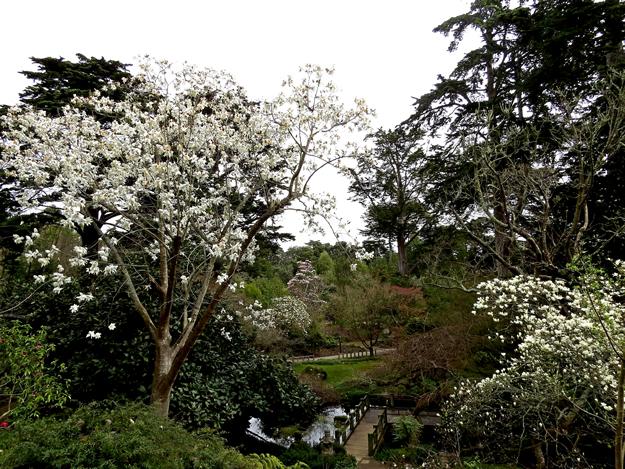 Magnolia campbellii 'Strybing White' is the largest magnolia at the San Francisco Botanical Gardens, towering over 80 feet. Photo by Auweia
In February, the San Francisco Botanical Garden becomes the ideal setting for a romantic rendezvous. It's the time of year when the velvety silver buds on the branches of the garden's magnolia trees burst open into pink and white flowers that fill the garden with soft pastel colors and sweet, fragrant scents.
"Our annual magnolia bloom is spectacular. And word is from our curator that the magnificent magnolias will be at their best starting in February -- just in time for Valentine's Day," says SFBG spokesperson Nina Sazevich. "It is probably the greatest highlight of the year in the garden, and not to be missed. And given the bloom timing this year, a visit to the garden for Valentine's Day is going to be the perfect flower-filled romantic stroll under heavenly, fragrant clouds of magnolia blooms."

Magnolia dawsoniana is an endangered species from China and has large pink flowers up to 10 inches in diameter that drop with age and look like flags blowing in the wind. Photo by Auweia
The garden's magnolia collection is one of the world's most important for conservation purposes. It includes 51 species and 33 cultivars, including many prized examples from Asia. When the buds of the trees awaken in late winter, the blooms are a sight to behold. And their peak bloom time often extends well into March. During this time, visitors to the garden can take advantage of free docent-led tours and unique classes and activities, including a special Magnolias by Moonlight tour on Valentine's Day.
"A 50-foot tree with thousands of large pink flowers held upright against a blue sky is a sight one will remember for the rest of one's lifetime," says garden curator Don Mahoney. "Magnolias are absolutely the signature flower of the San Francisco Botanical Garden. The city has an ideal climate to support them."

Magnolia campbelli 'Late Pink' has flowers that appear two to four weeks later than other Magnolia campbelli, extending the magnolia viewing season at the garden. Photo by Auweia.
Free Magnolia Walk maps highlighting key species and their location within the garden are available to the public. In addition, the garden is offering a Magical Magnolia family adventure map that takes families on either a stroller-friendly path or a more adventurous route off the beaten path to search for furry magnolia tree buds and giant flowers. For more information about tour times and other events, visit www.sfbotanicalgarden.org.