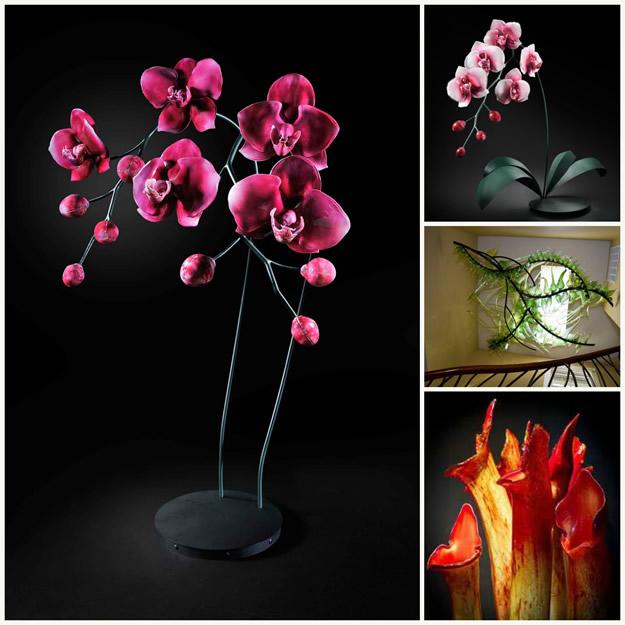 A look at Jason Gamrath's work that will be on display at Art in Bloom. Photo Jason Gamrath
A garden in full bloom is the perfect showcase for an artist's talents, offering a diverse palette of colors, textures and shapes to work with. You can see garden artistry at its best at the 2014 Northwest Flower & Garden Show, taking place February 5-9, 2014, at the Washington State Convention Center. "Art in Bloom" is the show's theme this year, with the region's top garden designers and landscaping firms displaying their artistic ways with blooming flowers and exotic plants in magnificent gardens, both large and small. You'll also find a number of special exhibits featuring new interpretations of garden art, including one by award-winning interior and landscape designer Karen Stefonick of Karen Stefonick Design and renowned Pacific Northwest glass artist Jason Gamrath, who have teamed up to showcase exquisite floral displays blending Gamrath's beautiful glass pieces with Stefonick's natural designs.
Other show highlights include:
A full acre of show gardens brimming with ideas for gardening projects.
A floral competition featuring lavish displays of artfully arranged blooms by area floral designers.
A marketplace of more than 300 exhibitors displaying home and garden tools and accessories, new plants and unique hand-crafted garden art.
A Small Space Showcase presenting innovative ideas for creating container gardens for decks, patios, terraces and other small-space retreats.
"Funky Junk" gardens displaying the creative use of found and recycled materials by high school horticulture students.
The Northwest Flower & Garden Show is also offering a large roster of free horticulture seminars for both new gardeners and seasoned pros. Learn how to solve vexing landscaping problems and create livable outdoor spaces. Get tips for taking garden edibles to the dining table by attending the daily Garden to Table Cooking series. If you're a novice gardener, the show's Gardening 101 series will offer 30-minute how-to seminars focused on a single topic. Seminars on shade gardening, garden maintenance, and edible gardening are also among the many sessions offered.
For complete details about the show's exhibits and seminars or to order tickets in advance, visit www.gardenshow.com.
We shared a few photos from this article on our Facebook page, see what other Garden Design fans had to say ("Love me some orchids!") and join the conversation with us!