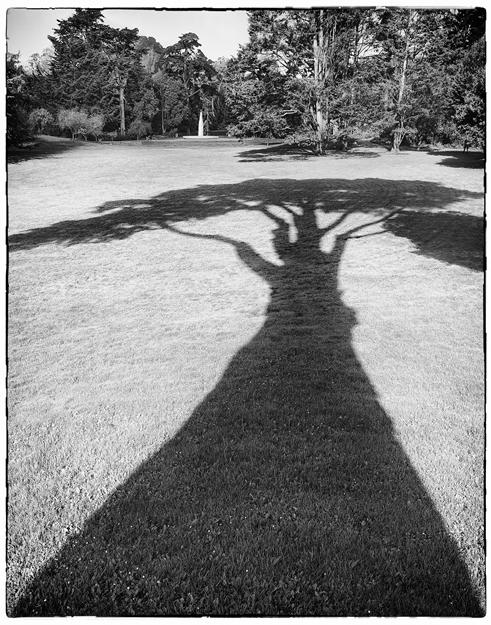 Cypress shadow, Great Meadow, by Stephen Kane
"I think that I shall never see a poem as lovely as a tree." This exaltation, expressed in words by Joyce Kilmer, is conveyed visually in a new photography exhibit on display at the Helen Crocker Russell Library of Horticulture in San Francisco.

Fog Lift at Strybing Wall, by Stephen Kane
Trees Love Light, featuring the work of photographer Stephen Kane, celebrates trees in all stages of life and in settings that enhance how light plays on, through, and around them. Kane has lived in San Francisco for nearly 17 years and calls the Botanical Garden and Golden Gate Park his backyard. "I have loved walking in and photographing the park at all times of day and in all types of weather – heavy fog, medium fog, lifting fog, and drifting fog. I've even been known to tolerate full sun. The current exhibit grows out of these walks, and out of a life-long love of trees." he says.

Jacob's Ladder, Stow Lake, by Stephen Kane
Trees in the exhibit appear both isolated and in landscapes, and in partial and full detail. But the common theme is the interplay of light and the ethereal beauty it reveals. "Light illuminates the texture and color of trees along with their leaves and flowers. Light shows the form and gesture born of soil and climate, and wind and human intervention; it finds symmetry or lays bare disorder, and creates shadows that change through the day and the seasons. At times, the light even seems to come from within," says Kane.

Magnnolia campbelli, by Stephen Kane
The exhibit of color and black-and-white photography ranges in tone from romantic realism to abstract exploration, and is occasionally documentary. "In the end, my hope is to explain to myself and viewers why I love trees and my park backyard so much, and in so doing, intensify and invigorate our experience of the natural world." Kane explains.
The Trees Love Light exhibit will run through April 2014. For more information visit the Helen Crocker Russell Library of Horticulture website at www.sfbotanicalgarden.org.

Spotlit tree, by Stephen Kane
Join the conversation on our Facebook page. Read the comments from photographer Stephen Kane and other Garden Design fans about this article.