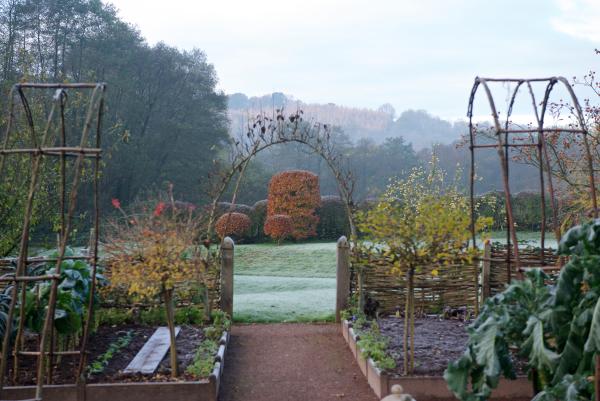 View from the kitchen garden out to the landscape designed by Arne Maynard at Allt-y-bela. Photo credit: William Collinson, Arne Maynard Garden Design
What: Robert Dash Garden Discourse Lecture
When: February 11, 2014
Time: 6pm
Where: The Carlton Hobbs Gallery, New York City
The Madoo Conservancy is hosting the first annual Robert Dash Garden Discourse February 11th at the Carlton Hobbs Gallery in New York City. Celebrated British garden designer Arne Maynard will give the inaugural lecture, 'A Sense of Place'. The evening talk will focus on Arne's design philosophy of creating gardens which seem to naturally sit within their landscape or environment.
Using gardens designed and built in Europe and the USA, Arne will illustrate through a series of beautiful photographs and design plans, the importance of understanding a garden's particular situation, its historical reference points, and the plants that already form the vernacular of the landscape in which it sits.

Allt-y-bela from the cottage garden wall. Photo Credit: William Collinson, Arne Maynard Garden Design
"New clients often ask me how it is that the gardens I design seem to fit so naturally with the house they surround. They wonder how this will be achieved for their own garden and indeed whether it will be possible. The answer lies with them—I ask so many questions at those first client meetings about the house, their style choices, the plants that currently thrive within the existing garden or landscape and importantly how they intend to use the garden. All these details, together with a dedicated commitment to using only the best craftsmanship in building a garden, allow us to achieve finished gardens that suit their owners, and their landscape, perfectly."

A view from Allt-y-bela out to the landscape. Photo Credit: William Collinson, Arne Maynard Garden Design
The Madoo Conservancy is a beautiful two-acre garden in Sagaponack, New York designed by the late artist, writer, and gardener Robert Dash. Alejandro Saralegui, Director of the Madoo Conservancy and organizer of the lecture says, "We wanted to find a way to celebrate the life of Bob Dash, who established Madoo in 1967 and who dedicated his life to the garden, bringing horticultural knowledge and inspiration to visitors young and old. The annual Garden Discourse lecture series will allow us a rare chance to discuss garden design, what it means to those who create gardens and indeed enjoy them."
Tickets are on sale for $125 for Madoo members, $150 non-members. For more information and to purchase tickets, visit the Madoo website.

Layered beech topiary and the views beyond. Photo Credit: William Collinson, Arne Maynard Garden Design

Earthworks bring gentle structure and elevated levels as the garden blends with its landscape. Photo Credit: William Collinson, Arne Maynard Garden Design