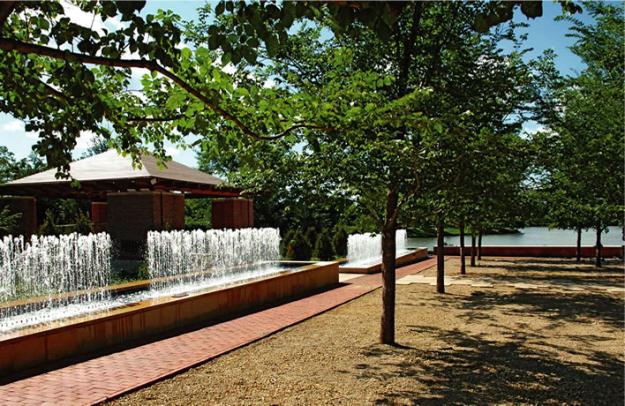 Here an allée of elms and linear fountains frame a view of the lake.
Modernist master Dan Kiley died before he could fully realize his vision for the new entrance to the Chicago Botanic Garden, but during the summer of 2005 the final design by his protégé Peter Morrow Meyer of Bristol, Vermont, was unveiled. Kiley, considered one of the 20th century's greatest landscape architects, died in 2004 at age 91, as designs for the 3-acre garden, known as the Kiley Esplanade, were being formulated.

Bright annual plantings slope toward the lake in crescent patterns.
The Esplanade serves as the grand entrance to the 385-acre botanical garden, and the final design faithfully reflects Kiley's geometric signature. A rectilinear greensward bordered by a striking pair of elm allées frames the view of a lake and sweeping sky. The main axis walkway seamlessly guides visitors to adjacent gardens and a new lake walk, and creates a powerful welcome to the School of the Chicago Botanic Garden, which opened its new building in 2006. "The idea was to make a broad statement, to give a sense of the garden's huge expanse," Meyer says. The wide-open Esplanade is flexible to accommodate exhibits and other events, he adds. "It is very much a people garden." Highlights include fountains that spout from a line of rectangular pools to create a see-through wall, along with bright blocks of annual plantings that slope toward the lake in crescent patterns, which Meyer compares with a pebble dropped in a pool.
Chicago Botanic Garden: 847-835-5440, www.chicagobotanic.org.