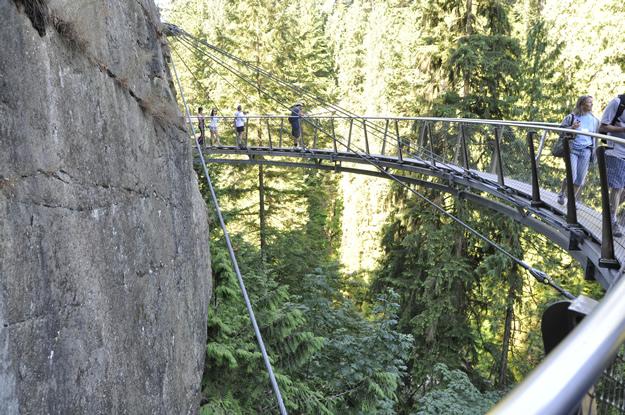 Photo by:
Nick McCullough
Nested in a residential neighborhood in West Vancouver, this park offers stunning perspective on the British Columbian ecosystem with its three attractions. The centerpiece of this operation is the historic bridge that stretches 450 feet across and 250 feet above the Capilano River. As you cross, you are embraced by the beauty of the river below and the occasional bald eagle flying overhead. The bridge was built in 1889, and its construction and history is well told throughout the 27 acres.
Treetops Adventure at the park offers, as they say, a "squirrel's eye view" amongst ancient 200-foot-tall Douglas firs with a series of suspension bridges that allow you to journey from tree to tree. Along the way, you'll learn about the eco-system of the temperate rainforest, and pick up a few fun facts that plant geeks like me can't get enough of.
The newest and most thrilling area of the park has to be the Cliffwalk which opened in 2011. If you are brave enough (and many aren't) you can explore a series of cantilevered glass and wood walkways that allow you to discover the granite cliffs of the park. This offers an unforgettable and breathtaking perspective that would be very hard to achieve without dawning climbing gear and scaling the cliff yourself. For those who love design and engineering, this walk through the cliffs will leave you enthralled with its seamless, modern finishes and gravity-defining rigging.