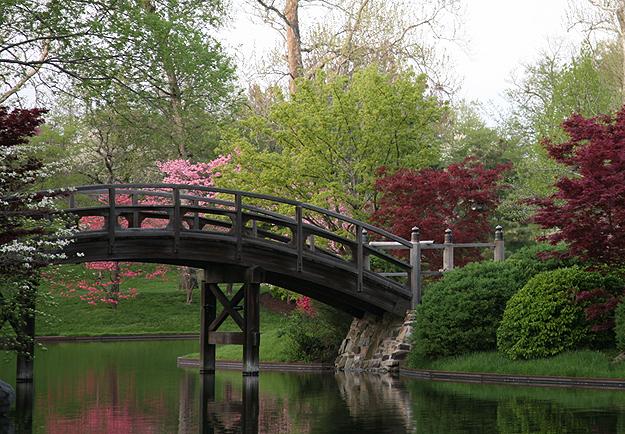 Photos courtesy of Missouri Botanical Garden.
Celebrate the history, culture, and people of Japan this Labor Day weekend while visiting one of the largest Japanese strolling gardens in North America. The Japanese Festival at the Missouri Botanical Garden in St. Louis is one of the largest and oldest of its kind in the United States, featuring traditional Japanese art, dance, food, and entertainment among the setting of a serene landscape that's uniquely beautiful in every season. This year's celebration marks the year of the Dianthus or "Nadeshiko," commonly referred to as the "Pink," and will offer a variety of activities of special interest to garden lovers.
Get more from Garden Design
Explore the 14-acre Japanese Garden, or Seiwa-en (garden of pure, clear harmony and peace) and enjoy its traditional plantings, waterfalls, beaches, and islands. You can also take a candlelit stroll through the garden from 8 to 10 p.m. on both Saturday and Sunday nights. The private Teahouse Island will be open for guided public tours every hour from 12 to 6 p.m. on Saturday and Sunday and from 12 to 4 p.m. on Monday during the three-day event. Normally closed to the public, visitors can see the garden's soan, or "farm hut" style teahouse, which was a gift from Missouri's sister state of Nagano in Japan. Originally built in Japan, the teahouse was reassembled on site by Japanese craftsmen. Educational demonstrations are also being offered, including the disciplined art of ikebana flower arranging and the proper pruning of a delicate bonsai tree.
Since 1977, the Missouri Botanical Garden has produced the annual Japanese Festival in conjunction with the Japanese Activities Committee, a coalition of several Japanese-American organizations.
2014 Festival Information
Dates:
Saturday, August 30: 10 a.m. to 8 p.m.
Sunday, August 31: 10 a.m. to 8 p.m.
Monday, September 1 (Labor Day): 10 a.m. to 5 p.m.
Admission:
$15 for adults ages 13 and over
$5 for members; members' children (ages 12 and under) are free.
Visit the Missouri Botanical Garden website for complete details.