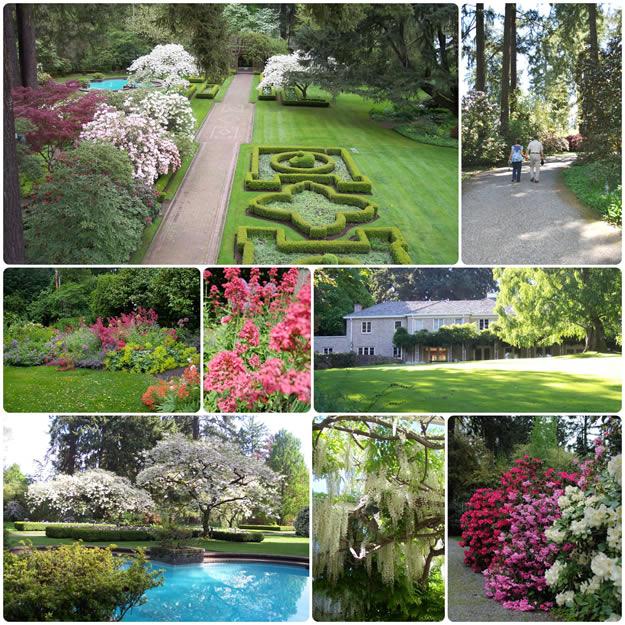 Whether you visit Lakewold Gardens in the dead of winter or the peak of summer, this Pacific Northwest horticultural haven offers beautiful blooms and hidden discoveries during every season.
The Lakewold estate and grounds in Lakewood, Wash., were donated to the nonprofit organization Friends of Lakewold in 1987 by owner Eulalie Wagner. An avid gardener, Mrs. Wagner made this garden her life project and designed it with the help of Thomas Church, a leading American landscape architect during the 20th century. The gardens feature a wide variety of plant and tree collections organized in "garden rooms," including rhododendrons, ferns, roses, Japanese maples, shade plants and woodland gardens. Seasonal delights abound, with plants and foliage that reach their peak of beauty at various times of the year.
Here are some of the highlights.
Winter: Lakewold horticulture manager Mark Lyke looks forward to seeing the Dawn viburnum appear in the winter. "Their sweet fragrance and pretty pink flowers are a pleasant surprise in January, as winter temperatures drop," he says. "There are also many witch hazels on the grounds, including Hamanelis Virginia, the first to bloom in the late fall, and usually a harbinger of winter. Most of the other witch hazels on the grounds bloom in late winter, usually in February or March."
Spring: Pink dogtooth violet (Trillium grandiflorum) can be found in large waves along the trials, and ephemeral bloodroot (Sanguinaria Canadensis 'Multiplex') emerges in the fern garden, with its pure white flowers that seem to glow from a distance. In the early spring, the walk from the rock garden on the South Border trail is intoxicating, displaying the beautiful fragrant flowers of Siebold's Magnolia.
The most magnificent spring show is put on by Lakewold's nearly 900 rhododendrons, which range in size from tiny species to giant hybrids. They offer masses of color and heady fragrances from March through May. "Rhododendron hybrid Bow Bells, one of Mrs. Wagner's favorites, bloom from mid-April until at least the end of May," Lyke says.
Summer: Most of Lakewold's collection of late spring and summer flowering perennials can be found in the cutting garden. The display starts in the spring with hyacinth, peonies, alliums, and hardy geraniums and ends in late fall with asters and Agastache (giant hyssop). This garden room is also frequented by butterflies, hummingbirds, dragon flies, and bumble bees throughout the season.
Fall: Japanese maple Acer palmatum Shindeshojo, located in the lower woodlands towering over the ponds, bears leaves that are flaming scarlet in the spring, turn reddish-green in mid-summer, and become a vibrant blend of red and orange in the fall, according to Lyke. The leaves of paperbark maple Acer grisium also turn magnificent shades of red, orange and pink in autumn.
For more information about Lakewold Gardens, visit www.lakewoldgardens.org.
Join the conversation and see what Garden Design Facebook fans had to say about Lakewold Gardens!