I've recently developed a mild obsession with vines. They're perfect tucked into small spaces and make for an ideal horizontal or vertical element, famously covering fences and houses swiftly and beautifully. Most gardeners are familiar with the standbys like clematis, climbing roses, passion flowers, jasmine, honeysuckle, and wisteria. I'm partial to natives like climbing aster (Ampelaster carolinianus), a drought-tolerant vine that climbs like a rose and bears lavender-pink flowers as late as October on through January, with a shock of red and brown in the fall. Dan Long, the founder of Brushwood Nursery, which deals exclusively in vines and climbers, advises vine newcomers to put aside misconceptions about the plants being hard to manage. "They're certainly less work than many gardening tasks and can be so rewarding," says Long. "Vines in general are very forgiving. You won't kill them if you prune them the wrong way, and they transplant easily."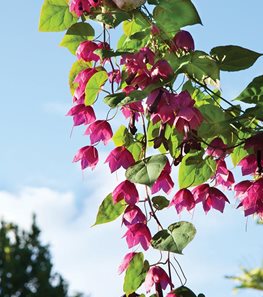 Photo by: Marianne Majerus/MMGI.
Purple Bell Vine
The Rhodochiton atrosanguineum, or Purple Bell vine, a native of southwestern Mexico, is hardy to zone 9 and offers much to covet. Fast-growing, its glossy, heart-shape leaves contrast with cheery maroon flowers that have deep purple corollas and bloom all summer long. Purple Bell is easy to start from seed indoors in cooler climates. Once germinated, place it in the ground or a large pot with plenty of root space, in partial to full sun, and with a device for it to twine around. Then stand back, as it can grow to 10 feet in a season. Purple Bell may not have found its way to Bevis Bawa's Sri Lankan idyll (see "The Brothers Bawa"), but it certainly would have piqued his interest.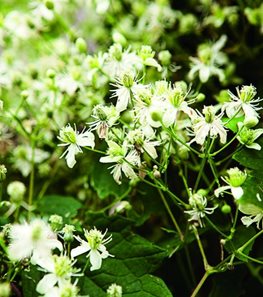 Photo by: Jason Dewey.
Sweet Autumn Clematis
With its ample sprays of small, fragrant white blossoms and lustrous dark-green foliage, Clematis terniflora (also called virgin's bower) is "a beautiful cascading vine that grows fast and blooms in August when all the Hamptonites are in their gardens." If it gets out of bounds, it can take a hard pruning and will easily rebound. (With commentary by Oehme, van Sweden principal Eric Groft, see Hamptons Haven.)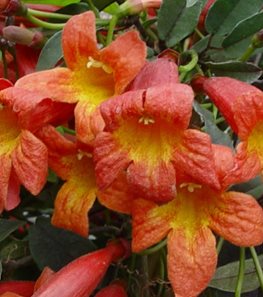 Photo by: Brushwood Nursery.
Bignonia capreolata 'Tangerine Beauty'
Bignonia capreolata, is evergreen to semi-evergreen with green (in shade) to purple and brown winter foliage and is a favorite of hummingbirds.
More Vines Resources: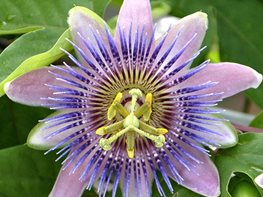 A genus of about 500 species of vines (and the occasional shrub), Passiflora flowers are distinguished by a characteristic design of radiating filaments and multi-leveled structure. They've long fascinated botanists, gardeners, and even theologians.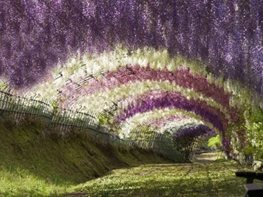 Crazy Plant Trend of the Day: Japanese Wisteria Tunnel
Photographs of some of the amazing wisteria tunnels in Japan. The wisteria festivals, or fuji matsurii, which come after the cherry blossom festivals, generally from mid-April to late May, have been an event for centuries, inpsiring poetry and woodcuts in Japanese culture.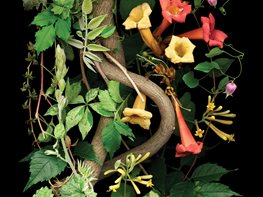 Ken Druse puts together "recipes" for your garden-whether you are looking for a Midwest prairie, a collage of trailing vines, a woodland nook, or a night-blooming palette-showing what to plant for each theme. Each garden "recipe" is captured in these beautiful images by Ellen Hoverkamp. The images are not only stunning, but practical-Druse and Hoverkamp put ground covers at the bottom, shrubs in the middle, and trees at the top.
The best climbing vines and roses for covering fences and trellises
How to grow wisteria and other vines up a wooden arbor