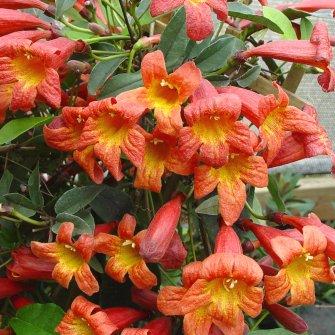 Photo by:
Courtesy of Brushwood Nursery
A photo of Bignonia capreolata 'Tangerine Beauty,' available from Brushwood Nursery.
I've recently developed a mild obsession with vines. They're perfect tucked into small spaces and make for an ideal horizontal or vertical element, famously covering fences and houses swiftly and beautifully. Abetting this new interest is the Brushwood Nursery (gardenvines.com) in Athens, Georgia. Brushwood is the best mail-order nursery I've come across that deals exclusively in vines and climbers. It sells a great range of plants for zones three to 11, including standbys like clematis, climbing roses, passion flowers, jasmine, honeysuckle, and wisteria, plus hundreds of lesser-known specimens. I'm partial to natives like climbing aster (Ampelaster carolinianus), a drought-tolerant vine that climbs like a rose and bears lavender-pink flowers as late as October on through January, with a shock of red and brown in the fall. Another, Bignonia capreolata, is evergreen to semi-evergreen with green (in shade) to purple and brown winter foliage and is a favorite of hummingbirds. Dan Long, the founder of the family-owned operation, advises vine newcomers to put aside misconceptions about the plants being hard to manage. "They're certainly less work than many gardening tasks and can be so rewarding," says Long. "Vines in general are very forgiving. You won't kill them if you prune them the wrong way, and they transplant easily." They're easy to grow and, now, easy to order.
Related: The Best Mail-Order Plant Sources.
Lindsey Taylor is the Style Director of GARDEN DESIGN.