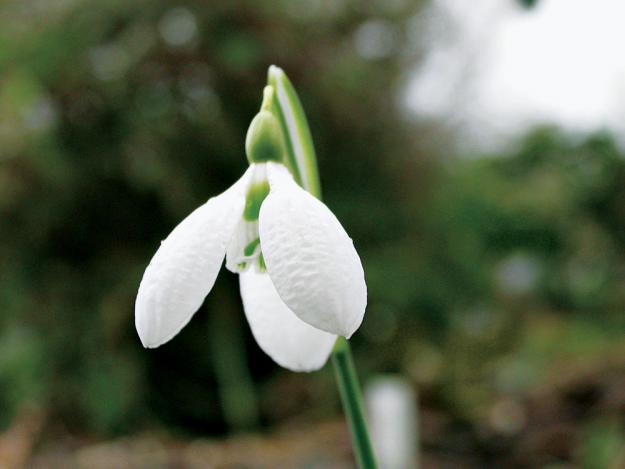 Snowdrops inspire such obsession that enthusiasts of the flowers have their own appellation: galanthophiles, a term that derives from the genus name galanthus. One of nature's most exquisite compositions, snowdrops bloom from melting snow cover just as winter ends. Their delicate white flowers hang down from crisp green stalks as their petals elegantly fight gravity to open and display their extraordinary markings. The 19 species have distinctive shapes, and collectors are fervent in documenting the plant's various incarnations. A testament to that fascination is Snowdrops (Frances Lincoln Limited, 2012), a beautiful digest on the subject by galanthophile extraordinaire Gunter Waldorf.
Waldorf's book is a warm and engaging guide, covering the essentials — structure, species, and planting — as well as useful insider scoops: how to cultivate relationships with snowdrop sellers, for instance, in order to purchase the more rare varieties, which sometimes need to be bought a year in advance. Snowdrops can take several years to cultivate, and some varieties are so unusual that a single plant will sell for hundreds of dollars, Waldorf writes.
Accompanying his text is a gorgeous photographic portfolio of more than 300 snowdrops — all shot by Waldorf himself — found throughout Europe. In a separate showcase, the author includes a tantalizing glimpse of 20 new cultivars that have yet to come to market. Many of the varieties are not available in the United States due to European Union environmental protections, though similar snowdrops can be found stateside. So, foregoing a trip to snowdrop country, the book provides plenty to savor — all year round.

This article was first published in Garden Design
Winter 2012