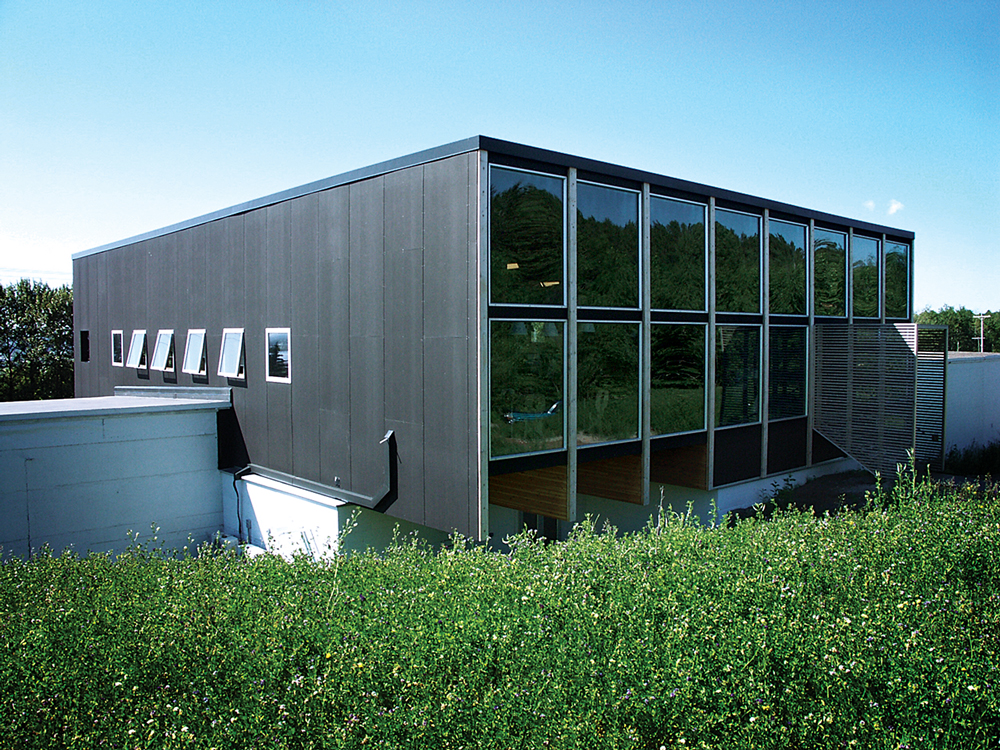 Loll's eco-friendly headquarters.
Though he makes a living creating outdoor furniture for the "modern lollygagger," Loll Designs CEO Greg Benson doesn't have much time for lounging. Whether he's overseeing the eco-conscious design process in Duluth, Minnesota, or taking a quick sail on Lake Superior during his lunch break, Benson is a man on the move.
Loll Designs' genesis is laid-back. Brothers (Greg and Dave) and a friend (Tony Ciardelli) pooled their entrepreneurial skills in 1997 to start TrueRide, manufacturing ramps for skate parks. "We didn't get into building skateboard ramps because we were skaters who wanted to build ramps," says Benson. "We felt a strong urge to be independent and work for ourselves." Loll came about in 2003 as a way to use extra materials from the skate parks. "We didn't want to just throw expensive and good material into a landfill," explains Benson. "Besides the environmental benefits, it just made economic sense."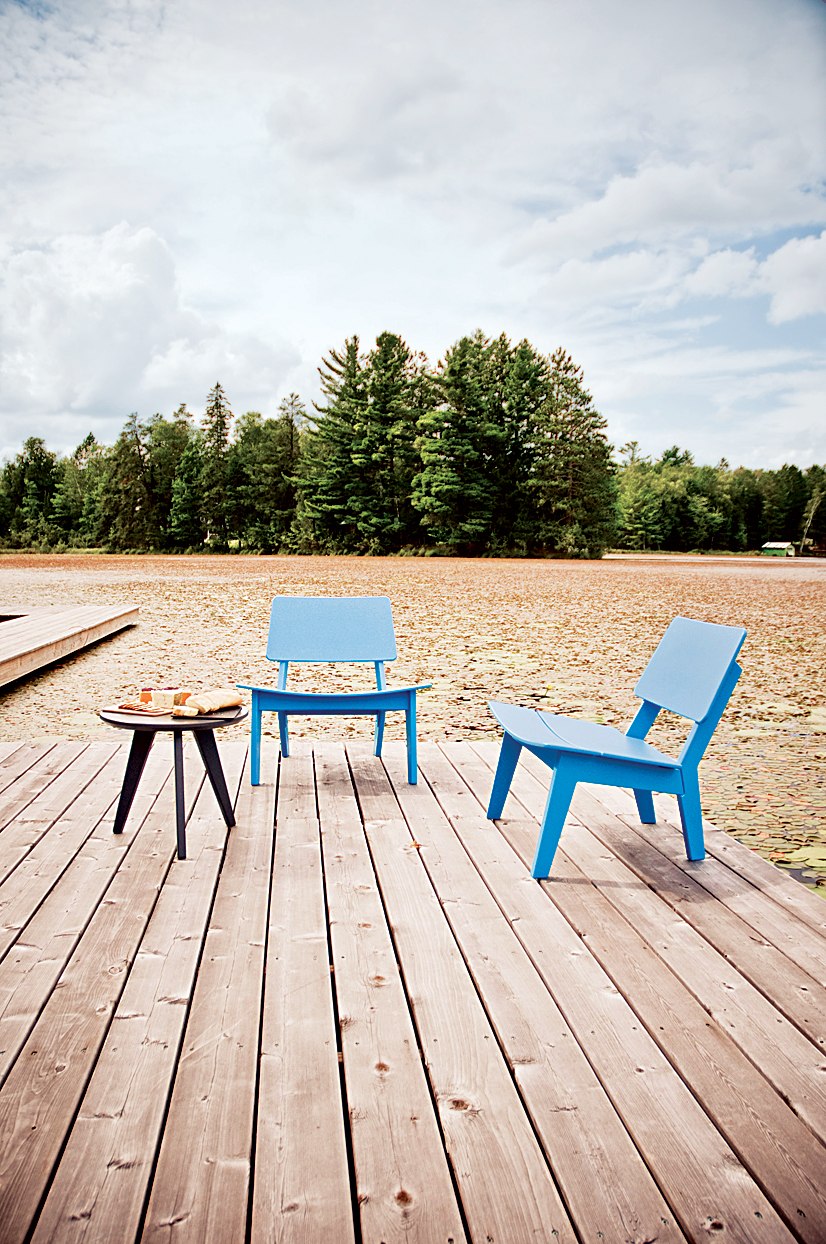 Lago chair in blue.
Loll started with a simple Adirondack chair (a redesign of Thomas Lee's iconic 1903 Westport plank chair) and expanded to include a slew of durable outdoor chairs, tables, loungers, planters, and accessories. The pieces are as functional as they are stylish, with features like built-in storage and hidden beer openers. Though mostly designed in-house, Loll collaborates with outside designers like Eric Pfeiffer and Studio Murmur and partners with companies like Room & Board and Design Within Reach.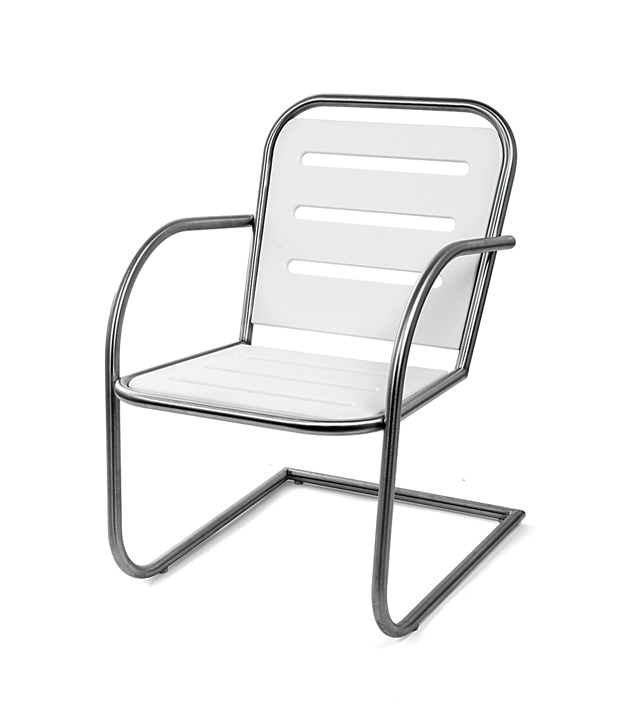 The Pliny chair.
Loll makes its products from 100 percent recycled materials (12 million milk jugs, Benson calculates) and minimally packages them in recycled cardboard. Company headquarters is a testimony to its green mission. In 2004, it hired local architect David Salmela to help remodel a defunct burial vault manufacturing plant overlooking Lake Superior. They spent months removing debris and greening the four-acre plot with wildflowers and natural grasses. Salmela's stunning 5,000-square-foot, all-glass structure sits atop the original factory and boasts passive solar heating, wind power, and natural light and ventilation. Loll employees take advantage of the on-site trails year-round—hiking and jogging in the summer, snowshoeing or cross-country skiing in the winter.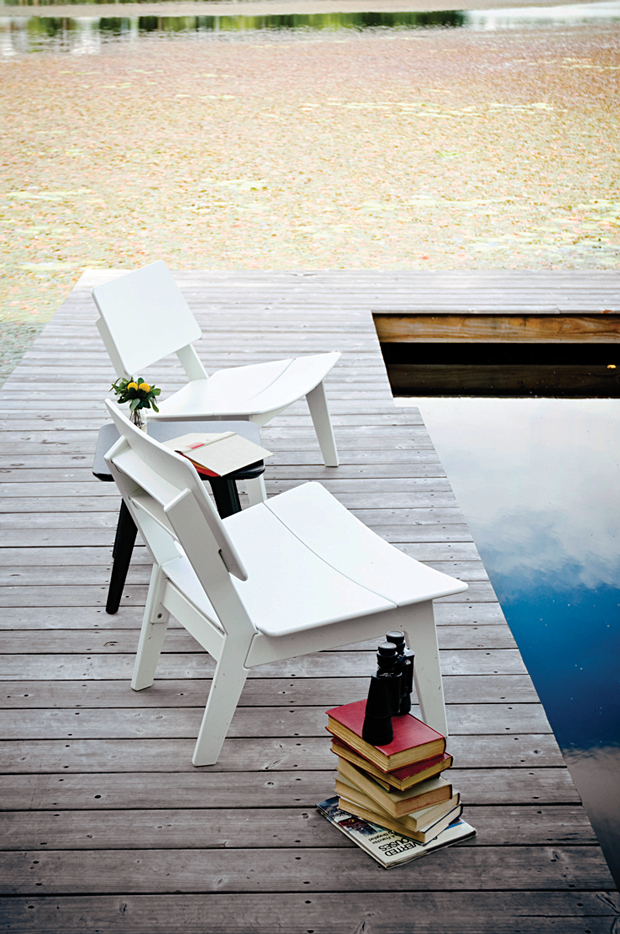 Lago chairs in white.
This spring, Loll introduces the Lago, a wide chair ("along the lines of the Shell Chair by Hans Wegner," says Benson) with a built-in wine glass holder, and the comfy Deck Chair, created with designer Brendan Ravenhill. Then there's a kids' outdoor playhouse created at Modern Playhouse owner/designer Gitane Ross' request, with a pint-size table and chairs to match. Of all the new releases, Benson is most excited about the Pliny, Loll's first stainless-steel chair. "The motel chair was the inspiration for Pliny," explains Benson. "You recognize it immediately and feel comfortable with the design right away. I've wanted to make this chair almost since the beginning of Loll."
All photos courtesy of Loll Designs.

This article was first published in Garden Design
March 2012