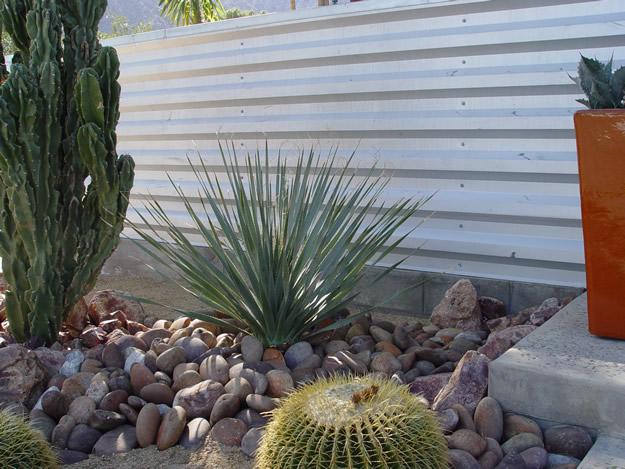 Palm Springs, Calif. is a Mecca of modern architecture from mid-century restorations to futuristic open dwellings. When fences, partitions and screens are called for, the traditional cedar board fence just doesn't fit into these landscapes. Damage by wind, blowing sand, and extreme heat of the southern California desert excludes most outdoor wood products.
Smart desert designers found another material that's well suited to modern landscapes and holds up on a truly industrial level. Galvanized steel panels first created for metal building skin are repurposed into clean, streamlined fencing. Posts are galvanized pipe set in a concrete footing with the panels turned on the long side and attached with screws for a clean stylish look.
Steel fencing is one of the most promising new ideas from contemporary landscape architecture. It's also a great problem solver. The strength of an all-steel fence makes an excellent wind screen. Use it to close off a sideyard from street views. Extend your building facade with metal panels or organize spatial visibility in the backyard. There's no better choice for a problem neighbor because these fences can be built at four or fourteen feet tall. Such is the nature of industrial materials rethought and repurposed to create swanky contemporary partitions that literally last forever.