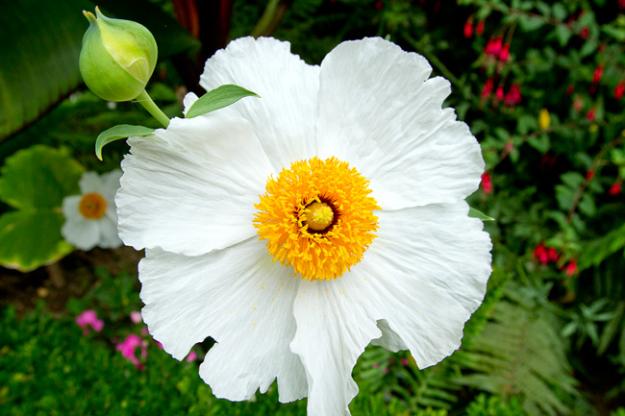 Photo by:
Anna Laurent. Romneya coulteri in bloom at Washington Park's Shakespeare Garden, Portland, Ore.
"The Matilija Poppy must be conceded the queen of all flowers." — Mary Elizbeth Parsons, The Wild Flowers of California, 1897.
"[Romneya is] the fairest plant that ever came to our land from that country of flowers, California." — William Robinson, The English Garden, 1921.
Matilija poppies (pronounced ma-til-EE-ha) are fondly referred to as the fried egg flower, nicknamed for bleached-muslin petals and buttery yellow stamens that wouldn't be out of place on a breakfast plate. The petals are slightly wrinkled, as if they haven't yet ironed themselves for the day. Native to coastal ranges and valleys of Southern California & Baja Mexico, the Matilija (Romneya coulteri) unfolds with a dazzling sunny countenance when planted in full sun. Blooming begins in early May, and sweeps north along the west coast—the poppies are now still blooming in Oregon's summer sun.
The flower was a contender for the title of state flower of California in 1890, but was defeated by the smaller, orange California poppy (Eschscholzia californica). Matilija nonetheless remains a fixture in many California gardens, where it is alternately praised and scolded for its tenacity—it will take over a garden, but at least it's so pretty. Adapted to harsh conditions of the chaparral, matilijas are good at colonizing after a burn, seeding prolifically, and developing extensive root systems. The steel-blue foliage is leathery, as you would expect of a drought-loving plant.
Each flower is about four inches long, with a show-stopping eight inches as the largest on record. It's the largest bloom of any poppy, and also of California native plant, according to the California Native Plant Society. The plant is a perennial shrublet that develops woody stems and a span of up to seven across and six feet tall. Cut all woody stems to the ground in the fall or winter, and the plant will grow from rootstock next season.
Look for the seed pods in the upcoming months. Seeds will begin dispersing when the pods turn dry and brown, and the sides arch outwards to create openings at the top. When empty, a stripped seed pod resemble a hollow bird cage. Until then, it will shake with hundreds of seeds, as poppies tend to do. The Matilija may have lost the title of California flower, but it the only poppy with a breakfast blossom to go with its salt & pepper shaker seed pod.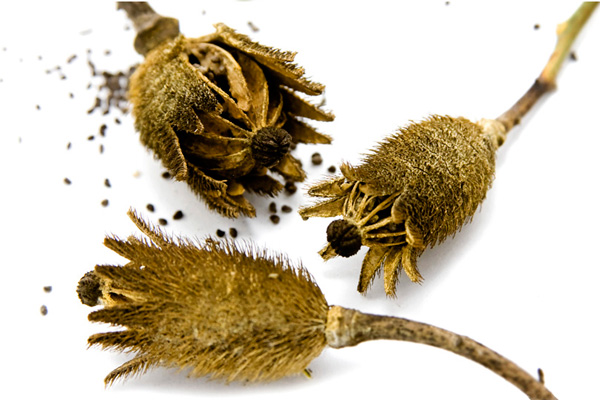 Romneya coulteri seed pod. Photo credit: Anna Laurent.
Anna Laurent is a writer and photograher. www.annalaurent.com