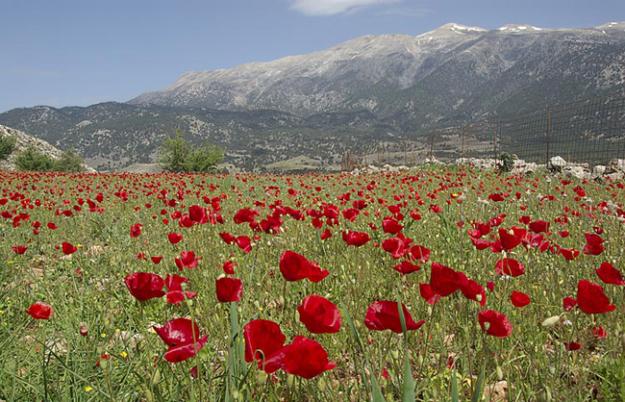 Get more from Garden Design
For every holiday, a flower: poinsettias for Christmas, lilies for Easter, and poppies for November 11th, known as Veterans Day in the United States, and Remembrance Day, or Poppy Day, elsewhere. The holiday honors military veterans, and also marks the end of hostilities in World War I (the Armistice was signed "at the 11th hour of the 11th day of the 11th month"). On this day, red blossoms are laid on gravestones, pinned in garlands, and sewn on flags. According to the Canadian magazine Legion, about 19 million poppies are distributed across Canada for November 11.
Papaver rhoeas, a common European native weed, is also known as corn poppy or field poppy, due to its habit of populating agricultural fields. So how did it become a symbol of fallen soldiers? It's not just the color. While the deep red does evoke blood spilled in battle, the association arose from the poppy's habit of forming seed banks, or caches of dormant seeds that germinate when the soil is disturbed—a field of red that blooms as if to commemorate the battle that assisted its growth.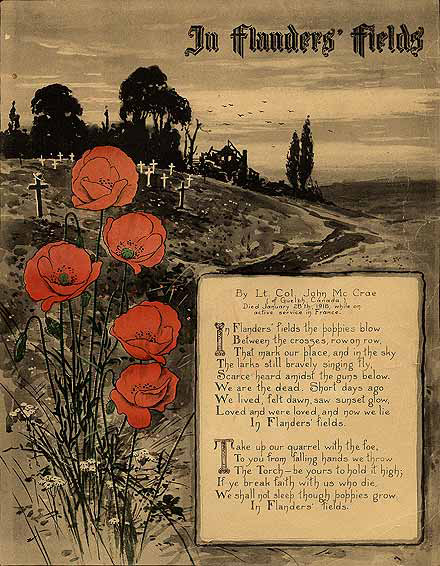 Colonel John McCrae's "In Flanders Fields." Photo credit: Canada War Museum
With their tendency to thrive in disturbed & ravaged land, the poppies would frequently fill European battlefields, but it wasn't until the 1915 publication of "In Flanders Fields," an oft-quoted poem written from the World War I battlefield, that the flower became an emblem of blood spilled in battle, as well as post-war regeneration and hope. The author, Colonel John McCrae, was not a poet but a military surgeon with Canada's First Brigade Military. He wrote the poem from Flanders field, where casualties were later commemorated with a graveyard. McCrae describes the bright red flowers blooming among rows of white crosses, and asks readers not to "break faith with us who die."
"In Flanders Fields" was first printed in December 1915, in the British magazine Punch. The poem reached audiences in a number of allied countries, including the United States, where a humanitarian and YMCA canteen worker named Moina Michael had the idea of promoting the poppy as a symbol of remembrance. After reading McCrae's piece, she wrote a response poem called "We Shall Keep the Faith," in which she pledged to wear the red poppy to celebrate the sacrifice of veterans. By 1921, she had launched an initiative to raise funds for disabled veterans by selling silk poppies, supported by the Veterans of Foreign War and the American Legion Auxiliary. Maanwhile, Anna E. Guerin of France, who had learned of Michae's poppy campaign on a U.S. fundraising visit, took the idea to France, Britain, and Canada. The poppy campaign was thus launched internationally, and today, poppies are still distributed to provide assistance for veterans.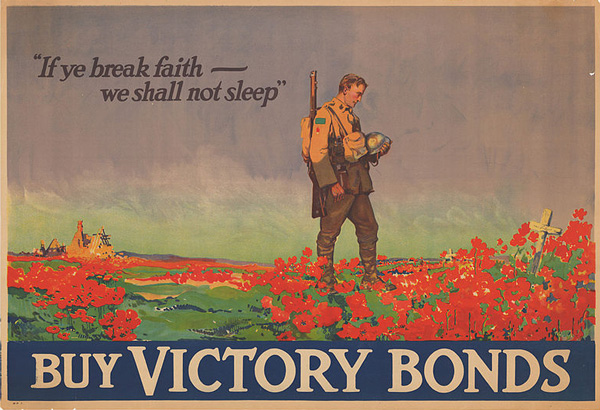 The poem was incorporated into propaganda, such as this Canadian war bonds poster. Image credit: Wikimedia Commons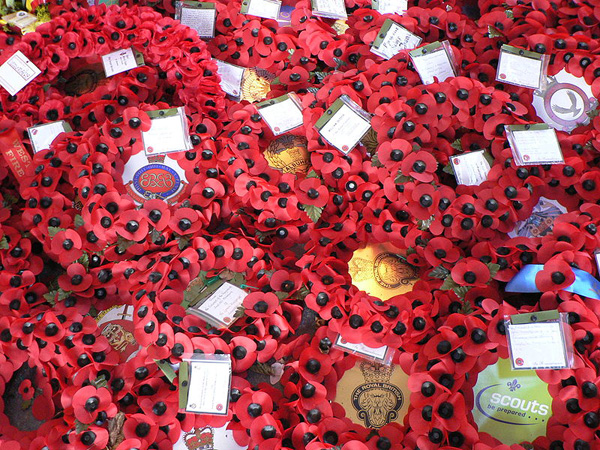 Poppy wreaths at the Menin Gate in Ypres, Belgium. Photo credit: Wikimedia Commons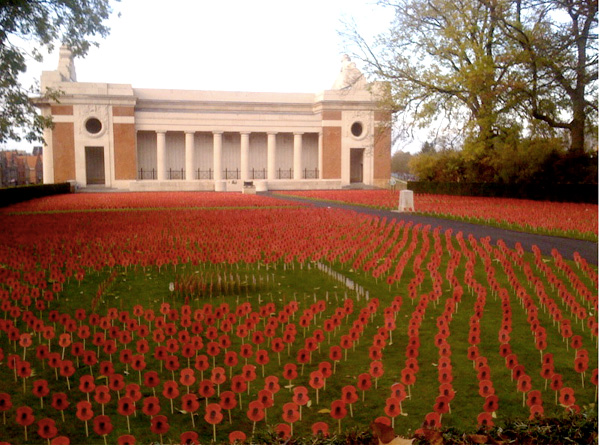 The Royal British Legion planted a 'Flanders Field of Poppies' at the Menin Gate Memorial at Ypres, Belgium for Armistice Day, 2008. Photo credit: Royal British Legion