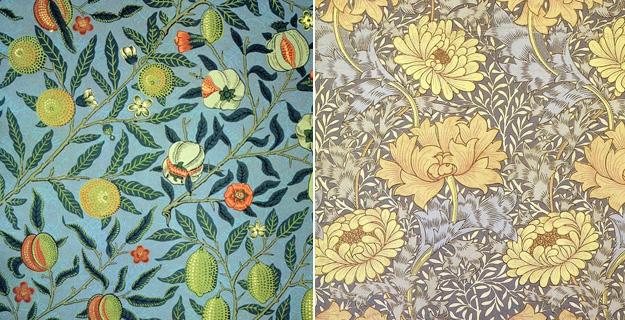 Photo by:
Pomegranate (left), Chrysanthemum (right); Morris & Company
A room decorated with William Morris's colorful patterns offers a certain reassurance: teatime will always be sunny. The nineteenth-century designer applied his exquisite flora-based designs to textiles, tiles, and, of course, wallpaper. As if throwing open the heavy drapes, he ushered nature's forms inside the home.
His aesthetic philosophy, which would come to inspire the Arts and Crafts Movement, was the pursuit of useful beauty. As he famously advised: "Have nothing in your house that you do not know to be useful or believe to be beautiful." The craftsman believed that beauty was necessary, and that necessary objects should be beautiful. In a modernized Britain, where industrial function often eclipsed decorative form, Morris's tenets were not always popular, and his designs were derided as an "outrage on good taste," said Richard Norman Shaw, an influential British architect.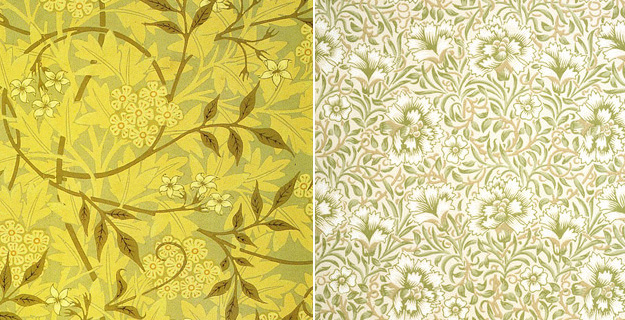 Jasmine (left), Carnation (right); Morris & Company
A social reformer as well as a designer, Morris (1834-1896) pursued a utopia in which the soot and soulessness of the modern industrial age could be swept away, to reveal the natural landscape and its wealth of native plants. It was truly a revolution in style, and one that Morris championed with his beloved botanic forms: flowers, vines, fruits, and leaves.
Morris's first wallpaper design was Trellis (1862), and it depicts the roses of his garden at his house in Bexlevheath, Kent. The next were Daisy (1864), a pattern of meadow flowers, and Pomegranate (1866), an illustration of fruits in various stages of growth. Other wallpapers were Poppy (1881), Jasmine (1872), Carnation (1875), Chrysanthemum (1877), Honeysuckle (1883), Acanthus (1875). His references were the plants themselves, which he found in his gardens or on country walks. He also consulted 16th-century woodcuts and herbals, medieval tapestries, and illuminated manuscripts that portrayed plants. Inspired as he was by pre-modern, medieval artists, Morris' designs reference a long tradition of botanic illustration, meanwhile his diligent observations of the natural world in contemporary Britain inspired a style that was entirely distinct from anything else.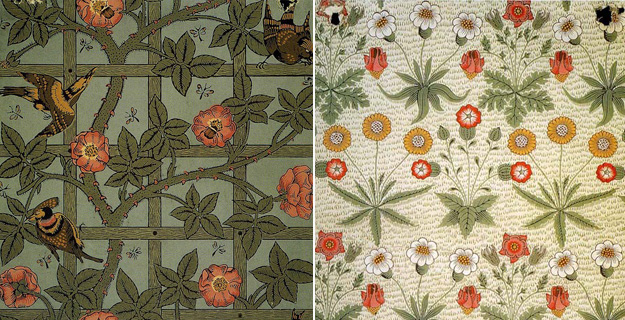 Trellis (left), Daisy (right); Morris & Company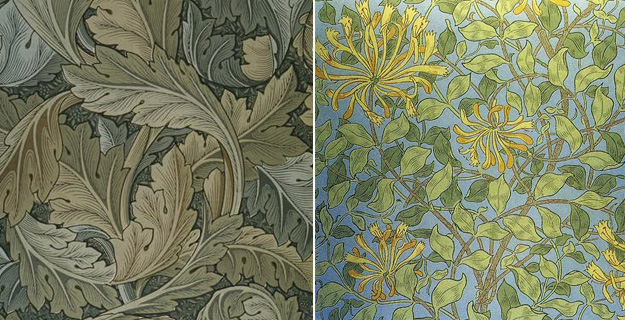 Acanthus (left), Honeysuckle (right); Morris & Company
It's a style that remains popular, and continues to fill homes with the warm air of nature. Morris once reflected of his work that "with the arrogance of youth, I determined to do no less than to transform the world with Beauty." It seems that he did. To wit, a wealth of contemporary designs carry Morris's designs. Many are perfect for horticulturalists: a watering can, gardening tools, an umbrella. And, to commemorate the 150th anniversary of Morris & Company, on May 5th the Royal Mail issued a set of postage stamps that feature the Company's work (two of the stamps are Morris's own designs).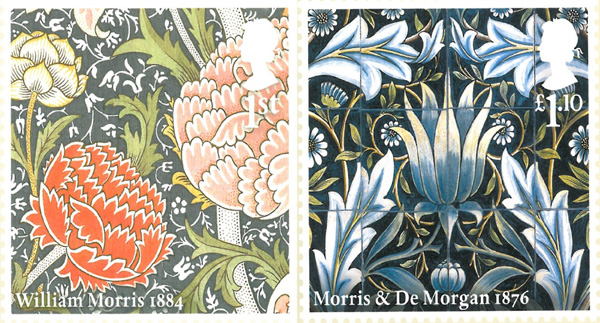 Cray, for fabric (left); Acanthus, for tile (right); credit: Royal Mail
Anna Laurent is a writer and producer of educational botanical media. Photographs from her forthcoming field guide to Los Angeles are available for exhibition and purchase at the author's shop.