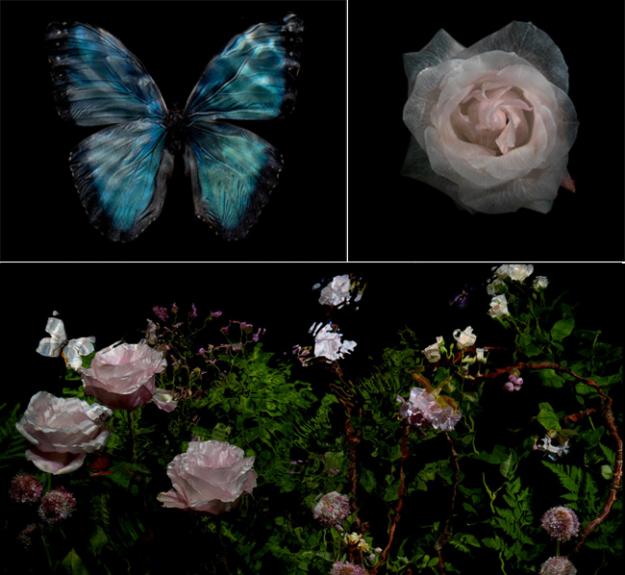 Photo by:
Alexander James
Photographer Alexander James, who has worked with floral subjects for over 15 years, will go to any lengths necessary to get the shot, including submerging bouquets and fruit in a dark tank, rigging an underwater light, and even breeding butterflies in his studio.
His latest project is called 'Glass,' for which he's developed a process that, as he says, naturally removes all the pigment from the capillaries in rose petals. Over time, the color pigments are replaced with highly purified water, laying bare the plant's structure and veins. What's perhaps most impressive is that the rose lives and grows as its color disappears. A flower is ephemeral even in an unaltered condition; the roses in 'Glass' exist in an enhanced ephemerality, one in which their brief beauty is visually underscored by the translucency of the petals. Most of his work, including 'Glass,' explores the the mood of objects photographed underwater, against a black background; if I were to give a name to his oeuvre, one certainly comes to mind: 'Through the Water, Darkly.'
I asked James to tell us a little about his work, in particular 'Glass.' He hasn't officially released the series yet, but he offered Garden Design a representative preview image to publish here. And while he couldn't reveal the translucency process in its entirety, he did offer some insights into its genesis.
Garden Design: The roses you produce for 'Glass' are beautiful, and it's hard to believe they are real. How long does the process take?
Alexander James: It was quite difficult to formulate the process, which takes about six days for each rose specimen. After some preparation, the roses are submerged in very deep tanks of temperature-controlled and highly purified water. I found that conditions have to be near clinical standards for the rose to fully bloom while in the water. With lights in the tanks, the rose still grows and flourishes. I agree, it's quite incredible to see.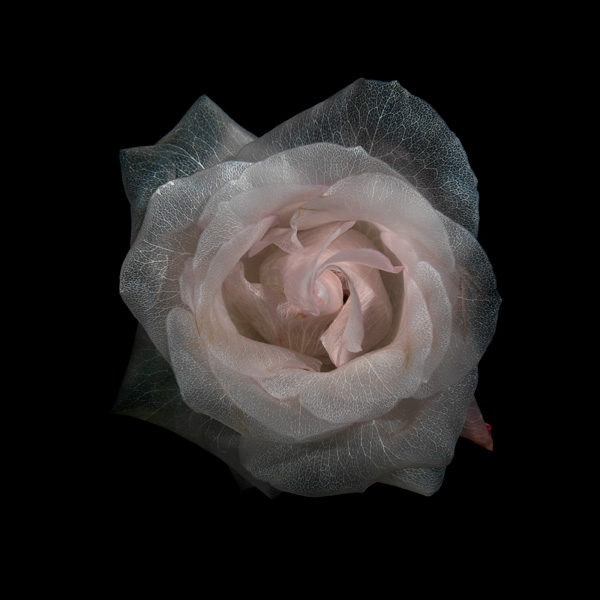 'Glass,' 2012
GD: What are your plans for the project? How many specimens will you photograph?
AJ: I've worked with about twenty species of roses, in varying colors and sizes, to see which achieved the best result. Over a number of months, I refined the process to perfection, before any film was loaded. It's part of my commitment to creating every image in camera. My photographs are a document of the authentic conditions of the still life, with no post-production or image manipulation.
GD: The series is a beautiful synthesis of art & science—your process exhibits a chemistry foundation, and the translucent roses become a study in plant structure. Do you have a background in plant biology?
AJ: No, not at all! I believe that being an artist involves, first visualizing something. and then finding the scientific or technical process to make that happen. I have been working closely with flowers for over fifteen years now in series including 'Rosae', 'Fusion,' and 'Vanitas'. Developing the 'Glass' series was similar to my 'Swarm' series four years ago. When I began, I knew nothing about butterflies, and now I breed my own specimens in the studio.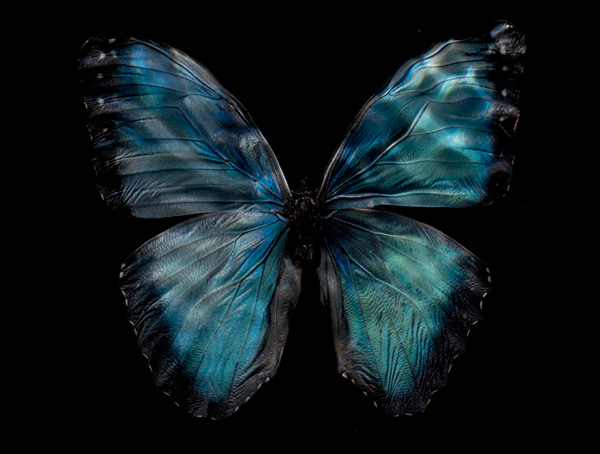 'Swarm,' 2011
GD: Do they really survive being submerged underwater?
AJ: Absolutely. Once photographed, the rose is then returned to its near normal state through careful handling. They are very much alive. I believe in maximizing each specimen's potential, and I try to waste very little. For example, I decided to dry the 'Glass' roses into bunches for another project I have in mind.
GD: What was your inspiration for the series? How does it relate to your other work?
AJ: There are several metaphors in this series. First, the idea of transparency, and being able to see through something that you should not be able to. Second, the strength that lies under a creature's delicacy and brevity. I believe all art is a visual poetry, I never dream of conquering the world, but as a poet conquering beautiful stages in my life.
I see my work as an act of bravery, the primary challenge being to transform an instantly recognisable symbol of love, and present it in an entirely new and significant way. For me, originality of process is paramount. even with something as common as a rose. There is a saying that 'it's all been done before' in the art world, and I try to be a testament to the opposite. That, in fact, is my life's work.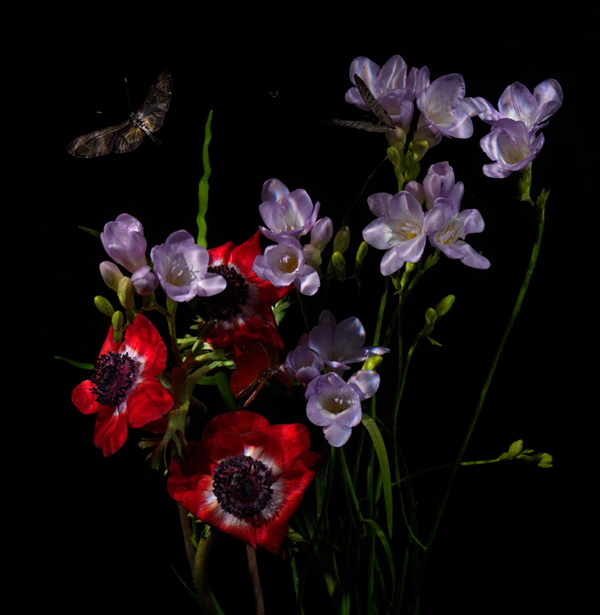 'Vanitas,' 2012 (photograph of scene-in-progress)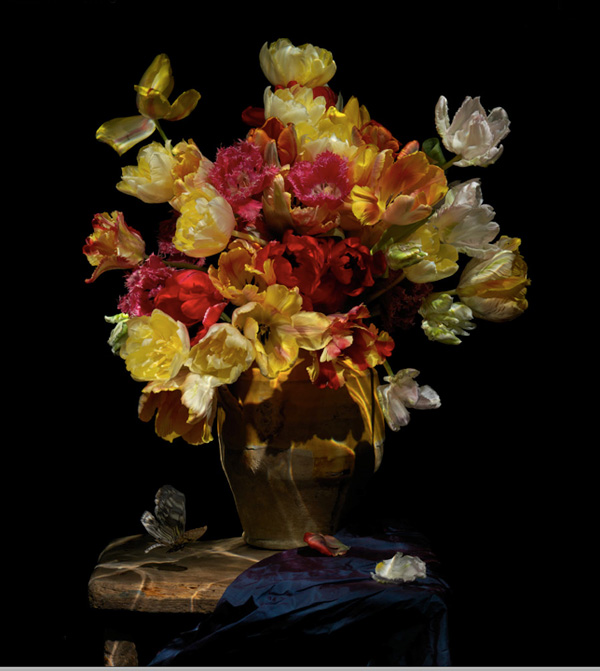 'Vanitas,' 2011