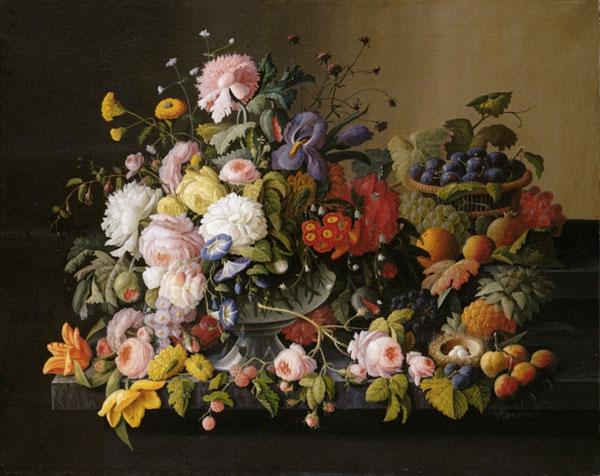 Photo by:
Metropolitan Museum of Art; Still Life with Flowers and Fruit
Recently unveiled, the Metropolitan Museum of Art's new American Wing is a fantastic collection of work that illustrates the influence of natural subjects on American artists. It includes paintings from the Hudson River School—Albert Bierstadt's Rocky Mountains and Frederic Edwin Church's The Heart of the Andes—a group of landscape painters whose work conveyed the nation's mid-nineteenth century optimism and abundance. At the same time, artists were capturing the nation's bounty on a smaller scale, through extravagant portraits of flowers and fruit. Severin Roesen (1815-1872) is recognized as one of America's preeminent still-life painters, and several of his meticulously detailed paintings are also included in the Metropolitan's American Wing.
Born in Germany, Roesen emigrated to New York in 1848, and later settled in Pennsylvania, where he developed a signature style that emerged from a tradition of 17th-century Dutch masters, and a contemporary interest in botanic subjects and naturalistic detail. His lush paintings captured America's newfound prosperity through these devotional renderings of the great variety of flora and fruit that the nation's land could cultivate.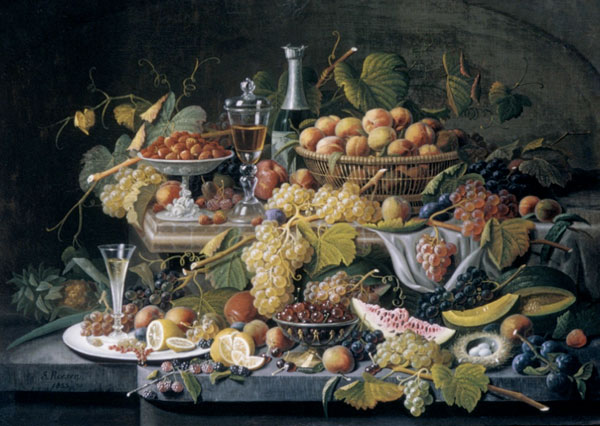 Still Life With Fruit, Metropolitan Museum of Art
Roesen ultimately settled in Williamsport, Pennsylvania, a newly prosperous town with a host of small lodgings and taverns, many of which displayed Roesen's brightly colored canvases. It wasn't until 100 years after his death that his work was introduced to a larger audience, when First Lady Jacqueline Kennedy hung several of his paintings in the White House. Today, Roesen's work is in major public collections throughout the country, including the State Department and the White House.
Roesen's paintings include many of the usual suspects, with grapes, melons, goblets, and curly grapevine tendrils forming his signature. While his individual subjects were rendered with meticulous accuracy, the cornucopias themselves were fancifully implausible—Roesen adopted creative liberties with arrangements of fruits and flowers that betray their life cycle; many of his subjects in fact bloom and ripen at opposing seasons. These impossible curations reflect a prevailing sentiment: In an age of American prosperity and hope, anything was possible.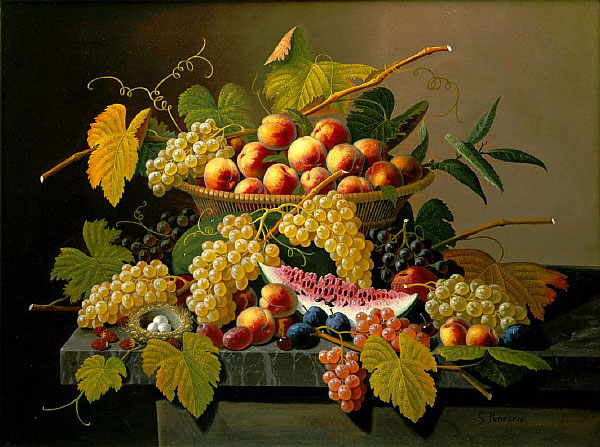 Still Life with a Basket of Fruit, Saint Louis Art Museum

Still Life, Milwaukee Art Museum
Anna Laurent is a writer and producer of educational botanical media. Photographs from her forthcoming field guide to Los Angeles are available for exhibition and purchase at her website.