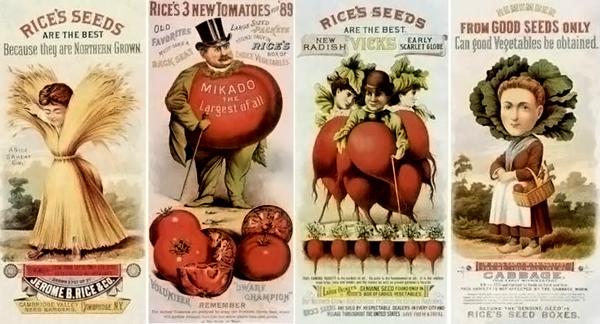 Photo by:
refininglife.blogspot.com
An afternoon stroll in the garden has always been a nice way to admire your plant collection. In the late 1800s, however, this was also an evening armchair diversion; by the light of the fire, Victorian horticulturalists could browse their favorite flowers by way of a scrapbook.
Pasted on the pages were trading cards from seed companies—a popular advertising medium of the era, the collectible cards featured fanciful images and slogans on the front, and detailed text on the back. Advertising cards were not a novel industry at the time, but the recent introduction of chromolithography yielded a flurry of printed ephemera: previously black and white images were now reproduced in full color. The trade card became an effective way for merchants to ingratiate their wares into the home, as small pieces of art. Seed companies also seized the opportunity, marketing their wheat for its golden hue; tomatoes with shades of crimson.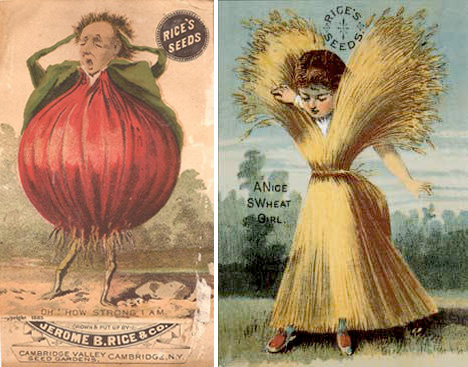 And so the elaborately illustrated cards were perfect for collecting, trading, and pasting into albums. The botanic scrapbooks became a collection of art ("The most remarkable plants") and a memory book ("Plants that I have known"). They were also a marvelous exhibition of advertising techniques; industrialization and a growing consumer audience encouraged manufacturers to be aggressive, and creative. A series of trade cards by the Jerome B. Rice Seed Company is an example of period advertising and botanic illustration.
The turn-of the-century seed tycoon marketed with emphatic axioms ("Remember, from good seeds only, can good Vegetables be obtained") and full color vegetables. Neither techniques were uncommon; what distinguishes Rice's trade cards are their anthropomorphic illustrations. His seeds market themselves with notable qualities: an onion that cradles his own head, moaning "Oh! How Strong I Am" and a demure bundle of grain who modestly parts her dress to read her own epithet, "A Nice Wheat Girl." It's an advertising model that persists today—the dual effect of promoting the strength of a product, and the subsequent improvement of the buyer's lifestyle. Not only will Rice's seeds produce the noblest peas, they will also transform the farmer into an aristocrat of his own garden.
Image credit: Etsy SalvageNation
Anna Laurent is a writer and producer of educational botanical media. Photographs from her forthcoming field guide to Los Angeles are available for exhibition and purchase at the author's shop.