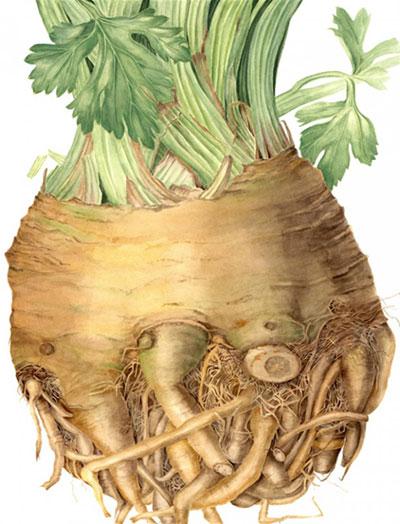 Photo by:
© Sally Jacobs; Celery Root
Farm to table and farm to paper—contemporary botanical artist Sally Jacobs finds her subjects at farmers markets in Los Angeles. A celery root with particularly intricate underground latticework, a bunch of radishes with the deepest reds and purples, she selects her vegetables for their model forms, then totes them to her studio—she always paints from life. Her method requires attention to time, in addition to detail—a watercolor portrait becomes a race against the wilting leaf, the fading flower. Sometimes new subjects are brought in to relieve the old—a painting of a cantaloupe that hangs in her kitchen took about 100 hours and 15 cantaloupes.
Jacobs's vegetable watercolors are featured in her new show Nourishing Art, an exhibit at TAG Gallery in Bergamot Station, Santa Monica, California. The exhibit opened March 27 and runs through April 21. An artist reception will be held on Saturday, March 31 from 5 to 8 pm. Jacobs will participate in an artist panel on Saturday, April 14; the conversation begins at 2 pm.
Jacobs studied botanical art at Otis College of Art and Design and the New York Botanical Garden Art Certification Program. She has taught botanical illustration at the Los Angeles Arboretum and the J. Paul Getty Museum. Previous to her illustration career, she studied biology at Cornell, and science education at Harvard. She is a member of the American Society of Botanical Artists, where she served as vice president and treasurer of the Southern California chapter.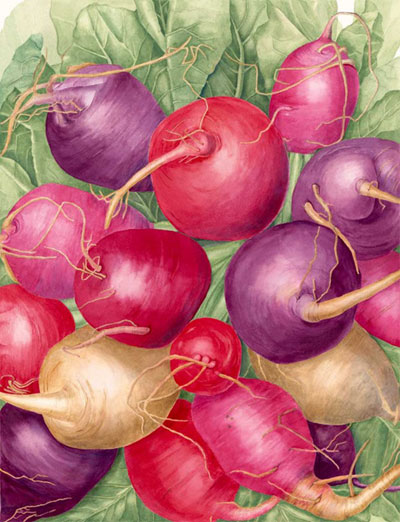 "Radishes" by Sally Jacobs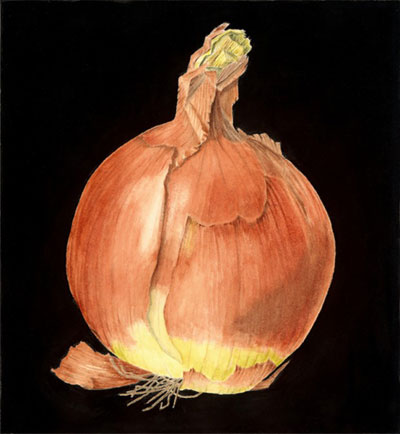 "Yellow Onion" by Sally Jacobs
Anna Laurent is a writer and photographer. Her
work
explores how we look at plants, and how those plants behave.