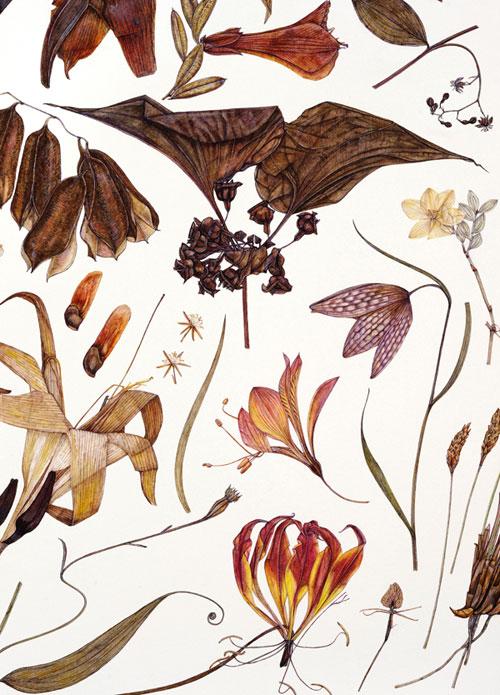 Photo by:
RBG, Kew; Herbarium Specimen Painting by Rachel Pedder-Smith
Some time ago I discovered Rachel Pedder-Smith's Leguminosae (2004), and I fell in love. A seed pod enthusiast myself, I was taken by the meticulous reverence with which she painted various specimens of beans and seeds. And so, I was thrilled to hear about her new undertaking, a magnum opus in collaboration with the Herbarium at the Royal Botanic Gardens, Kew.
Recently unveiled at the Shirley Sherwood Gallery, Rachel Pedder-Smith's Herbarium Specimen Painting is a masterpiece of botanic illustration, and a tapestry with hundreds of narratives that depict a history of plant evolution and scientific discovery. With its renderings of 703 distinct specimens, the 18-foot watercolor painting tells stories of plants, scientists, and Kew, an institution that fosters the partnership between art and science, and is itself a repository for these stories.
The painting includes at least one specimen from each of the 506 flowering plant families.
The painting is a visual reference of current plant taxonomy, including at least one specimen from each of the 506 flowering plant families. With illustrations of ancient species and their descendant lineages, it's a family tree and a tree of life. And, Herbarium Specimen Painting an homage to people who have contributed to our understanding of them—specimens include those collected by natural historians such as Charles Darwin, Joseph Dalton Hooker, and George Bentham, as well as current Kew staff, who have their own stories of discovering the Herbarium's specimens. Pedder-Smith worked with Kew to select specimens from their Herbarium. She included one from every year since 1853, when the Herbarium was founded.
Herbarium Specimen Painting is a magnum opus that represents Pedder-Smith's signature style—encyclopedic and precise, beautiful and lively. She works from dried specimens, yet paints them with a whimsical energy. Seeds trot about the pods, petals wave to one another, and stems curl towards their fruits—a new life for old specimens.
Rachel Pedder-Smith completed Herbarium Specimen Painting for her PhD at the Royal College of Art, London. Previously, her watercolor illustration work has been exhibited at the Tate Britian, London; the Royal Horticultural Society, London; the Hunt Institute, Pittsburgh, the Smithsonian Museum of Natural History, Washington, D.C.
Anna Laurent is a writer and photographer. Her work explores how we look at plants, and how those plants behave.