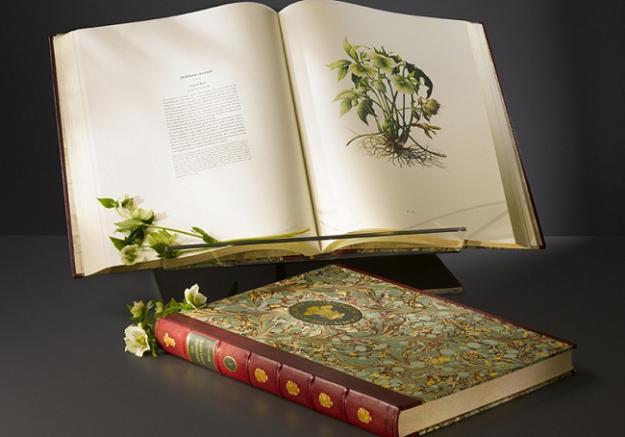 Whether to celebrate those plants Napoleon brought home from Egypt, or those collected by eminent botanists of the eighteenth century, a florilegium has rarely been a casual endeavor. The illustrated plant books were popular in the seventeenth century; today, those volumes remain important documents of art, science and history. Josephine Bonaparte commissioned a florigelium for her garden at Malmaison, filled with rare flowers acquired around the world. Sir Joseph Banks had one to catalogue the plants collected on Captain Cook's voyage around the globe.
The volumes were lavish productions—famously expensive and usually financed by the largess of a wealthy estate owner or benefactor. A catalogue of a scientific voyage or a single gardens, the florilegium was a book of impressive discovery and beautiful vanity. Today, however, an exotic orchid is not as hard to come by as it was in the age of naturalist expeditions, and demand for florilegia has understandably dissipated. And who could afford to produce such a book? A prince, of course. His Royal Highness, Prince Charles of Wales, recently sponsored The Highgrove Florilegium (Addison Publishing, 2009), one of the most expensive books of modern times.
The extravagant two-volume series includes 120 watercolors by eminent botanic artists. All of the plants profiled are growing in Prince Charles's garden at Highgrove, in Gloucestershire. It was produced with the gravitas of its forerunners—it weighs more than 25lb and measures 2ft by 1.5ft., and registers at £12,950 ($20,890) an edition (only 175 were printed, all signed by Prince Charles). Each volume is crafted with hand-marbled paper, specially dyed goatskin, and is hand-bound and gold tooled.
But unlike earlier florilegia, this collection is not as boastful. Rather than display expensive species, the Prince and his former head gardener chose to illustrate the more modest specimens of his garden, particularly those that embody its organic foundation—beetroots and grasses, Welsh leeks and plums. One of the most impressive illustrations is of the common buttercup (Ranunculus acris).
The illustrations display the work of 72 different artists, which makes for a nice variation of style. Some, such as Paulownia tomentosa, are depicted in classic scientific form, with cross sections of the flower, and enlarged renderings of seeds and pistils. Others, such as Sweetgum (Liquidambar styraciflua) and Rhododendron basilicum, are portrayed as a dramatic crop of cascading leaves. Many are illustrated with organic verisimilitude—the dying leaf of a Geranium phaeum 'Album', the insect-ravaged rhubarb chard (Beta vulgaris).
The Highgrove Florigelium is a distinctly British production. The plants are, of course, successfully grown on British soil, and include native species. And the book itself is a work of local talent. Each of the book's many craftsmen, from the binder to the printer to the embosser, are based in Britain, and all royalties from sales of the set of books will go to The Prince's Charities Foundation to support its activities.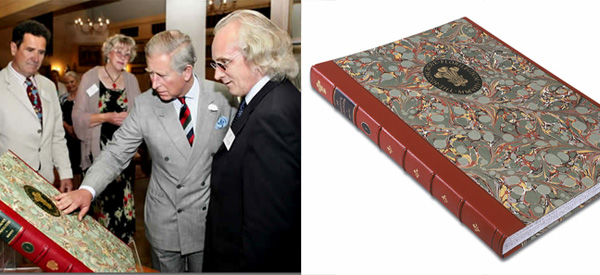 Prince Charles of Wales and The Highgrove Florigelium. Photo credit: Hewit&Sons.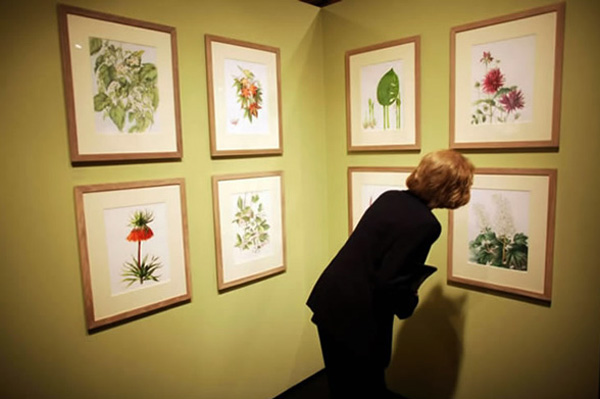 London's Garden Museum 2009 exhibit represented every artist contributing to The Highgrove Florilegium project, showing 72 paintings and both Volumes I and II of The Highgrove Florilegium. Photo credit: Garden Museum.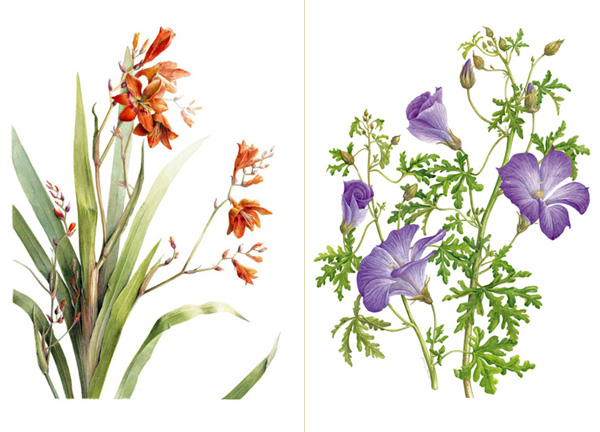 Crocosmia x crocosmiiflora 'Emily McKenzie', illustrated by Elaine Searle; Iridaceae Alyogyne huegelii, illustrated by Jenny Jowett (L-R).