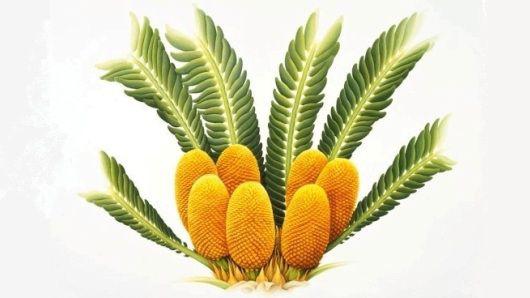 Photo by:
Leslie Carol Berger, Encephalartos woodii
If you're in or around London this weekend, consider a visit to Plants in Peril and Losing Paradise, two exhibitions at Kew Botanical Gardens. Curated from the Shirley Sherwood Collection at Kew, the exhibition emphasizes plants from South Africa, a continent with the greatest diversity of flora and the highest numbers of plants headed for extinction. An estimated 40% of South Africa's indigenous species are threatened. One of these is the ancient cycad Encephalartos woodii, whose Plants in Peril portrait was illustrated by Leslie Carol Berger. Considered one of the rarest plants in the world, it has long been extinct in the wild (Kew has cultivated a specimen in its Temperate House). The exhibition includes Pauline Dean's illustration of the jade vine (Strongylodon macrobotrys), now extinct in its native Philippines, and Angela Mirro's painting of the Phragmipedium kovachi, an orchid that was discovered in South America in 2002. It was the first illustration ever painted of this exotic, endangered 20 cm orchid.
Alongside Plants in Peril is a second gallery, Losing Paradise, a traveling exhibition from the American Society of Botanical Artists (ASBA). The project began in 2006 "in order to tell two stories, those of the continuing relevance of botanical art, and the often neglected story of plant endangerment." It encouraged illustrators to collaborate with scientists, identify endangered species, and develop a Code of Ethics when working with rare plants in the field. The exhibition opened at the Missouri Botanic Garden in 2009, and traveled to the Chicago Botanic Garden, the New York Botanic Garden, and the Smithsonian's National Museum of Natural History in Washington, D.C. This show at the Royal Botanical Gardens at Kew is the exhibition's last venue.
The exhibition catalog for Losing Paradise includes gallery images, a profile of each plant and artist, and an introduction by Dr. Peter H. Raven, a former President of the Missouri Botanic Garden. Raven discusses the importance of botanic artists and gardens, and the long arc of threatened ecosystems. Of the estimated 350,000 plant species on the planet, 15% are undiscovered, and one third could become extinct by the end of this century. Consider the plants that are at the intersection of these numbers: a class of known unknowns—those that will become extinct before they are even discovered. This makes Plants in Peril and Losing Paradise all the more meaningful. While scientists are seeking endangered plants that we don't know, botanic artists are documenting those we do.
Plants in Peril runs through March 18, 2012. The Losing Paradise catalog is available for purchase, and the Smithsonian has a companion website.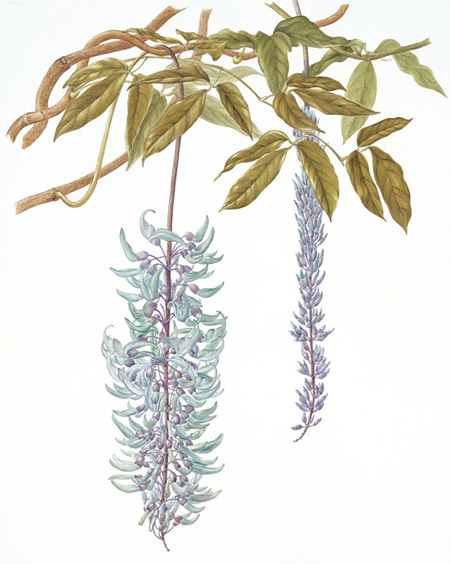 Jade vine (Strongylodon macrobotrys), by Pauline Dean
Anna Laurent is a writer and photographer. Her work explores how we look at plants, and how those plants behave.