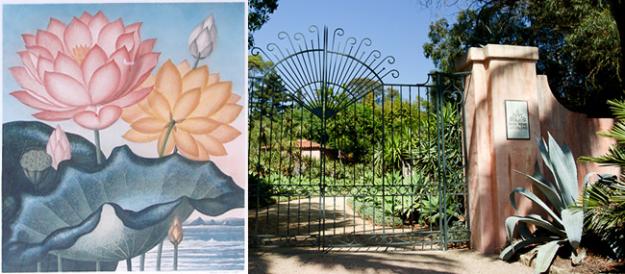 Photo by:
Arader Galleries (L), Anna Laurent (R); Sacred Bean from Robert John Thornton's The Temple of Flora (1799); Lotusland entrance with lotus-motif gate.
In 17th century Europe, horticulturalists began opening their gardens to plants from around the world. Plant explorers were forging into new botanical territories—inlets in South American waterways, crevasses in China's mountains—and returning with roses and fruits, orchids and lilies. Exotic plants were traded, cultivated, and illustrated. Previously, botanic illustration was largely produced for medical texts and herbals. But as the world's botanic borders began to dissolve, plants emerged as subjects unto themselves, and botanic portraits were used to document a discovery, catalogue a garden, or study a species. To look at a history of botanic illustration is to look at the changing significance of plants over time. A selection of historic prints that documents these transitional periods—of plant as medical specimen, to exotic beauty, to garden delight—is on display at Lotusland, at a new exhibit titled "The Plant Hunters: Botanical Illustrations from the 16th to 19th Centuries," through November 2.
The show includes prints from Leonard Fuchs's 16th-century herbals, Maria Sibylla Merian's 18th-century botanic portraits, Robert John Thornton's The Temple of Flora, and Pierre-Joseph Redouté's garden catalogues. The visual survey captures the awe of a period that regarded new plants as wondrous discoveries, of which there were many. The exhibit's venue is appropriate; Lotusland is largely the legacy of Madame Ganna Walska, a Polish opera singer & 1940s socialite who transformed the garden into an eccentric paradise of plants imported from around the world. Herself a garden designer, she enlisted local architects to create a botanic paradise on 34 acres in Montecito, just east of Santa Barbara. Although Madame Walska died in 1984, her legacy still flourishes, namely to cultivate "the most outstanding center of horticultural significance and educational use." The exhibit itself is in the Madame Walska's private residence, a sunny, chandelier-ed space that offers views of towering agaves through the breezy curtains.
"The Plant Hunters: Botanical Illustrations from the 16th to 19th Centuries" focuses on plants that can be found at Lotusland, or grow well in the Santa Barbara area. The prints are from a collection of botanic prints at Arader Galleries. Visitors may see the exhibit as a part of a Lotusland docent-guided tour. Tours of the garden take place at 10 AM and 1:30 PM, Wednesday through Saturday. Reservations are required.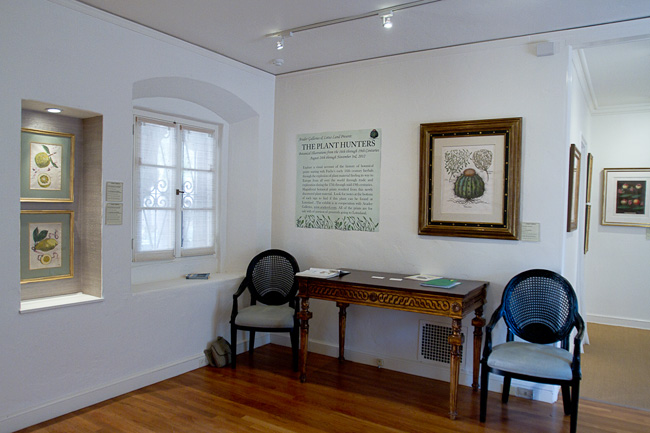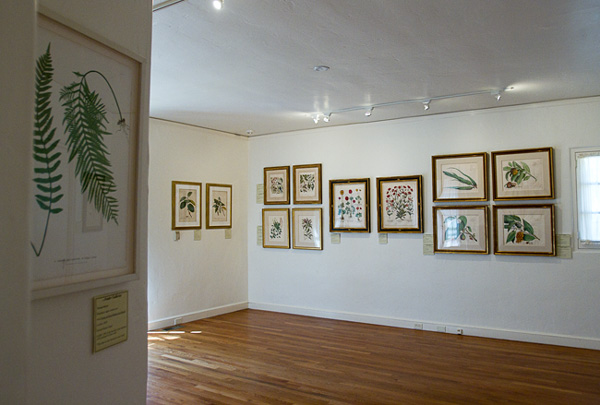 "Plant Hunters" exhibit at Lotusland. Photo credit: Anna Laurent.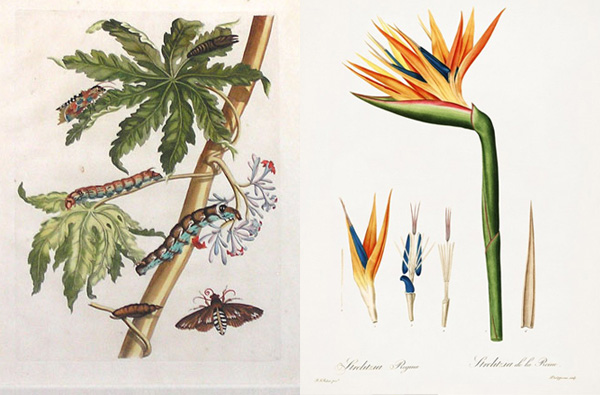 Maria Sibylla Merian (1647-1717) From Metamorphosis Insectorum Surinamensium, Amsterdam: 1705; Pierre-Joseph Redouté (1759-1840), Strelitzia Reginae, from Les Liliacees, Paris: Didot Jeune, 1802-1816. Photo credit: Arader Galleries.