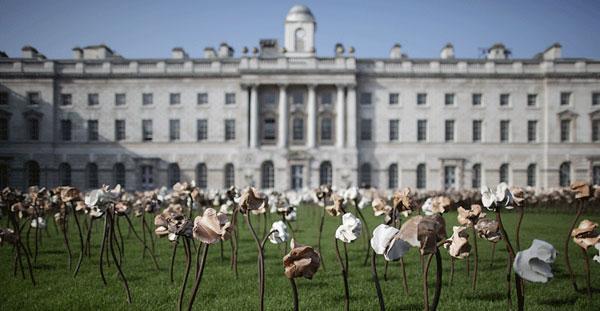 Ten thousand daffodils bloom in the grass courtyard of Somerset House in London. While the flowers were installed to signal the beginning of spring, they are impervious to sun or rain—each daffodil is sculpted out of clay and metal. Chilean-born, London-based artist Fernando Casasempere developed the exhibit to explore the relationship between a reliable procession of the seasons, and the increasing fragility of nature. Whereas in the past, a glance at the Old Farmer's Almanac might tell you what's blooming and fruiting, this year gardens seem to be growing under a new calendar—rhododendrons budding in December, or, in this case, a field of clay daffodils that will never die. As Casasempere explains, nature is "ever more under threat in these days of environmental turbulence." And so, things can become "out of sync."
The installation also looks at the effects of repetition and the individual image. Casasempere made each of the 10,000 clay flowers by hand, and no two are the same. By marching them alongside each other, the artist has emphasized their variations. Each daffodil is a unique specimen, not unlike a wild field.
Clay is Casasempere's preferred medium. He's used it in all of his previous projects, and he brought 12 tons of Chilean clay when he moved to London. He often works with environmental themes in mind, adding industrial byproducts, such as rebar, to his clay mixtures.
After leaving London, Out of Sync will be temporarily installed in Santiago, Chile, and then it will be permanently planted in the country's desert.
Out of Sync is on view at Somerset House, London, until April 27, 2012.
Open daily from 10:00 am to 6:00 pm, The Edmond J. Safra Fountain Court, free admission.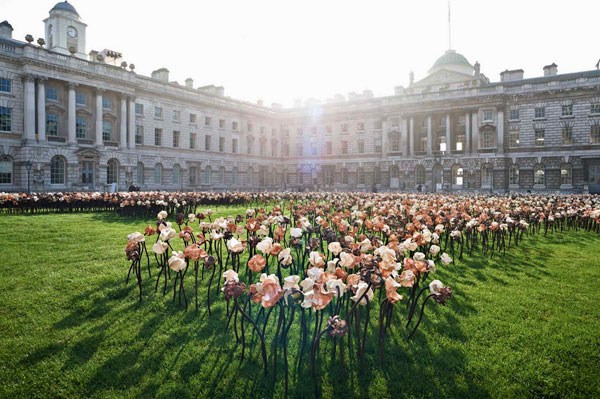 Photo credit: Somerset House

Photo credit: Somerset House
Anna Laurent is a writer and photographer. Her work explores how we look at plants, and how those plants behave.