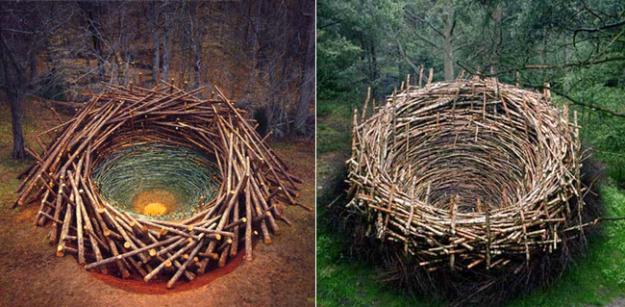 Photo by:
Nils-Udo (left), "The Nest" Lüneburg Heath, Germany, 1978; Dylan Wolfe/Flickr (right), "Clemson Clay Nest" South Carolina, US, 2005.
"Sketching with flowers. Painting with clouds. Writing with water. Tracing the May wind, the path of a falling leaf. Awaiting a glacier. Bending the wind. Directing water and light. The May-green call of the cuckoo and the invisible trace of its flight."—Nils Udo, from his artist's statement.

Bavarian artist Nils-Udo is known for his site-specific installations built in situ with local, natural materials—leaves, berries, hay, bamboo, flowers. While he distinguishes these projects from his urban pieces, where he uses non-organic materials like concrete—again, materials that are appropriately "local" to the environment—both types of installations consider the relationship between natural and built environments, and the limited lifespan of the natural world.
In an interview with critic John K Grande (Art Nature Dialogues: Interviews With Environmental Artists, SUNY Press, 2004), Nils-Udo recalls his transition from studio to land art: "The aspect of art now completely faded into the background. What I wanted was to live, act and work in symbiosis with nature in the closest possible way. The sphere of nature simultaneously became the sphere of art, in which I inscribed myself."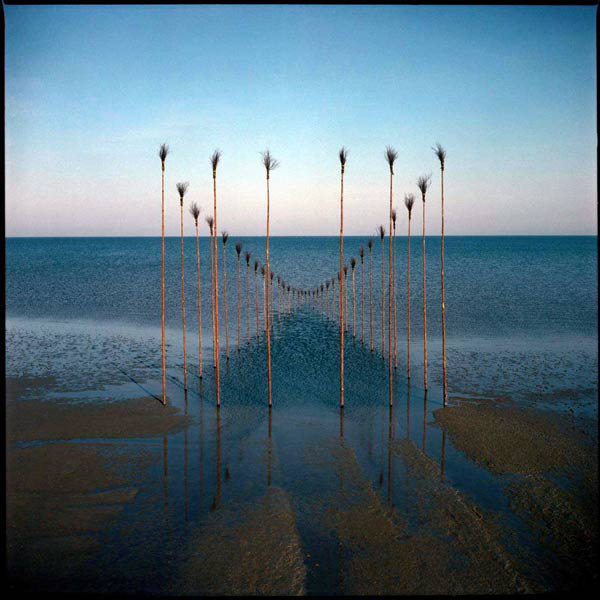 "Waterhouse" Spruce trunks, birch branches, willow switches and lawn plantings. Wattenmeer, Cuxhaven, Germany, 1982. Photo: Nils-Udo.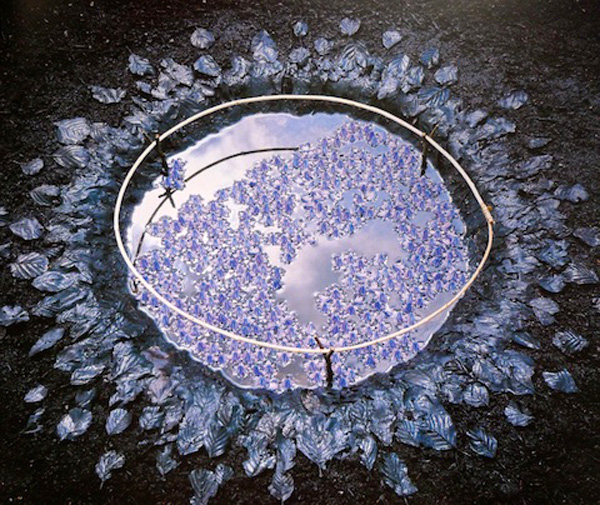 "Little Lake" Ground water, connect hazel tree, bluebells, dead sheets. Vallery, France, 2000. Photo: Nils-Udo.
The artist was born in Bavaria in 1937. By the 1960s, while painting on canvases in Paris, he began using living plants in his work. He returned to Bavaria and completely eschewed the studio and its brushes for nature and its leaves.
Nils-Udo's signature piece is "The Nest." Over the years, it's evolved with different materials and designs, and has been installed in several locations around the world, including Lüneburg Heath, Germany (1978) and at the South Carolina Botanical Garden, United States (2005). The Clemson Clay Nest was constructed with 80 tons of pine logs harvested from the local Oconee County pine plantation and hundreds of bamboo sticks. Directed by Nils-Udo, a troop of students and volunteers layered the materials in a circular formation embedded in the garden's red clay earth.
"The idea of planting my work literally into nature—of making it a part of nature, of submitting it to nature - its cycles and rhythms, filled me on the one hand with a deep inner peace and on the other with seemingly inexhaustible new possibilities and fields of action." (—Nils-Udo, Art Nature Dialogues: Interviews With Environmental Artists)

"The Nest," pine, bamboo, clay. Clemson, South Carolina, 2005. Photos (above and below): Dylan Wolfe / Flickr.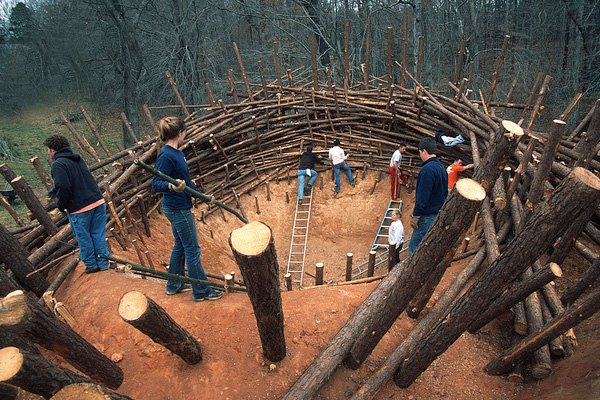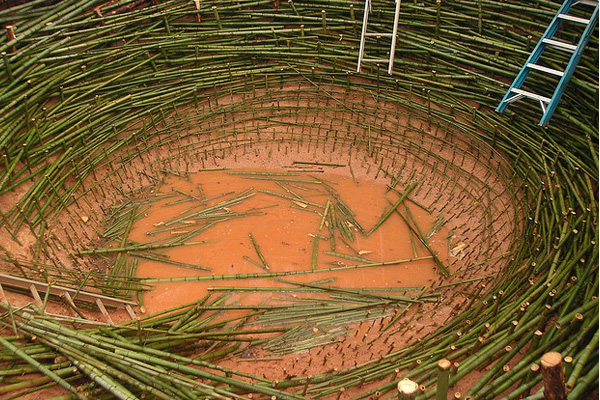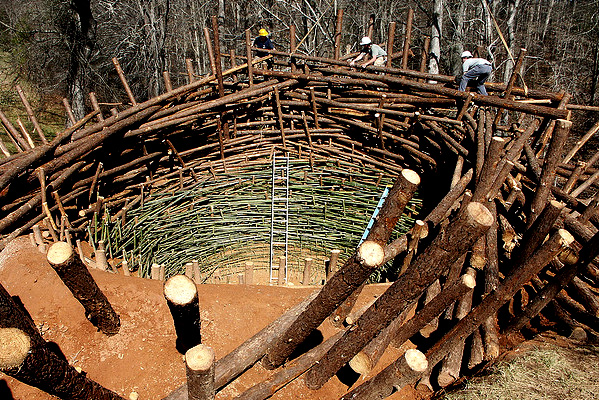 Anna Laurent is a writer and producer of educational botanical media.