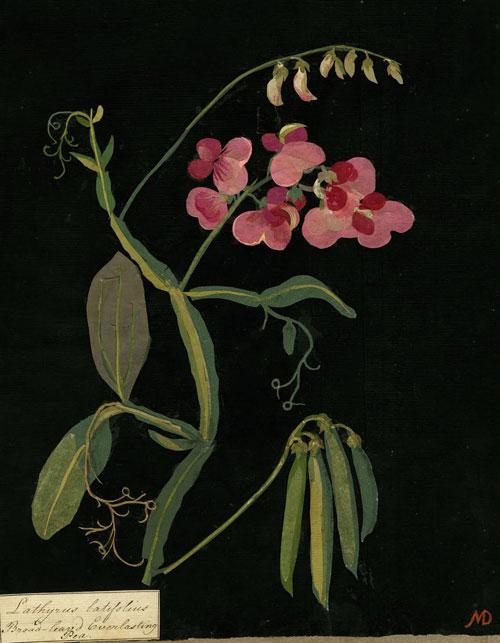 Photo by:
Mary Delany, Everlasting pea
The life of Mary Granville Pendarves Delany (1700-1788) was one spent with flowers. She embroidered floral gowns, decorated shell grottos of flowers, designed garden parterres and allées. A 18th-century socialite with noble blood (descended from the royal court of Queen Elizbeth I) and fascinating friends (adored by Jonathan Swift, Alexander Pope, and Edmund Burke), the charming doyenne was prolific and creative throughout her long life. And yet it wasn't until age seventy-two that she began what is considered to be her life's work.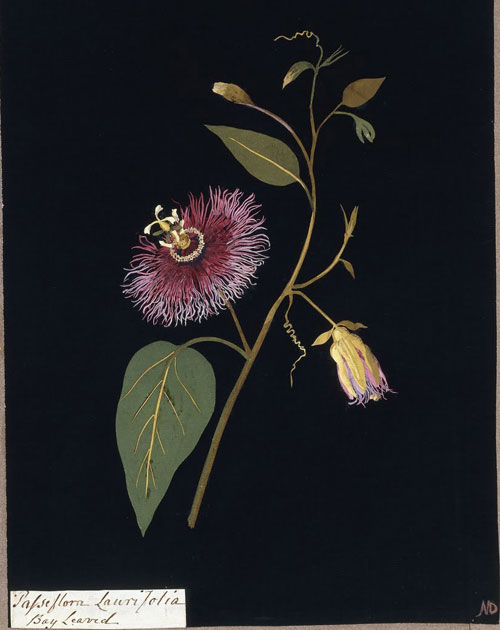 Passiflora laurifolia; Photo credit: The British Museum
As the story goes, one afternoon she happened to notice that a piece of scarlet paper matched the color of a geranium petal. And so she began cutting small slips of paper—greens, reds, and whites—and arranged them as a geranium. "I have invented a new way of imitating flowers," she wrote in a letter. And she had. In an age of découpage and floral paintings, her intricate paper art was a nod to both, and a new style of botanic art. The septuagenarian artist called them "flower mosaicks."
Meticulously arranged, each specimen is composed of hundreds of paper bits. By layering various shades of color, she created a sense of depth, life, and a remarkable verisimilitude. Unlike many eighteenth-century botanic artists who preferred light canvases, Mary Delany staged her flora on a dramatically dark backdrop (with a black watercolor wash she applied to the paper). The flower mosaics were popular within her high society social circle; King George III is said to have viewed them, and botanist Joseph Banks applauded their attention to detail. Her friends would often send flowers from their gardens, which she would reproduce as paper portraits.
Mary Delany spent ten years cutting and pasting her garden. When she finally retired her scissors (due to failing eyesight), she had created nearly one thousand collages. Her work is archived at the British Museum, where she is affectionately called "Mrs. D". Elsewhere, she is known as Mrs. Delany—including a 2009 exhibit and book titled "Mrs Delany and Her Circle", and at Tiffany & Co., where a popular china pattern is called "Mrs. Delany's Flowers".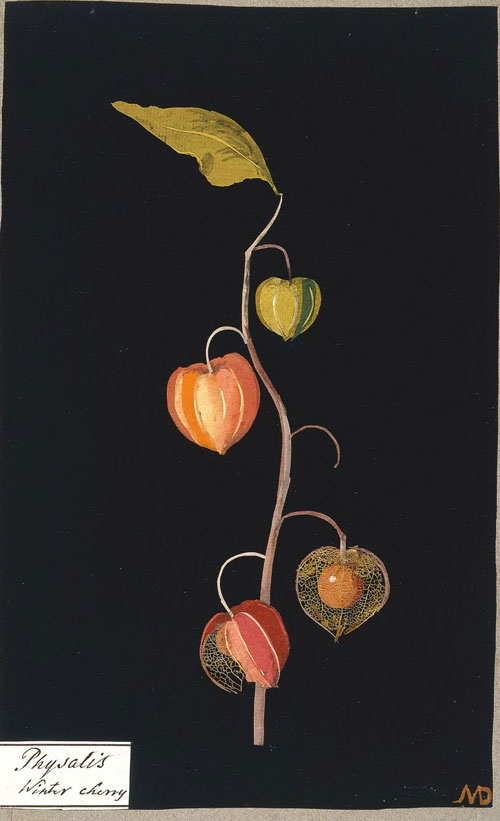 Winter cherry; Photo credit: The British Museum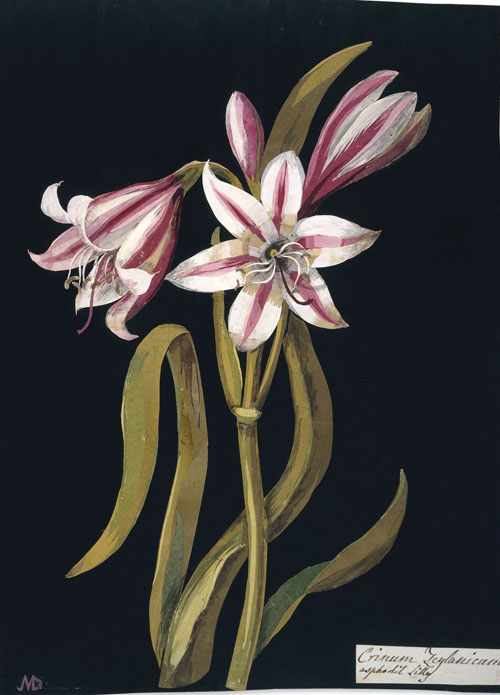 Crinum Zeylanicum; Photo credit: The British Museum
Anna Laurent is a writer and producer of educational botanical media. Photographs from her forthcoming field guide to Los Angeles are available for exhibition and purchase at the author's shop.