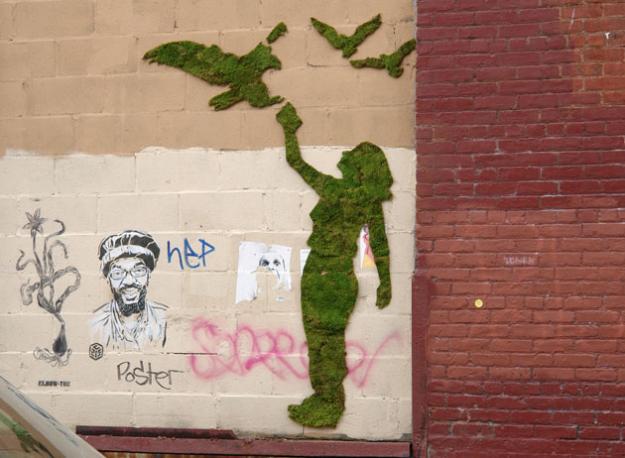 Photo by:
Mosstika. Moss stencil in Brooklyn, 2008
Mosses are back. They were a fad in the late 19th century, when newly discovered plants were being carried across the globe, and Victorian gardeners and armchair horticulturalists enjoyed domestic dalliances by cultivating mosses in terrariums and mosseries. When the craze abated, though, mosses were more or less relegated to their natural terrain of forests and woodland landscapes. Perhaps this was because the botanic veil had been lifted, and the new species of exotic flowers and trees were far more exciting than the simple mosses (bryophytes, or non-vascular plants) that lacked flowers, seeds, and a visually dramatic life cycle.
In the last several years, though, mosses have become popular once again. Gardeners cultivate mosses as an alternative to grass lawns, architects install mosses on green roofs, and artists have discovered moss as a new medium. Public spaces are their exhibit venues, and their messages are typographic and illustrative. The green designers attach live moss to crumbling walls, construction sites, and even transit stations. As site-specific designs in public spaces, the lush installations have been called moss graffiti and guerilla art, to which the artists would add that they are also examples of landscape design and urban gardening—an effort to reclaim dilapidated public spaces, and to cultivate moments of green in industrial areas.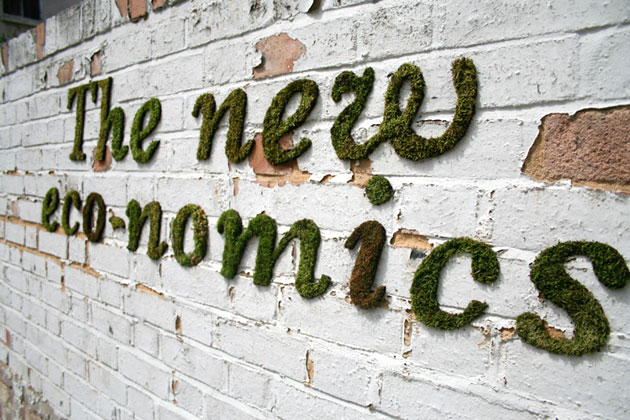 Anna Ganforth's "New eco-nomics," London. Photo credit: Anna Garforth
Many of the moss installations in Williamsburg, Brooklyn, are the work of Hungarian-born artist Edina Tokodi (a.k.a. Mosstika), who describes herself as "a cultivator of eco-urban sensitivity" who encourages city-dwellers "to remember the wilderness beyond the city." She uses the rich green medium to introduce wildlife, symbols, and scenes into her public space.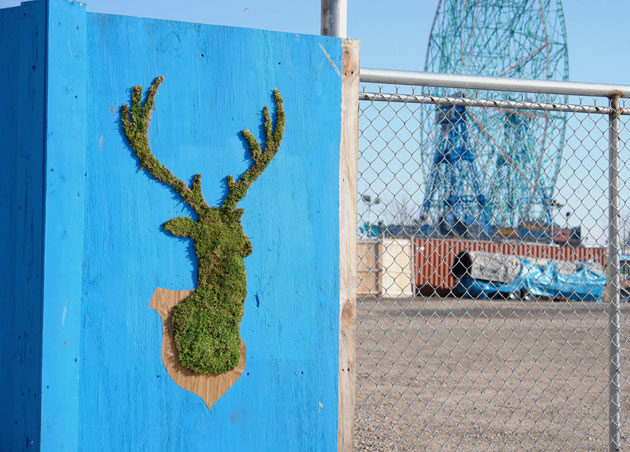 Mosstika's "Coney Island Deer Trophy / Dear Coney Island," Coney Island, 2008. Photo credit: Mosstika.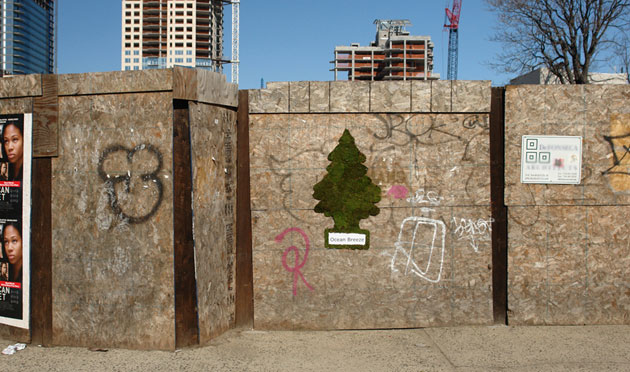 Mosstika's "Ocean Breeze," Brooklyn, 2009. Photo credit: Mosstika.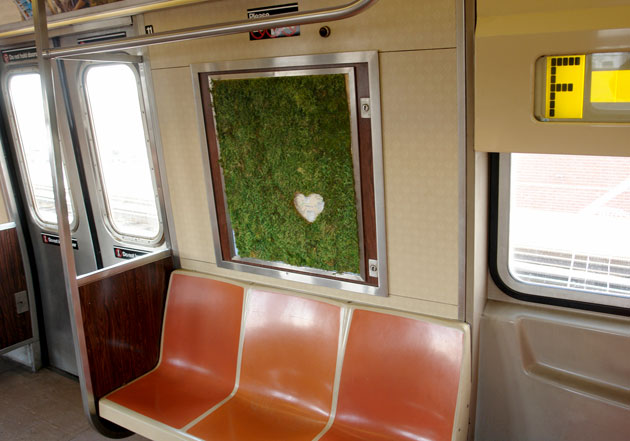 Mosstika's "Metro Moss," New York, 2008. Photo credit: Mosstika.
Urban spaces in London have been poetically cultivated with verses that are draped across the city's neglected walls. The typographer is Anna Garforth, who calls her green installations 'Mossenger' and 'Sporeborne.' Her recipe is simple—a blend of moss, yogurt, and sugar, applied with a paint brush—but the process requires some patience and a bit of trial and error. [Learn how to make your own moss mixture.] As Garforth acknowledges, moss won't adhere just anywhere, and requires moisture to grow. When her messages have (semi-permanently) embedded themselves, though, any passers-by with a spray-mister can become the cultivators of this lyrical public garden.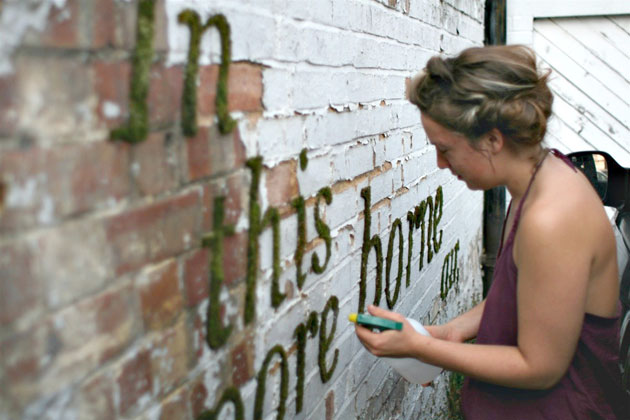 Anna Ganforth cultivating her work "In this spore borne air," London. Photo credit: Flickr user Webponce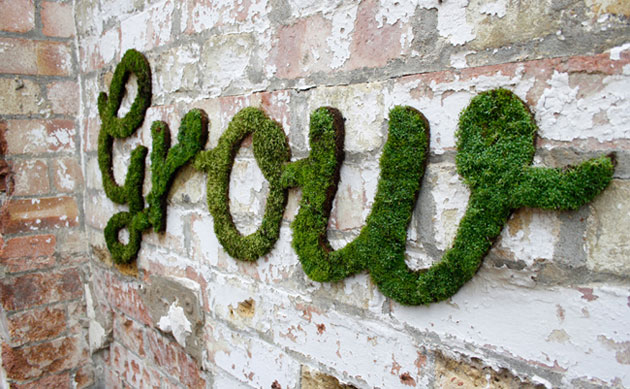 Anna Ganforth's "Grow," London. Photo credit: Anna Ganforth
Anna Laurent is a writer and producer of educational botanical media. Photographs from her forthcoming field guide to Los Angeles are available for exhibition and purchase at the author's shop.