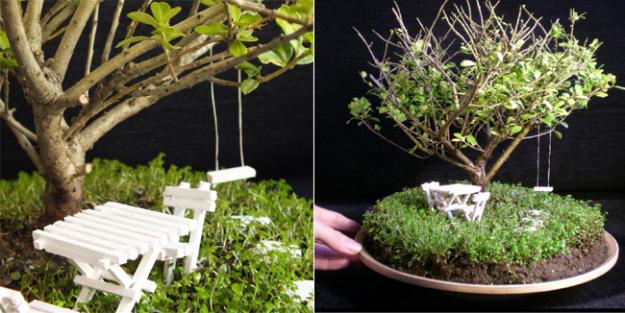 Photo by:
Deniz Başar Erol Başcumalı   
I spent last weekend weeding at a community garden where my parents have a couple plots of greens and root vegetables. We were tasked with taming the common spaces: the tool shed, the wild garden, the rose trellis-covered paths that wind throughout. No one was really sure the last time a firm hand had tugged at these areas and it showed. Bindweed and Star of Bethlehem strangled the pole beans and choked the peonies. We worked for hours and filled a dozen bags with weeds. At the end of the day we finally closed the gate—massaging our backs, pondering a noxious rash, and marveling at how little we seemed to have accomplished. This is all to say, how about a bit of armchair gardening?
Pull that armchair into the sun and settle in with a pair of scissors and one of Emre Ozberk's miniature gardens. The Turkish architect designs tiny landscapes that can be tended over a cup of tea. "When you are working on the gardens, they help you to leave this city life and the mess," he says. "You concentrate, and for four or five minutes, you become a part of that small world." Ozberk named the collection, Gardens of Paspas, (Paspas'ın Bahceleri), in honor of his late cat, Papas, whose food bowls were just the right size to hold the earliest miniature gardens. Ozberk also credits the cat with inspiration and Papas features prominently on the designer's site.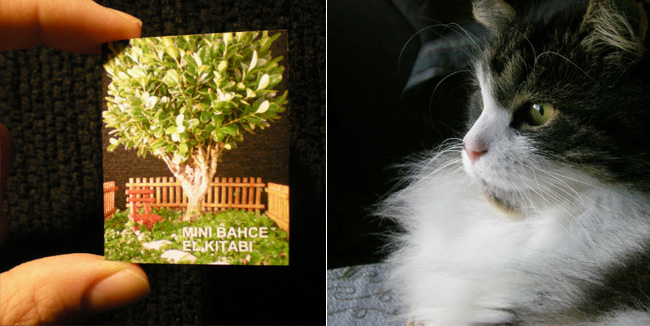 While Ozberk's designs have much in common with traditional bonsai—scale and minimal aesthetic—his landscapes are meant to be upkept by the owner/gardener. Each includes a tiny maintenance manual with notes on watering, pruning, and mowing (with scissors). The trees are boxwoods, juniper, and Japanese holly berries, the lawn is baby tears (Soleirolia soleirolii). And these scenes emphasize the area around the trees, not just the plants themselves. Each is designed as a little space of green, which Ozberk hopes will evoke the experience of larger-scale gardening. To that end, each landscape is outfitted with a tiny bench, picket fence, or tree swing.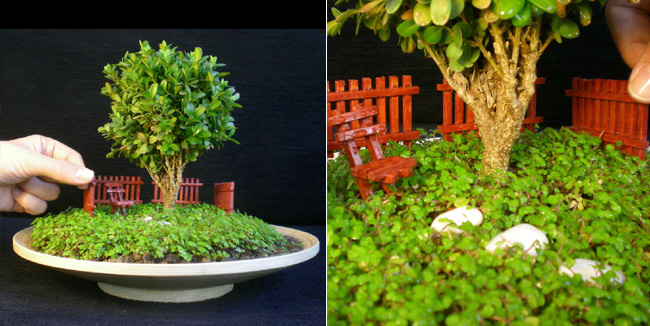 All photos by Deniz Başar Erol Başcumalı

Anna Laurent is a writer and photographer. Her work explores how we look at plants, and how those plants behave.