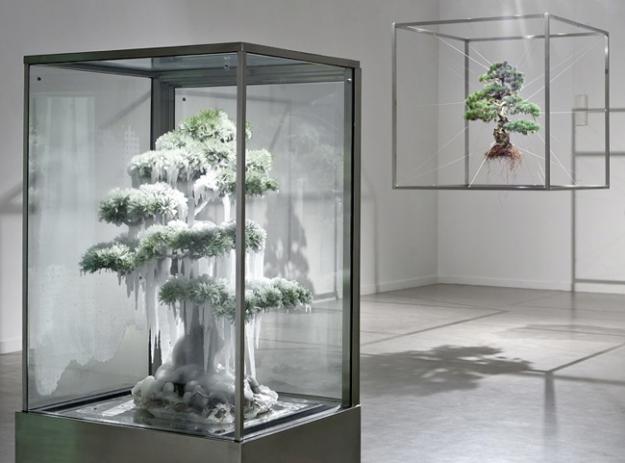 Photo by:
Z33 Art Center (Flickr)
Trimmed, pruned, wired, clamped—a bonsai tree is itself an exhibit of meticulous and constant manipulation. It is fitting, then, that Tokyo-based artist Makoto Azuma selected bonsai as his medium for Alter Nature: We Can, an exhibition of work by 20 international contemporary artists. The exhibition explored the "different ways in which people have displaced, manipulated, or designed nature." Artists dug into a variety of subjects. They considered the notion of a perfect carrot, the possibility of audible gardens, and the ancient art of bonsai. It is a natural fit for Azuma—his native Japan has been practicing bonsai techniques for centuries, and the artist himself has owned a flower shop, Jardins des Fleurs, since 2002.
Bonsai trees are not genetically altered, nor are they dwarf trees. They are saplings of normal-sized trees (azalea, ficus, hawthorn, juniper) that are planted in a shallow container, and effectively miniaturized as they grow. Bonsai cultivators trim and wire branches, defoliate to shrink leaf size, and create deadwood to achieve a weathered look—all techniques that Azuma considered in his two bonsai pieces.
For Frozen Pine, Azuma "freeze-sprayed" a bonsai pine tree and placed it in a custom-designed refrigerator. The engulfing icicles preserve the tree's form and restrict any further growth. Meanwhile, its color is slowly extracted by the ice—the cost of controlling the tree. The bonsai in Shiki 1 is an immobile marionette, suspended in a net of wires that manipulate its branches and wrap around its trunk. Floating within a steel frame, Azuma's piece is a precious specimen and a captive tree—that is to say, it's a bonsai.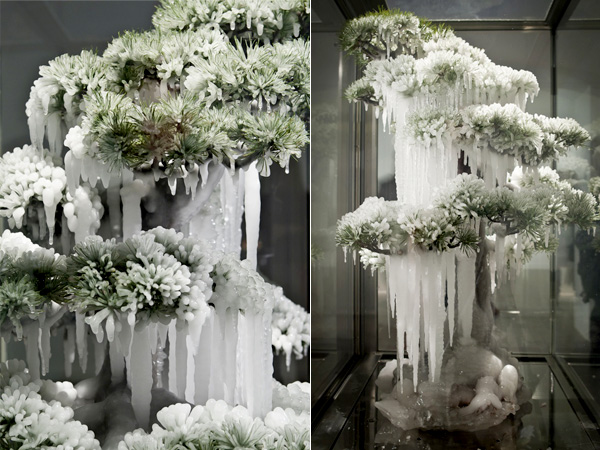 Frozen Pine, Makoto Azuma. Photo credit: Z33 art centre, Hasselt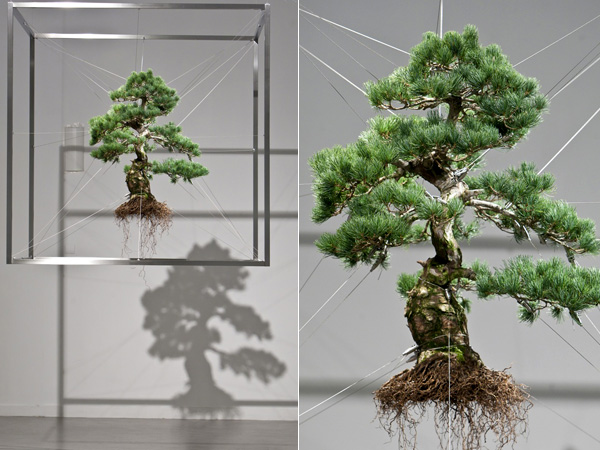 Shiki 1, Makoto Azuma. Photo credit: Z33 art centre, Hasselt
Alter Nature: We Can
is part of Alter Nature, an overarching project by Z33, the Hasselt Fashion Museum and CIAP in collaboration with the MAD faculty, the University of Hasselt, the Flemish Institute for Biotechnology (VIB), KULeuven University and bioSCENTer. The exhibition ran from 11.21.2010 through 03.13.2011 at Z33 in Hasselt, Belgium.
Anna Laurent is a writer and producer of educational botanical media. Photographs from her forthcoming field guide to Los Angeles are available for exhibition and purchase at her website.