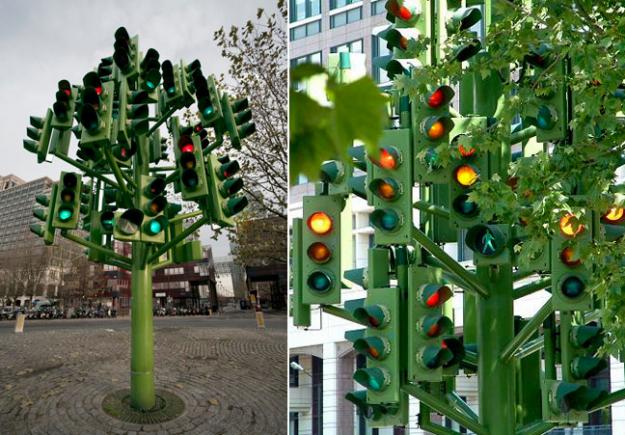 In the United States, it's a sycamore. Elsewhere, it's called a plane tree. But London has the only Traffic Light Tree. It is 26 feet tall, installed alongside two plane trees (Platanus × acerifolia), to replace one that was diseased, and died. It's meant to be a sort of new life, in painted steel and lights, designed by Pierre Vivant, (an artist whose last name happens to mean "living," a coincidence I appreciate).
The abstract tree is not intended to direct traffic, nor to naturalize throughout England's landscape, of course. It is an urban art installation, and a hybrid of a city's two faces: the built environment, and the natural world. Ironically, it symbolizes motion, but, like any tree, it is bound by its roots.
A favorite landmark for tourists and commuters, the Traffic Light Tree presides over a roundabout near Canary Wharf in London, where it mimics its neighboring trees in form, but not function. Artist Pierre Vivant designed the sculpture to "imitate the natural landscape of the the adjacent London Plane trees, while the changing pattern of the lights reveals and reflects the never-ending rhythm of the surrounding domestic, financial, and commercial activities."
When Vivant installed the Traffic Light Tree in 1998, the public's response was very positive, apart from some bewilderment from the birds, and some motorists who were initially troubled by the conflicting traffic signals. But confusion dissipated when people generally realized that the structure was a gesture of urban art, not urban planning.
Vivant's tree will never shed its leaves, nor will it fruit or flower. Instead, its signal lights—including stop, slow, go, and walk—animate an urban life cycle programmed by Vivant's computer. The Traffic Light's Tree slowly pulses with seventy-five signal lights and three colors, each of which could be considered a symbol of the city's movement: green for the rushing metropolis, red for the inert skyscrapers, and yellow for its fellow trees, slowly growing.
Anna Laurent is a writer and producer of educational botanical media. Photographs from her forthcoming field guide to Los Angeles are available for exhibition and purchase at the author's shop.>