Photo by:
Lost Gardens of Heligan
Sue Hill and Pete Hill design large-scale installations that celebrate the magic of a garden landscape. Sculpted with mud, rocks, and plants, the extraordinary figures evolve with the seasons, and suggest a fairy tale in the undergrowth.
Two of their best known sculptures, Mud Maid and The Giant's Head, were both commissioned by the Lost Gardens of Heligan in Cornwall, UK.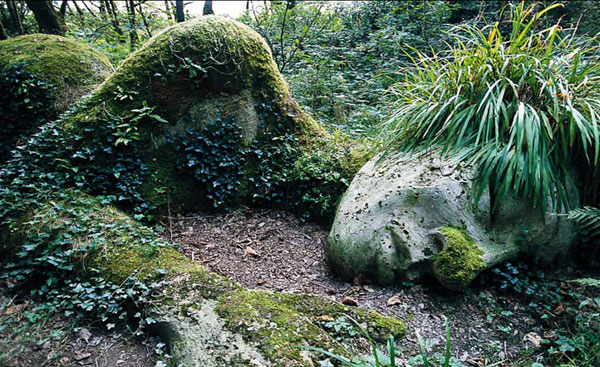 Mud Maid. Photo credit: Jim Richardson
They built the sleeping Mud Maid around a hollow frame of timber and netting. Her hands and face were formed with a mixture of mud, sand, and cement, which was then coated with yogurt so that lichens would grow. [Learn how to make your own moss milkshake.] Her hair is a veil of wood sedge and montbretia; her dress, a lattice of ivy.
For the second piece, they transformed the root ball of a fallen tree into The Giant's Head. Plastered with mud, the roots formed a face. His skin is a tapestry of local plants, and his hair is a growth of montbretia and sycamore twigs.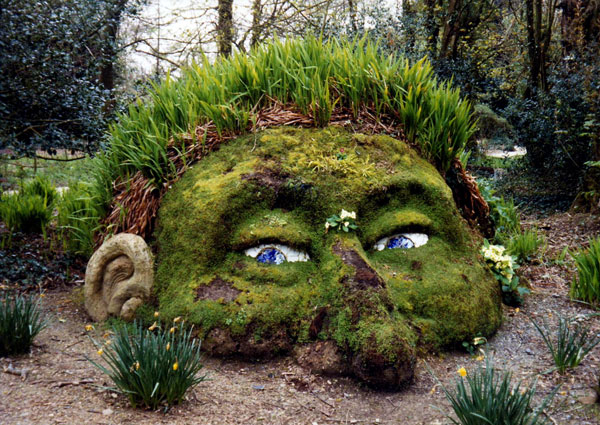 The Giant's Head. Photo credit: Walt Jabsco, Flickr
Emulating the romantic mythicism of a Victorian woodland, the Lost Gardens of Heligan are a perfect landscape for these living sculptures. As time passes, the figures grow with the garden. The Mud Maid slumbers under a cloak of evolving grasses, while a colony of bees inhabits the ears of The Giant's Head.
The Lost Gardens of Heligan are located near the village of Mevagissey in Cornwall, UK. Hours: April 1 to September 30, 10:00am to 6:00pm; October 1 to March 31, 10:00am to 5:00pm. Admission: Adults, £10; Seniors, £9; Children (5 to 16), £6; Childen (under 5), Free; Family (2 adults and up to 3 children), £27.
Anna Laurent is a writer and producer of educational botanical media. Photographs from her forthcoming field guide to Los Angeles are available for exhibition and purchase at the author's shop.