Photo by:
Simon Heijdens, 'Lightweeds'
London-based artist Simon Heijdens grows plants out of light—illuminated trees, weeds, and flowers with limbs and leaves that flutter, grow, and propagate. And he plants them in unexpected places—not a forest or a park, but an indoor room or a concrete corner. He's interested in nature's fluctuating narrative of growth and decay, and his work transposes these interactions onto constructed environments. In "Lightweeds," one of his best known pieces, the Dutch artist cultivates light projections that behave like organic plants, responding to natural stimuli and external influences. The plants become a connection between the natural world and the indoor space. "Every leaf trembling is the wind you feel on your face," Heijdens has said.


'Lightweeds.' Photo credit: Simon Heijdens.
Heijdens's plants have life cycles and botanic structures, and they respond to outside weather by way of sensors installed on the building's roof. The sensors measure temperature, wind, and humidity, and a computer translates this data into growth of the projected plants. "The projected silhouettes are alive; from a digital seed that, in numbers, contains the genetic data of its family," says Heijdens. "A seed drops into the projection, grows and is affected by actual measured rainfall and sunshine; it moves in the real wind; and throughout the day, it turns to follow the sun." Heijedens's plants interact with their local environment as well—a visitor's passing motion will cause a stem to sway or a seed head to bend and tip, dislodging its dislodged. The seeds will follow the direction of the visitor's movement and settle, eventually growing into a new plant. By the end of the day, it's easy to tell how many people have visited the exhibit by the number of new plants that have grown.
Projecting his digital plants onto controlled environments and urban walls, he hopes to tear down the insulation afforded to many modern landscapes. "Nature is becoming rare in our daily life," Heijedens says. "We pass most of the day in perpetual spaces with conditioned climates and 24 hour lighting that mute any difference between day, night or season. Everything is perpetual and non-changing." He invites the outdoors in, and provides "a connection to the day as it passes."
In "Tree," Heijdens projects an illuminated silhouette of a tree on the facade of a building. The tree's growth corresponds to sounds and movements in its new ecology—the city, with its own system of interactions. Heijedens work thus becomes a way to perceive a variability amidst the uniform structures of the modern city, as the projected plants respond to traffic and urban debris. He amplifies the disorder of a planned environment. "It's the narrative quality of a sand path, over the silence of a paved road," he says.
Heijdens designed a site-specific installation for Utah's recently designed Natural History Museum. The artist chose plant species from the museum's herbarium and projected dramatic renderings of fern, aspen and Gambell oak onto the walls of the exhibition spaces.


'Lightweeds' at Utah's Natural History Museum (2011). Photo credit: Simon Heijdens.
The artist's other works include "Wallpaper," in which Heijdens designed "animated and changeable patterns [embedded] inside the paper. You can turn the design on and off, or select another one. In the most basic example, flowers for her and cars for him," and "Broken White," a series of ceramic objects that fracture in floral patterns with use, thereby inscribing the object's own history on its evolving surface.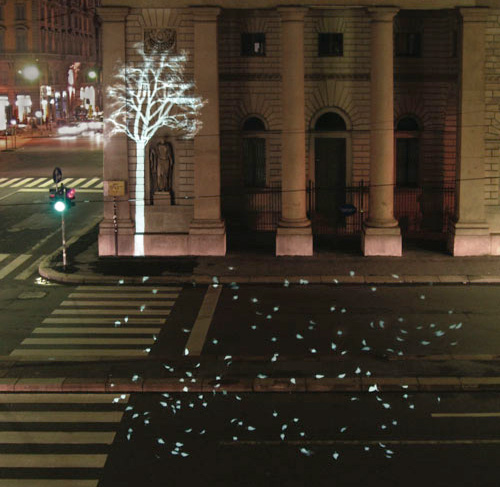 'Tree.' Photo credit: Simon Heijdens.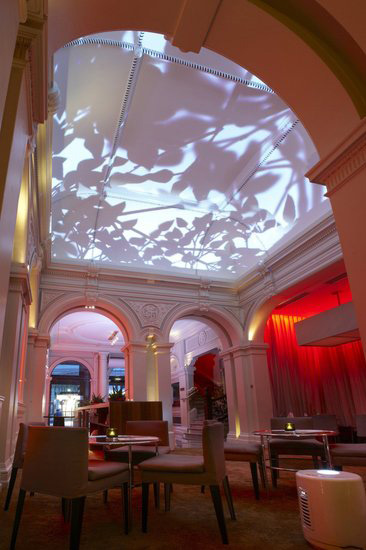 'Branches' at the Andaz Hotel, London Design Festival 2010. Designed like 'Lightweeds' and 'Tree,' the canopy moves in response to outdoor weather. Photo credit: Gideon Hart
Simon Heijdens's
works
are in the permanent collections of MoMA, New York; Victoria and Albert Museum London, FNAC Paris, and he was commissioned to design the café for the Boijmans van Beuningen Museum, Rotterdam. Among the many exhibitions and projects in which Heijdens has participated, are: Decode, V&A (12/2009), Winzavod, Moscow (8/2009), Design and the Elastic Mind, MoMA New York (2/2008), Hyperlinks at the Art Institute Chicago (2010) and Talk to Me, MoMA New York (2011).
Anna Laurent is a writer and photographer.