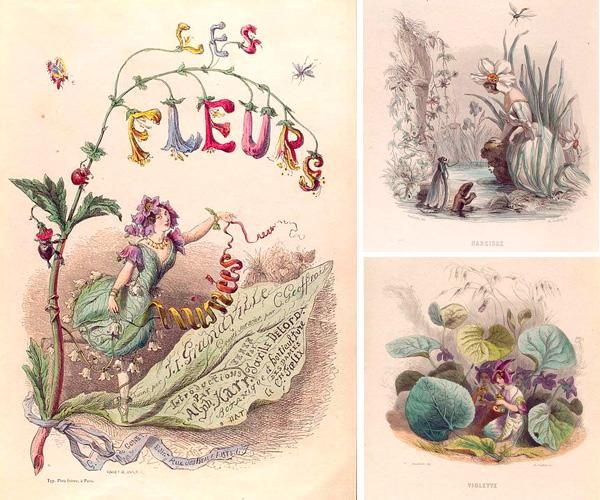 Photo by:
New York Public Library
Every epoch has had its favorite flowers. If we would form a correct opinion of the ideas, manners, and habits of a nation, we have only to look at its bouquets.
We pride ourselves on being the first to advance the following aphorism: Flowers are the expression of society.—from "The Fashion of Flowers," in Les Fleurs Animées
As a masterpiece of botanic illustration, the engravings in J.J. Grandville's
Les Fleurs Animées
(
The Flowers Personified
) speak for themselves. Exquisitely etched and hand-colored, the 54 plates depict an enchanting world of flower ladies, traveling amidst a floral tableaux of haute couture and insect courtiers. As a work of Victorian social satire, its intent is found beyond the delightful whimsy, and is conveyed in the book's introduction:
"Will you never, ladies, take pity on those poor flowers, which are the most frequent tribute laid at your feet! Will you not remember that they are severed from their parent stems; that they have been brought to you that you may see them die, and inhale their last fragrant sighs."
And each floral maiden is an expression of her designated flower, culled from the garden of French Romanticism and its sentimental swoons. Published in 1847, Les Fleurs Animées imagines a world where the flowers reclaim the meanings bestowed upon them by a covetous Victorian audience, and become actresses in their own drama. They become nuns, nurses, village maidens. Exotic Lady Tulip bewitches, while fair young Forget-Me-Not mourns her loneliness. Expressing the personality of contemporary floral language, each femme fleur wears the silks of her society equivalent, and, with compelling histrionics, pursues her own dream.
Read about the Victorian meanings of flowers.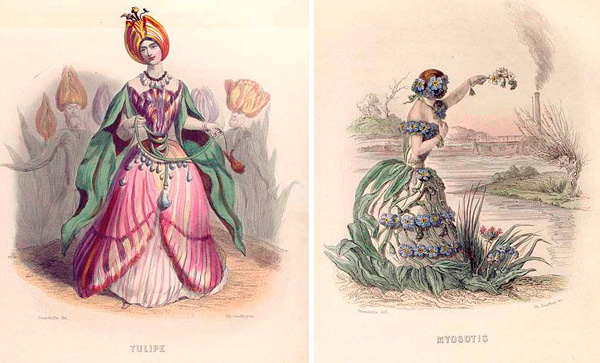 Tulip (L); Forget-me-not (R)
As the story begins, the disenchanted flowers assemble before their Flower Fairy to request release from a 19th-century landscape that relegated them as adornment and inspiration for society's art and romance:
"Your Majesty, the flowers here present beg you to accept their homage, and to lend a favorable ear to their humble complaint.
For thousands of years we have supplied mankind with their themes of comparison; we alone have given them all their metaphors; indeed, without us poetry could not exist. Men lend to us their virtues and their vices; their good and their bad qualities; it is time that we should have some experience of what these are.
We are tired of this flower-life. We wish for permission to assume the human form, and to judge, for ourselves, whether that which they say above, of our character, is agreeable to truth."
The Flower Fairy concedes: "Go, deluded flowers; — let it be as you propose. Ascend upon the earth, and try human life. Ere long you will come back to me." And the ensuing vignettes follow their pursuits: Thistle as piano teacher, Iris as trinket-vendor, Daisy as fortune-teller. The femme fleurs embark on a journey to contend with a society that had defined their personalities, a world of Victorian beauty so adorned with their likenesses, that it is said it was impossible to say where the flowers began, or the woman ended.
The introduction to Les Fleurs Animées was written by Alphonse Karr; text by Taxile Delord. The translation by N. Cleaveland (1849) can be read here.
Anna Laurent is a writer and producer of educational botanical media. Photographs from her forthcoming field guide to Los Angeles are available for exhibition and purchase at the author's shop.