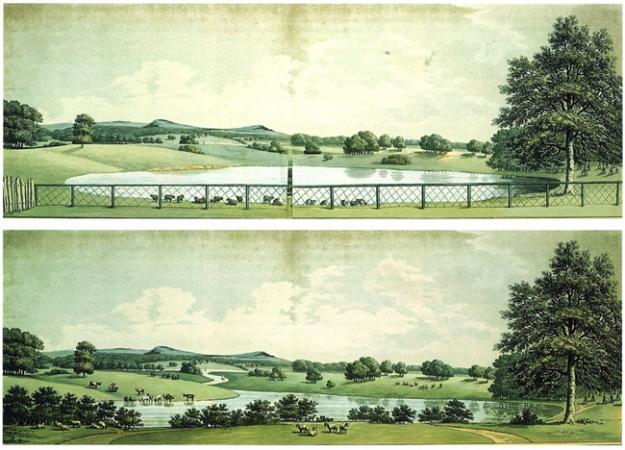 Photo by:
New York Botanical Garden; Humphrey Repton's sketches of Tatton Park, Cheshire 1792, before and after. Two flaps meet at the center gate.
British author and landscape designer Sir Humphry Repton (1752-1818) was also an illustrator who mastered the art of the sell. When designing a garden, Repton would produce a Red Book for the client. So-called for their signature Moroccan leather binding, the slim volumes documented his plans for the landscape, primarily conveyed through detailed before and after sketches. Repton illustrated the garden's proposed transformation with watercolor, copperplate, and simple overlays that lifted or swept to the side to reveal his plans. With the flip of a flap, clients were taken to a familiar landscape—now, much-improved with sparkling ponds and winding paths.
It was an effective negotiation technique between a landscape designer and his client: a proposal, conveyed with a sweep of the hand, was then confirmed with a handshake. Repton's ascent was swift—within several years, the erstwhile farmer and squire was poised to succeed Capability Brown as Britain's most influential landscape designer.
As the 18th century progressed, the aesthetic of British gardens shifted from geometric formality to the idyllic Roman campagna style popularized through landscape paintings of the Italian countryside. Repton continued Brown's legacy of cultivating the "landscape garden" (a term that Repton himself introduced to describe "the united powers of the landscape painter and the practical gardner.") Whereas Brown championed romantic Palladian temples and serpentine lakes and walks, Repton integrated the picturesque sensibilities of his predecessor with modern gestures: themed gardens and greenhouses with exotic flowers, while retaining formal terraces and balustrades. Repton introduced a modern garden that gazed over its shoulder to the classical forms of the previous century.
Repton designed at least 300 Red Books for his prospective clients, of which more than a hundred survive today, in collections of private homes, museums, or national foundations. The books are a record of his theories on the landscape, as well as a detailed account of his individual projects. They are historical texts that document shifting trends in landscape design in an important time, when eighteenth-century British designs reached the shores of America and beyond, propelled in part by Repton's Red Books.
Repton also published five books, which drew on his Red Books. A major volume, Sketches and Hints on Landscape Gardening (1794) has been digitized, in full color, by the University of Wisconsin.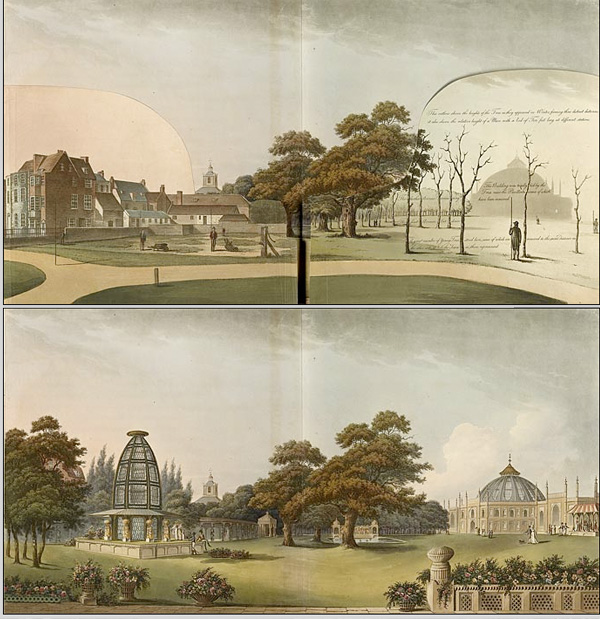 Repton's proposed landscaping for the Pavilion at Brighton: Before (above), after (below). Image courtesy: The Morgan Library.
Repton's proposed landscaping at Wentworth, South Yorkshire: Before (above), after (below). Image courtesy:
The Morgan Library
.
Anna Laurent is a writer and producer of educational botanical media.