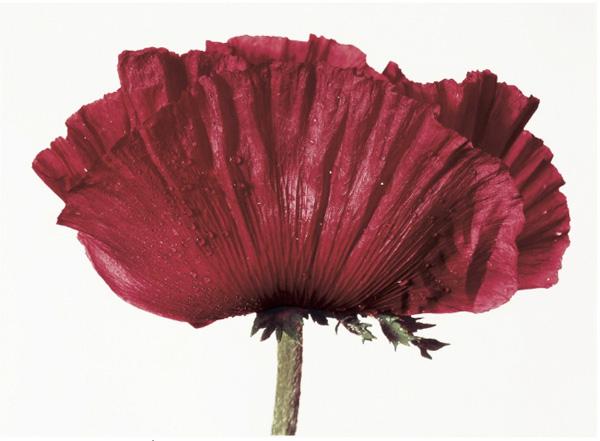 Photo by: Ivring Penn; Glowing Embers Poppy,1968, dye-transfer print
"I can claim no special knowledge of horticulture that the reader might believe he has a right to expect of someone making a book of flowers. I even confess to enjoying that ignorance since it has left me free to react with simple pleasure just to form and colour."—Irving Penn
Irving Penn (1917-2009) photographed the fashionable and famous with a signature style—minimal, elegant, and a little bit surprising, his photographs were intriguing portraits of often-familiar faces. He was one of the first fashion photographers to shoot his subjects against a plain backdrop (white or grey), and he had a talent for capturing the quiet drama of a simple gesture. During his prolific career, he shot over 150 covers and countless interior spreads for Vogue magazine. His subjects were artists, writers, models, and, between 1967 and 1973, Penn's subjects also included flowers.
Poppy, rose, lily, orchid, begonia, peony, and tulip—Penn photographed seven flowers over seven years of holiday issues for Vogue magazine. Approaching his botanic work with an aesthetic similar to his fashion photography, the flower portraits are strikingly beautiful; he captured blossoms at unusual angles, and stages of life that are infrequently glamorized.
Three Single Oriental Poppies, New York, 1968.
Rose, Blue Moon, London, 1970.
In a charming introduction to Flowers (Harmony, New York, 1987), his fourth photography book, Penn discusses his unorthodox decisions: "the reader will probably note my preference for flowers considerably after they have passed the point of perfection, when they have already begun spotting and browning and twisting on their way back to the earth." His decisions were not casual; Penn was precise and deliberate. A consummate perfectionist with meticulous attention to detail, Penn photographed each flower a little differently—the fresh dew on one, the dried leaves of another. Penn acknowledges that he lacked a classic knowledge of horticulture, an ignorance he valued: "I can claim no special knowledge of horticulture that the reader might believe he has a right to expect of someone making a book of flowers. I even confess to enjoying that ignorance since it has left me free to react with simple pleasure just to form and colour." Focusing on moments of unlikely beauty, Penn shows us the majesty of a shadowed calyx, aging petal, shriveled anthers.
The book's introduction discusses the logistics of acquiring each flower: "All but the roses were photographed in or near New York; the roses were recorded in London where English weather and sympathetic growers provided me with beautiful specimens ... The tuberous begnoias were propagated in northern Connecticut from stock that originated in England. The hospitable nursery owner generously gave me space for a temporary stuidio just few feet from the begonia house ... The orchids grew in glass houses in New Jersey descended from specimens, I was told, that had been gathered personally in South American forests ... In London I would spend a typical day visiting one of several distinguished growers in the nearby villages, marking blooms that would then be cut early the next morning and brought by car to London studio. Several of our most beautiful roses came from a modest benefactor who appeared early in the morning before I arrived at the studio. He identified the source of the flowers only as 'the little old lady who lives down the lane.'"
Three Poppies, Arab Chief, New York, 1969
Lavender Glory Poppy, New York, 1968.
Poppy, Barr's White, New York, 1968.