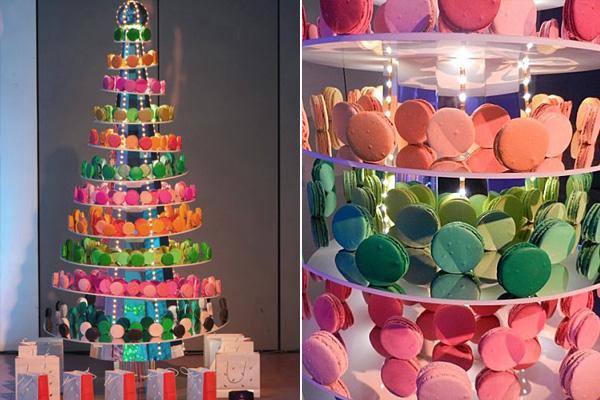 Photo by:
Les Sapins Noël des Createurs; Pierre Herme's macaron tree
Designers around the world have crafted their own Christmas trees, inspired by lotus flowers, French macarons, and children's story books.
Betsey Johnson & Eloise at The Plaza For its first-ever Christmas tree display, The Plaza Hotel in New York selected a fictional little girl for its theme, and a famously feminine designer for its execution. Eloise lived in The Plaza's top floor in a series of children's books, and fashion designer Betsey Johnson decorated the Eloise-themed tree with "girly stuff—pink feathers, sparkles, foldout Eloise paper dolls," the designer says. "There's three quarters of me that's six years old and it comes out." Johnson also designed an Eloise-themed suite for the hotel in 2010. The pink tree was unveiled at a tea ceremony in late November, and will be on display in the Palm Court until January 4th.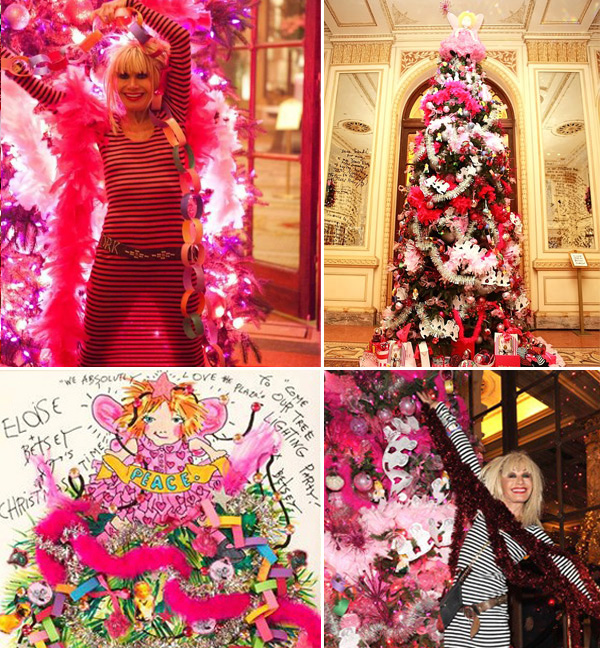 Betsey Johnson's Eloise-themed tree at The Plaza in New York, and her design sketch. Photo credit: Betsey Johnson.
Lanvin's Alber Elbaz in London Claridge's, the posh London hotel, commissioned a frequent—and fabulous—guest to design their annual lobby Christmas tree. This year, Alber Elbaz, creative director of Lanvin, designed a holiday scene with his signature flair and marionettes, including a Claridge's doorman and maid, dressed in Lanvin-designed uniforms. At the top of the tree is a miniature version of the designer, wearing a tartan suit, trademark glasses, and bow tie. In an accent of holiday humor, he's also given himself a star-wand and silver wings. The tree is on display November 22 through January 2.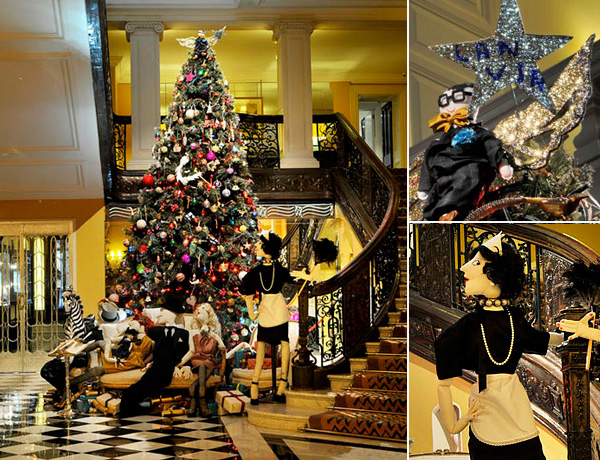 Alber Elbaz's tree in the lobby at Claridge's, London. Photo credit: Alber Elbaz.
Charity Auction Design in Paris The 37 trees at Les Sapins Noël des Createurs, an annual charity auction in Paris, will never drop their needles, and need no decorations. Designed by artists, architects, and fashion houses, each is an interpretation of the concept of a holiday tree. Each year a different charity is chosen to benefit; this year, proceeds went to A.V.E.C (Association pour la vie, espoir contre le cancer, Association for Life and Hope against Cancer). The trees were on public display for the first week in December at the Hotel Salomon de Rothschild, and were then auctioned in a private charity dinner. Designers included Chanel, Dior, Jean-Paul Gaultier, and Louis Vuitton.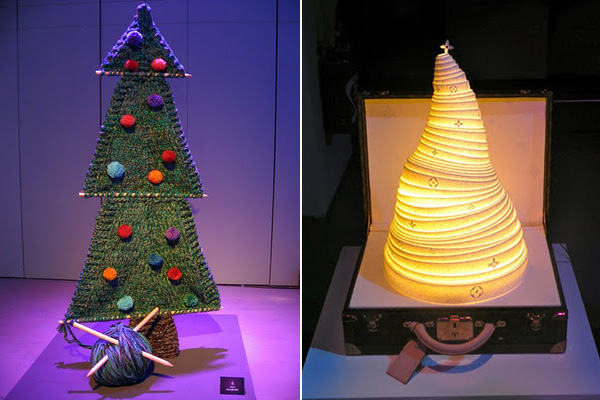 Left: Stella McCartney's knitted tree; right: Louis Vuitton's "Jack-in-the-Box" tree. Photo credit: Les Sapins Noël des Createurs.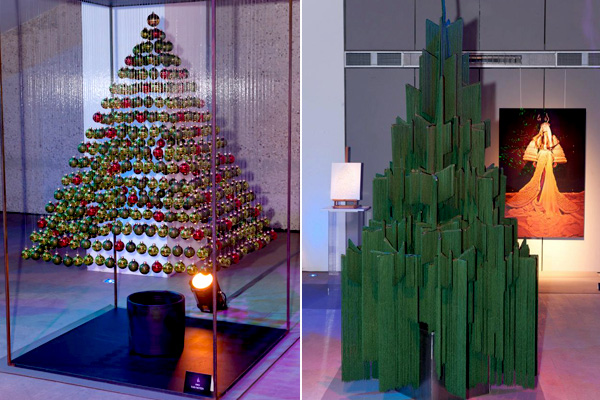 Left: Dries Van Noten; right: Jean Paul Gauthier. Photo credit: Les Sapins Noël des Createurs.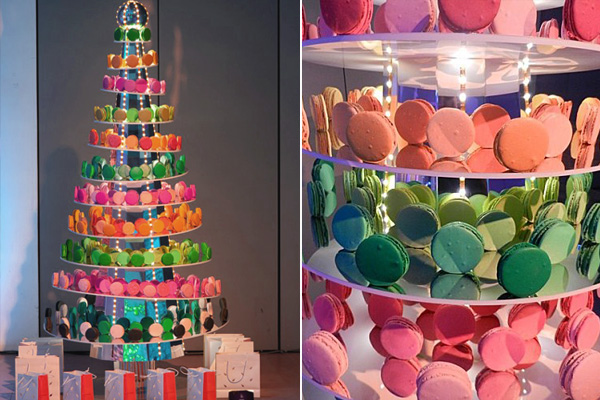 Pastry chef Pierre Hermé's macaron tree. Photo credit: Les Sapins Noël des Createurs.

Left: Les Garçons; right: Sonia Rykiel. Photo credit: Les Sapins Noël des Createurs.
Eric Raisina's Lotus Flowers + Fishing Nets in Cambodia A gorgeous tree of pink and white silk lotus flowers was recently unveiled in the lobby at Raffles Grand Hotel d'Angkor, a boutique hotel in Siem Reap, Cambodia. It is the work of Siem Reap-based designer Eric Raisina, whose textile designs can be found on the runways of New York and Paris Fashion Weeks. Reflecting that a traditional fir tree would hardly be appropriate to represent Cambodia's botanic landscape, Raisina was inspired by the lotus flower. "For me the lotus flower is Cambodia, it's everywhere, it's so symbolic," explained Raisina. In Cambodia, the flower is valued for its beauty and as a religious offering. The blossoms and buds were hand-stitched and embroidered in pinks and whites. The locally-appropriate tannenbaum is composed of 800 flowers, and will be on display through the New Year.

Designer Eric Raisina's Lotus Flower Tree, 2011, Raffles Grand Hotel d'Angkor. Photo credit: Raffles Grand Hotel d'Angkor.
Raisina also designed the hotel's 2010 tree. Sculpted from hand-woven fishing nets and implements, the piece also reflected Cambodia's traditional culture.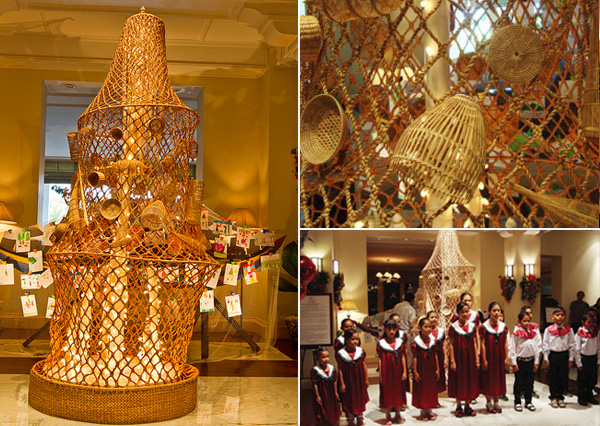 Designer Eric Raisina's Fishing Net & Traps Tree, 2010, Raffles Grand Hotel d'Angkor. Photo credit: Raffles Grand Hotel d'Angkor.
Anna Laurent is a writer and producer of educational botanical media. Photographs from her forthcoming field guide to Los Angeles are available for exhibition and purchase at her website.