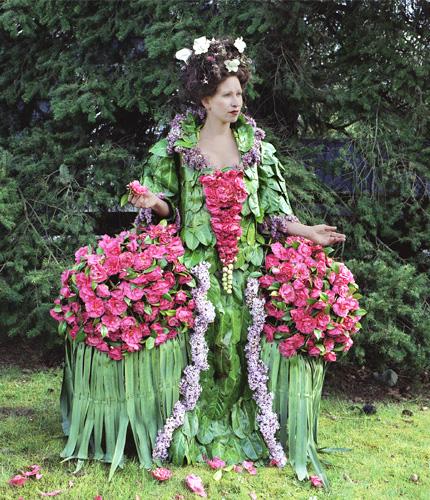 Photo by:
'Camellia Countessa', Nicole Dextras
While botanic fashion has yet to see urban streets and Bill Cunningham's lens, the concept has been flourishing on the runway and in the artist's studio. Here are three designers who have culled their materials from the plants that inspire them.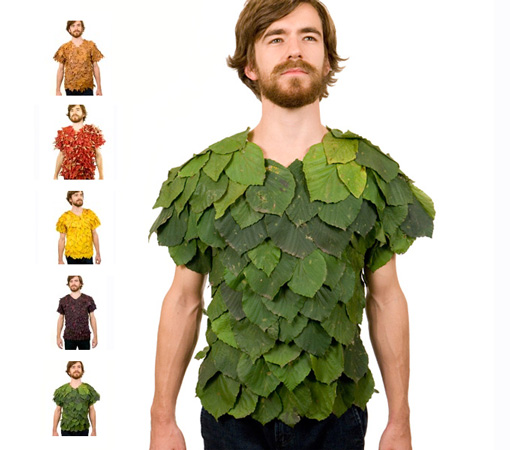 'Leaf Series', Dave Rittinger
"Leaf Series" is a line of five shirts by New York-based artist Dave Rittinger. He collected the leaves from five different species of tree in Brooklyn's Prospect Park, and glued them individually to create a form-fitting garment. While the organic medium is unmistakable, the layered foliage almost resembles a coat of arms: the effect is a protective shield that is delicate and ephemeral. A conceptual artist with an ecological bent, Rittinger created the shirts as a gentle social commentary. "I feel the work illustrates how beautiful and also unpractical extremes can sometimes be, as we often strive to be correct and righteous in our convictions, whether it be spiritual, political, or environmental." The artist and model also explains his subtly smug countenance: "I have to embrace a bit of tongue-in-cheek self-deprecation in my work while poking at all the institutions along the way." After photographing the shirts, Rittinger returned the layered leaves to their original site.
'Yucca Prom Dress' (L); 'Sunday Best' (R); Nicole Dextras
In the sculpture series "Weedrobes", lilac flowers, crab apples, and cabbage are bound with hemp thread and thorns. Artist Nicole Dextras bestows them with new names: Camellia Countessa, Rab Apple Gown, and Cabbage Smock. The elaborate designs are exclusively fashioned out of plant materials, and they evoke a modern-day Versailles. The artist's execution is so successful—rosehips where silk roses would be, yucca leaves as boho-chic tulle—that it reveals the ways in which botanic forms have long-inspired fashion design. Dextras explains that the series "indicates a symbiotic relationship between the body and the land. [The sculptures] question our attitudes toward territorial dominance [and] societal status."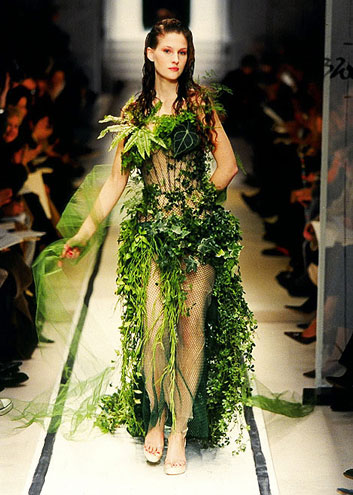 'Robe Végétale, Patrick Blanc, 2002
If you've walked the streets of Madrid, Paris, or Bangkok, it's likely you're familiar with Patrick Blanc's work and don't even know it. The ecological architect introduced the vertical garden concept twenty years ago, and his designs connect land and sky with botanic tapestries around the world. In 2002, the French botanist-turned-landscape designer stepped into the world of high fashion, and designed a now-famous wedding dress for the fashion icon Jean-Paul Gaultier. Blanc's 'Robe Végétale' dress appeared as part of Gaultier's spring collection show that year, and Blanc's designs have since revisited the runway, as a botanic backdrop for Stella McCartney's delicate and floral 2008 Spring/Summer Collection.
Anna Laurent is a writer and producer of educational botanical media. Photographs from her forthcoming field guide to Los Angeles are available for exhibition and purchase at the author's shop.