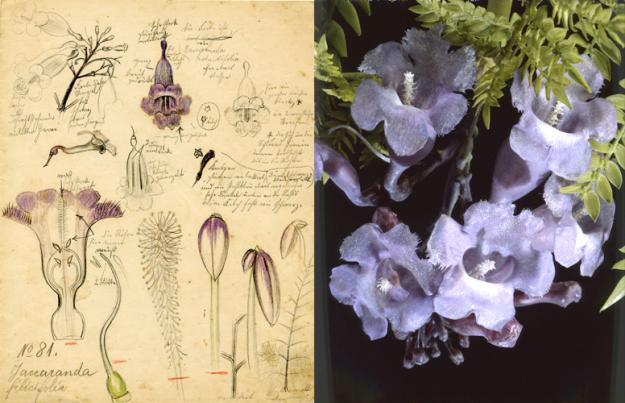 Photo by:
L Blaschka / Hillel Burger
In the mid-1800s, the newly alluring field of natural history found itself with a captivated audience, and an enduring dilemma. Victorian society clamored to see the exotic species of far-flung botanic expeditions, while natural history museums had not yet come up with a satisfactory way to exhibit them. Professor George L. Goodale, the first director of Harvard's Botanical Museum, explained the problem: "Flowers are perishable. When dried they are distorted, when placed in alcohol they are robbed of their color." Wax flowers were "exaggerated and grotesque" and "spirited and truthful" drawings seemed rather flat.
A solution was found in a German studio in Dresden, where two glassmakers were recreating the natural world with glass. By the time Harvard's inquiries reached the glassmakers' workshop, Leopold Blaschka and his son Rudolf were disseminating legions of replica exotics to curious audiences across the world. They populated museums with fantastical sea creatures, and taxidermists with glass eyes. They would also come to create more than 4,400 botanic specimens for the cherry wood cabinets of Harvard's Botanical Museum.
Since 1890, the cases of Glass Flowers have been adored by academics and the general public alike. Blaschka and son's full-size specimens are meticulously detailed, while their magnified details are invaluably comprehensive. For most of their flowers, the suite of glass models include an inflorescence of blossoms, a magnified stigma and pistil, and a marvelously geometric cross-section of the ovary (magnified even more). The Blaschka kingdom is also a realistic mise-en-scène of pollinators, disease, and decay. This accuracy was achieved by working with specimens in their Dresden greenhouse, or, with Harvard as a benefactor, directly in the field in any number of subtropical locations.
Harvard Museum of Natural History
Address: 26 Oxford Street, Cambridge, MA 02138
Phone: 617-495-3045
Hours: Open daily, 9 am to 5 pm
Admission: $9 for adults, discount rates for students, seniors, and members
Anna Laurent is a writer and producer of educational botanical media. Photographs from her forthcoming field guide to Los Angeles are available for exhibition and purchase at the author's shop.