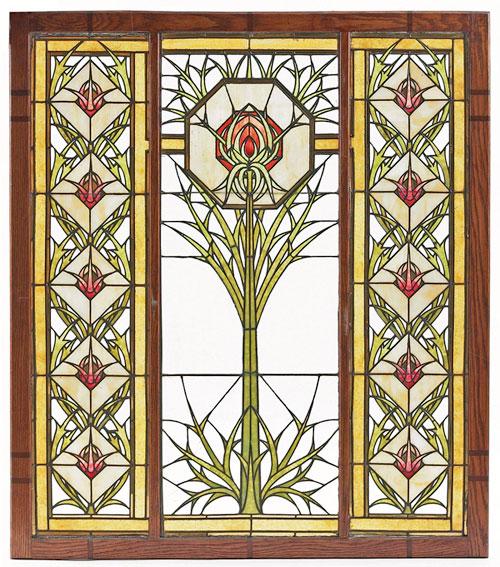 Photo by:
Treadway & Toomey; Thistle window designed by Maher and Millet for the Patten House, 1901
"The leading flower of a neighborhood is nature's symbol of the spirit breathed there."—George Washington Maher
Thistles on the fireplace, poppies atop the columns, lilies in the windows—these are the organic designs that defined the style of Chicago architect George Washington Maher (1864-1926). A contemporary of Frank Lloyd Wright, Maher similarly looked to the natural world for inspiration, and he designed floral patterns for dozens of Midwest homes. He called his philosophy "motif-rhythm theory," in which a unifying design was applied throughout a building. For Maher, this unity of the interior was derived through an integration with the exterior—namely, with local plants. Designs derived from thistles, hollyhocks, tigerlilies, and other local flowers were applied as decorative elements in many of his Midwest residences. Maher's notable designs in Chicago include the Patten House and the King-Nash House (both of which incorporated the thistle); the Rubens House (hollyhock); and the Magerstadt House (poppy).
Maher's elegant emphasis on simplicity, natural forms, and the repetition of decoration established him as an influential figure in the Arts & Crafts movement, and the Prairie School of architecture. He often collaborated with Chicago designer Louis J. Millet, a master stained glass artist and founder of the Chicago School of Architecture in 1893. Many of the homes they designed have been demolished; today, remaining elements can be found at various art museums, and occasionally on the auction block.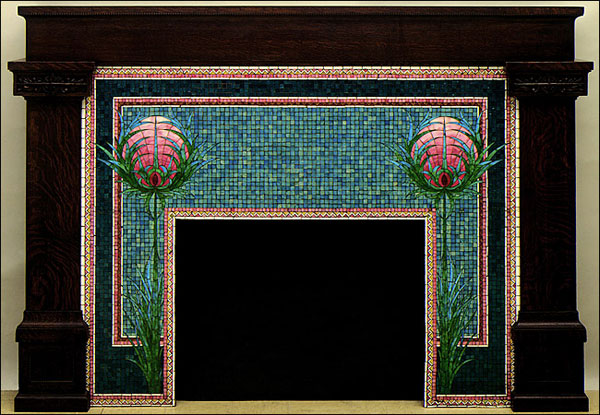 Fireplace surround designed by George Washington Maher and Louis J. Millet for the Patrick J. King House, 1901. Photo credit: Los Angeles County Museum of Art.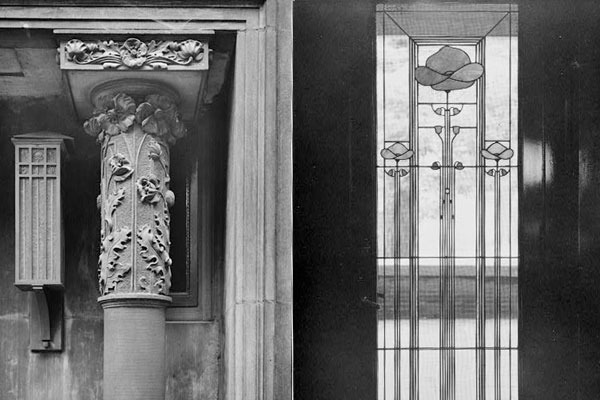 Poppy column and window designed by Maher and Millet for the Magerstadt House in 1906, Chicago, Illinois. Photo credit: Library of Congress.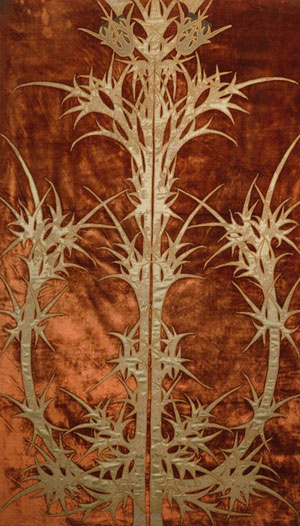 Portière designed by Maher and Millet for the Patten House, 1901, in Evanston, Illinois. Photo credit: Art Institute of Chicago.
Anna Laurent is a writer and producer of educational botanical media. Photographs from her forthcoming field guide to Los Angeles are available for exhibition and purchase at her website.