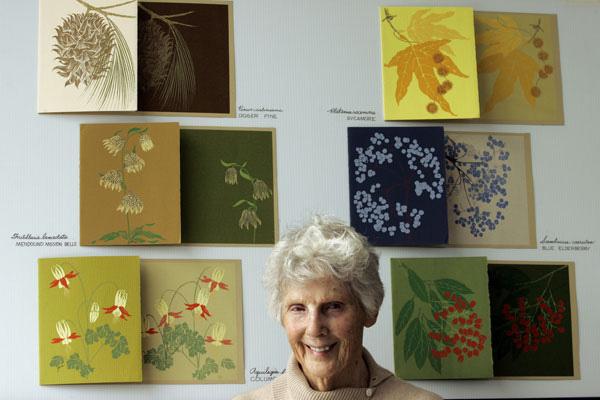 Photo by:
Gary Friedman / Los Angeles Times
Gene Bauer, 85, is well-known for her daffodils in the San Bernadino Mountains–a garden of close to a million yellow blooms. Until recently, she opened the garden to a curious public who would travel to see her labor of love. In the 1970s, however, one didn't need to travel to experience Bauer's passion for flowers. Instead, it would arrive by mail, as a small silk-screened booklet that depicted one of Bauer's favorite California plants.
In 1972, as native flora chairman of the California Garden Clubs, Gene Bauer began making small booklets about California's local flora. For each piece, she created a serigraph (a silk screen print) of the specimen, as well as a map of its habitat, and a short essay that discussed the plant's habitat, and reflected on the diverse ecologies in California. She bound her hand-printed booklets with a piece of yarn, and dispersed them to garden club officials, in monthly installments. Between 1972 and 1978, she created sixty-two booklets, each dedicated to a different species.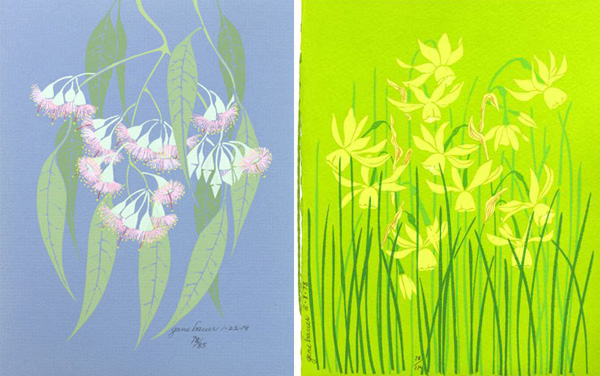 Red ironbark eucalyptus (Eucalyptus sideroxylon), photo courtesy of Gary Friedman / Los Angeles Times (left); Daffodil (Narcissus 'Hawera'), photo courtesy of ESMI (right).
Her mission was to educate the members of the Club about the state's flora, so she traveled across California to study its wildflowers and select specimens for her project. The collection reads like a survey of the state's iconic natives—the California redwood (Sequoia sempervirens)—and a journal of a naturalist's personal favorites—the Matilija poppy (Romneya coulteri). While the booklets included notes about the plant's habitat and appearance, they were not so much field guides as they were devotionals, produced by a botanic evangelist.
They were not so much field guides as they were devotionals, produced by a botanic evangelist.
"I was under no illusion that I could add much knowledge to what had already been written about the vast array of California native flora," Bauer writes in the introduction. "Rather, with each monthly message devoted exclusively to one plant, I hoped to better acquaint my fellow inhabitants of the state, as I wrote at the time, 'with the marvelous treasures that exist here and to make them more aware of the necessity of preserving them for those who follow us.' "
Today, the original booklets are scarce. Ms. Bauer usually produced a limited edition of fifty, and her personal collection was destroyed in a 1997 wildfire at her home. Thankfully, many people had preserved their original copies, and they have been collected in the book Botanical Serigraphs: The Gene Bauer Collection (ESRI, 2010). It's a monograph of work that celebrates a diversity of habitats, recalls a golden age of botanical art, and celebrates a woman who herself championed California's flora.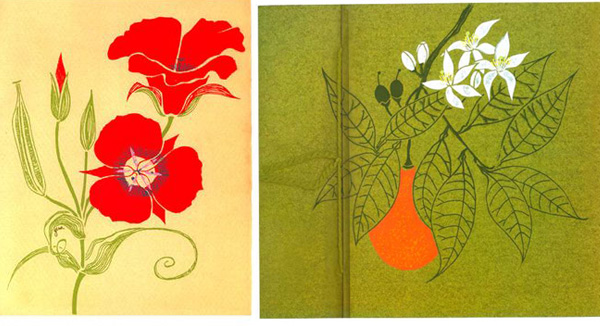 Desert mariposa (Calochortus kennedyi) (left); Sweet orange tree (Citrus sinensis) (right). Both images courtesy of ESMI.
Anna Laurent is a writer and photographer. Her work explores how we look at plants, and how those plants behave.