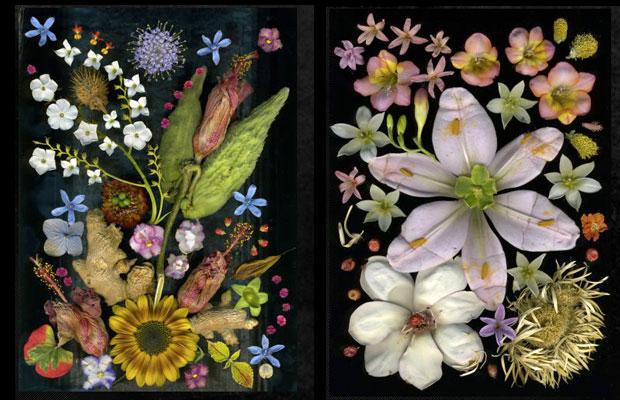 Photo by:
Frances Perlzman Liscio
A botanic illustrator and erstwhile music photographer, Frances Perlzman Liscio designs and photographs floral compositions that are a little Victorian, and a little rock star. Interested in nature's ever-changing forms, Liscio collects her specimens and often waits for them to dry, curl, and wither. These are then arranged next to young flowers and ripe fruits, all on a deep black background. Her work becomes a lovely journey in botanic identification; with so many different species, the arrangements offer a familiar flower for everyone. In addition to a variety of species, the compositions also illustrate a survey of floral cycles: life, death, and the future (portrayed by seeds and fruits). The effect is romantic, scientific, and a little haunting.
Two Dahlias (below) includes fresh blossoms of kalanchoe, wild pansies (Viola tricolor), and Christmas cactus (Schlumbergera). At the center, two dahlias have begun to wilt; on either side are aging leaves of oak and viburnum. The arrangement is crowned with bittersweet nightshade (Solanum dulcamara) berries, puckering with age.
Liscio's work has been published in fine art and design magazines, including Traditional Home and Martha Stewart Living and is included in hundreds of private collections.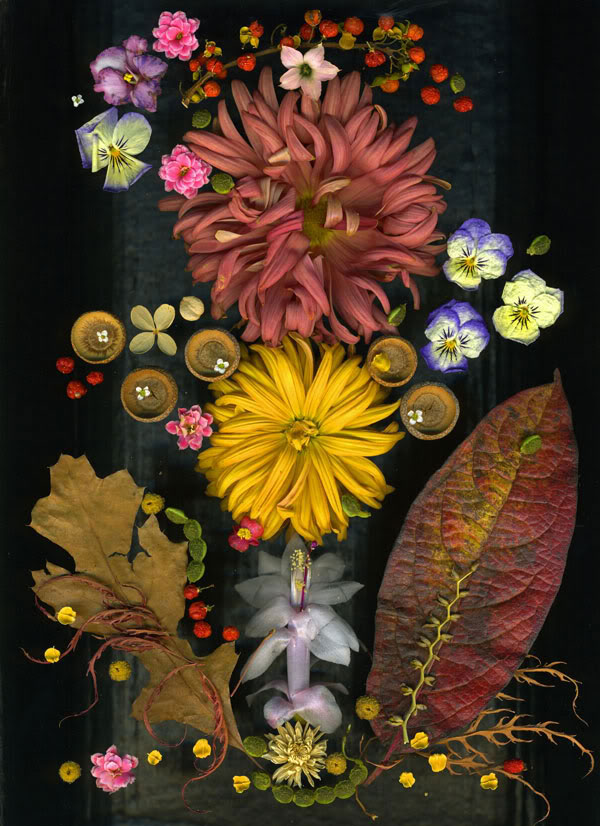 Two Dahlias. Photo credit: Frances Perlzman Liscio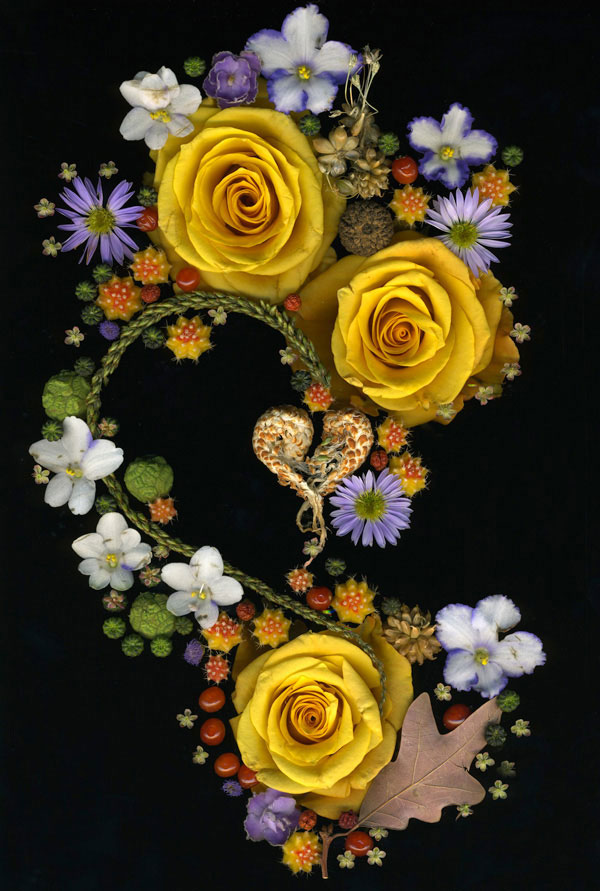 Yellow Roses/Milkweed. Photo credit: Frances Perlzman Liscio
Yellow Roses/Milkweed (above) features bright yellow roses and a milkweed pod forming a heart shape at the center. The composition includes a broadleaf plantain stalk, African violets, young green seed pods from the Pond cypress (Taxodium ascendens), wild onion seed heads, and yellow and red cactus clusters.
Anna Laurent is a writer and producer of educational botanical media. Photographs from her forthcoming field guide to Los Angeles are available for exhibition and purchase at her website.